1804 Silver Dollar, Other Rare U.S. Coins to Be Auctioned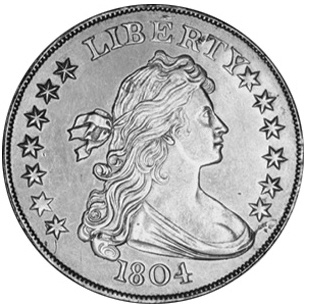 Stack's Bowers Galleries has announced they will hold a series of auctions starting on May 14, 2015 and lasting through September 21, 2017 and will offer the "most valuable rare coin collection" ever to cross the auction block.
The D. Brent Pogue Collection includes some of the most exotic rare U.S. coins dating from 1792 through the 1830s, and this is stirring some major commotion across the coin market.
What are some of the rare U.S. coins expected to change hands? Here's a glimpse of what we can expect to see during these rare U.S. coin auctions:
Early proof copper and silver coins
An 1804 Class I Draped Bust silver dollar
The 1822 $5 gold eagle – the only one in private hands and last auctioned in 1982
The mood is electric in the numismatic community right now, and it is very possible that some record prices may be realized. Of course, how much these coins will go for is anyone's guess. Some of these rare coins will not be up for grabs until 2017. There will surely be economic changes between now and then, as well as other factors affecting the rare coin market that could influence stronger or weaker bidding than anyone can predict right now in 2014.
One thing is for certain, though, and that is the spotlight will shine especially brightly on the 1804 silver dollar in the Pogue coin collection. The 1804 silver dollar is perhaps the most storied coin of any ever made. Only 15 are known to exist, and in the case of the Class I – or original – 1804 dollar, just eight survive. So, it's no surprise that 1804 silver dollars are among the most valuable coins in the world.
This specimen was once owned by the Sultan of Muscat and is the finest known example of an 1804 silver dollar. It set price records when Pogue bought it in 1999 for more than $4 million. Will the 1804 silver dollar once again reclaim the title of the most valuable U.S. coin, now the 1933 Saint-Gaudens double eagle, which sold for $7.5 million in 2002?
We shall soon find out.
About the author
Joshua McMorrow-Hernandez is a freelance writer and author who has contributed hundreds of online articles and blog posts, as well as published Images of America, Tampa's Carrollwood (Arcadia Publishing, 2013). Joshua is interested in a wide array of topics, and since 1992 has been heavily involved in numismatics, a topic about which he loves to research and write. His main area of focus is 19th and 20th century United States coins, but he also enjoys Canadian coins.