The Most Valuable Coins – What Are They & Do You Have Any?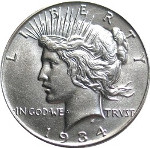 Learning what the most valuable coins are can be instrumental in helping you better understand the coin market trends and planning a budget. It also helps to know what these expensive rare coins are so when it comes time to buy or sell them, you have a rough idea as to what you should expect to pay for them – or earn from them, if you sell any of these coins. So, whether you collect coins for numismatic purposes or are investing in coins with the intention of making money, it is well worth taking the time to read these articles.
As is the case with any coin prices, the quotes listed here for the most valuable coins do fluctuate – an issue that particularly seems to effect gold coins, given the relatively large swings in the gold bullion market that happen from time to time. In the case of rare U.S. coins with numismatic appeal, major market fluctuations are far less frequent, but can and do happen.
Take, for example, the situation that occurred in the late 1980s and early 1990s, when market speculation drove prices for high-grade, certified Walking Liberty half dollars, Morgan dollars, and other numismatic coins to all-time highs; following a market collapse in the summer of 1989, prices were pushed back down to lows that in many cases had not been seen in several years. Some of these coins still have not fully returned to their 1989 highs. Of course, market adjustments on the order of those that occurred during the period between the late 1980s and early 1990s are significant, headlining events that don't usually occur, especially in the case of non-bullion related coin material.
Still, prevailing market trends among the most valuable coins may help you determine where the market for a certain issue, or even an entire series, may be heading. Such can be the case when examining the prices of Lincoln cents between 2005 and 2013. Ahead of the series' bicentennial in 2009, Lincoln cent values enjoyed a generally upward trend. Rare issues, such as the 1909-S V.D.B. cent, 1914-D cent, and 1922 no-D cent escalated to new highs. Even more common issues saw increasing prices. A recession occurred around the same time interest in the Lincoln cent series seemed to back off somewhat following the passage of the series bicentennial, and prices for several issues softened. As of 2014, Lincoln cent values appear to have stabilized, thanks to rebuilding interest from a numismatic community that appears to be recovering from the economic recession.
To help you better understand what the market is like for rare U.S. coins, we have provided you with a list of the Top 25 most valuable coins for each of the major U.S. coin denominations. It is our hope that you will find these comprehensive coin price guides helpful and educational in your collecting and investing ventures.
6 results - showing 1 - 6
6 results - showing 1 - 6
Latest Blog Posts