2017 U.S. Gold Coins For Collectors and Investors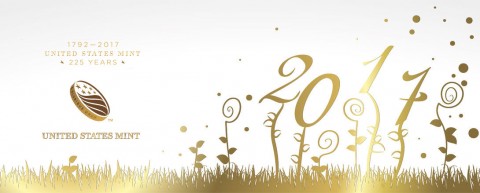 Coin collectors and investors who want 2017 U.S. gold coins are in luck, as there are several great options to choose from. As always, there are the $5, $10, $25, and $50 Gold American Eagle coins, and buyers also have an array of 2017 gold commemorative coins to choose from. Here's a brief rundown on the 2017 gold coins that will be hitting collections this year…
2017 American Gold Eagle Coins
One of the most popular bullion coin series in the world continues with the release of the 2017 Gold American Eagle coins. Available in the usual array of four sizes, the new 2017 gold coins will be available in investor-grade bullion quality or collectors' edition proof.
The four 2017 Gold American Eagle coins include:
2017 1/10-Ounce $5 Gold Coin

2017 1/4-Ounce $10 Gold Coin

2017 1/2-Ounce $25 Gold Coin

2017 1-Ounce $50 Gold Coin

American Eagle gold coins are made from a composition consisting of 0.999-fine gold, and when they were first released in 1986 they became the purest gold coins the United States Mint had made. While they are still among the purest gold coins in U.S. Mint history, there are newer gold coins that surpass the 0.999-fine pureness of the American Gold Eagles, including the Gold Buffalo coins mentioned below.
2017 Gold Buffalo Coins
Since their introduction in 2006, American Buffalo gold coins have become a major hit with coin collectors – so much so that people were paying multiples of their issue price just after they were first released. Gold Buffalo gold coins boast a design inspired by James Earle Fraser's Buffalo nickel, which was produced from 1913 through 1938.
Gold Buffalo gold coins contain 0.9999-fine gold and are among the purest gold coins the U.S. Mint strikes these days. While the 2017 Gold Buffalo coins are certain to be hits among coin collectors, the coins' 24-karat gold composition is sure to help win over plenty of diehard bullion investors, too.
2017 American Liberty High Relief Gold Coin
The United States Mint will honor its 225th anniversary by striking a $100 high-relief gold coin featuring Miss Liberty as an African American woman. While not the first time a black person has appeared on U.S. coinage (that color barrier was broken many decades ago when the Booker T. Washington commemorative half dollars were first struck in 1946), this will mark the first time that Miss Liberty has been depicted on an official U.S. coin with distinctly African American facial and hair features.
The U.S. Mint plans to follow up this black Miss Liberty gold coin with more gold coins featuring other diverse faces, including those of Hispanic, Asian American, and Native American individuals. The U.S. Mint has not yet announced many other details on these new Miss Liberty coins or exactly when they will be released.
2017 Boys Town Centennial Gold Coin
The 2017 Boys Town Centennial commemorative coin series honors the Nebraska-based charity organization that helps children and families during times of need. The United States Mint is honoring the 100th birthday of this beloved organization with a series of commemorative coins to be released in 2017 that include a half dollar, silver dollar, and $5 gold coin.
The 2017 Boys Town $5 gold commemorative coin will be released later in 2017 and feature an obverse design depicting Father Edward Flanagan, a Catholic priest who started the organization in Omaha, Nebraska, in 1917. The reverse of the Boys Town gold coin will include a design showing a young tree sapling sprouting from an outstretched hand. Congress has authorized the production of up to 50,000 Boys Town $5 gold coins.
About the author
Joshua McMorrow-Hernandez is a freelance writer and author who has contributed hundreds of online articles and blog posts, as well as published Images of America, Tampa's Carrollwood (Arcadia Publishing, 2013). Joshua is interested in a wide array of topics, and since 1992 has been heavily involved in numismatics, a topic about which he loves to research and write. His main area of focus is 19th and 20th century United States coins, but he also enjoys Canadian coins.