2019 Palladium American Eagle Bullion Coins Offer Investors A New Alternative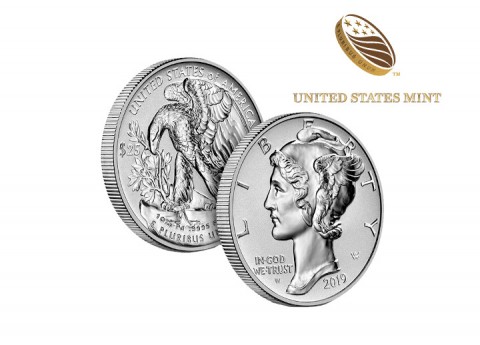 The new American Eagle 2019 One Ounce Palladium Reverse Proof Coin is the latest installment in the long-running American Eagle bullion coin family, born in 1986 with the release of the first American Gold Eagles and American Silver Eagles. The 2019 reverse proof palladium eagle also becomes the third type of palladium eagle, the first released in 2017 with a bullion-quality finish and the second in 2018 with a traditional proof finish.
Specs & Details Behind The 2019 Palladium Coin
The 2019 American Eagle Palladium Reverse Proof Coins contain one troy ounce of .9995-fine palladium and are being struck at the West Point Mint. Bearing a W mintmark, this palladium coin has a nominal face value of $25 and bears on its obverse a design of Winged Liberty by Adolph A. Weinman as seen on the Mercury dime struck from 1916 through 1945. The reverse carries a motif incorporating an eagle and a branch as seen on Weinman's 1907 American Institute of Architects (AIA) Gold Medal.
How Much Does The 2019 Palladium Eagle Cost?
Prior to the release of the new coin on September 12, 2019, there are no details on how much the new 2019 American Palladium Eagle will cost because of fluctuations in bullion spot prices. However, if past history is any indication, the new 2019 palladium coin will likely sell for a minimum premium of between $300 to $500 over its spot price. However, given the popularity of the American Palladium Eagle program to date, these premiums may go even higher in the secondary market. Today, some dealers are able to sell the earlier palladium eagles for as much as $500 over spot for the 20170-dated bullion-quality pieces and some $700 or more for the 2018 proofs.
How Many 2019 Palladium Eagles Will Be Struck?
The United States Mint has unveiled its plans to release 30,000 Palladium American Eagles. While this might seem like a relatively small number of coins, it's actually twice as large the mintage of either the 2017 or 2018 palladium eagles (with mintages of 15,000 each) and thus will double in a single year the total number of all United States palladium coins in the marketplace. As of press time, the US Mint has announced it will place an ordering limit of just 1 per household.
Collect Or Invest In Palladium Eagles?
That's a question only you can definitively answer. However, if you've got aims to collect palladium eagles for the sake of building a set, now might be a good time to begin. After all, the 2019 palladium eagles mark just the third installment in the United States palladium coin series, thus meaning you have fewer coins to buy if you want to get your collection up to date. Wait longer, and you might need to buy even more coins to bring your palladium coin collection current.
At this point the United States Mint has not announced specific plans for further palladium coins, but the release of more palladium coins is almost all but certain, especially if the 2019 reverse proof palladium coin is successful. On the other hand, if you plan to invest in these coins, you'll need to be a little more willing to accept the inherent risk that the value of your 2019 palladium eagles may fall – because, as you know, precious metals don't always just go up in value.
No matter if you want palladium eagles for the sake of investing or in building a collection, buying these coins requires a leap of faith for many people. The cost for the 2017 and 2018 palladium coins is solidly into the four figures, with many examples costing between $2,000 and $2,500 in the secondary market. Needless to say, both are hot items in the numismatic world these days, and the new 2019 reverse proof palladium coins are sure to be a big hit with numismatists and precious metals investors, too.
About the author
Joshua McMorrow-Hernandez is a freelance writer and author who has contributed hundreds of online articles and blog posts, as well as published Images of America, Tampa's Carrollwood (Arcadia Publishing, 2013). Joshua is interested in a wide array of topics, and since 1992 has been heavily involved in numismatics, a topic about which he loves to research and write. His main area of focus is 19th and 20th century United States coins, but he also enjoys Canadian coins.