A Guide to Canadian Maple Leaf Bullion Coins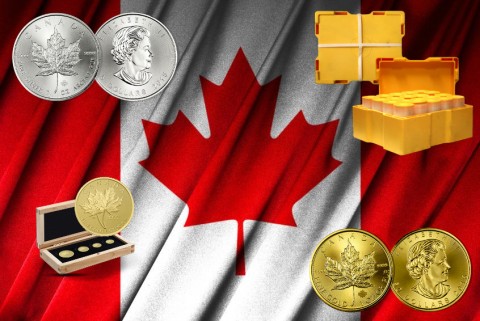 ​Canadian Maple Leaf bullion coins have been popular on the international metals market since 1979, when the first Canadian gold bullion coins were released for sale. At that time, the only other major gold bullion coin on the market was the South Africa Krugerrand, though it was not widely available as many nations boycotted goods from the African country during its apartheid era.
The release of Canadian gold bullion coins opened the doors for investors to own virtually pure, 0.999-fine gold coins. The gold Canadian bullion coins feature a portrait of Queen Elizabeth II on the obverse and a maple leaf on the reverse. These pieces would later usher in other types of bullion coins, including silver, platinum, and palladium Maple Leaf coins.
Canada Maple Leafs Of The 1970s and 1980s
Originally, the Canada Maple Leaf gold coins were offered only in a 1-ounce size. In 1982, the Royal Canadian Mint (RCM) purified the gold content further to 0.9999 (four "9"s versus three with the former composition) and also offered the first fractional gold bullion coins: 1/4-ounce and 1/10-ounce pieces. In 1986, a 1/2-ounce gold coin was added to the Maple Leaf lineup.
In 1988, the RCM issued its first Canada Maple Leaf silver coin, which was issued as a 1-ounce coin bearing a nominal face value of five dollars. These coins, which feature an obverse portrait of Queen Elizabeth II and a reverse Canadian maple leaf design, look similar in motif to the gold Canada Maple Leaf bullion coins.
Also in 1988, the first platinum Maple Leaf bullion coins were issued by the RCM. Platinum, which for years was more valuable than gold, has been a hotly traded commodity with a strong industrial market. However, platinum prices began falling in the late 1990s, and the demand for platinum bullion coins also declined. The platinum Maple Leaf coin, at the zenith of its popularity, was produced in five different fractional sizes, including 1-ounce, 1/2-ounce, 1/4-ounce, 1/10-ounce, and 1/20-ounce coins. Production of the platinum bullion coins seized in 2005, though the 1-ounce platinum Maple Leaf was reintroduced in 2009.
Canadian Maple Leaf Coins in the 1990s
In 1990, both gold and silver Canada Maple Leaf coins underwent a significant design change when the obverse portrait of Queen Elizabeth II was updated to reflect the monarch's gracefully aging appearance. The 1990 design, by Dora de Pédery-Hunt, replaced a portrait by Arnold Machin that was created in 1965, when Her Majesty was 39 years old.
A 1/20-ounce gold Maple Leaf coin was added in 1993, and an additional fractional gold coin was created when the 1/15-ounce gold coin was struck for that one year. A special silver Maple Leaf honoring the 10th anniversary of that series was issued in 1998. This reverse proof 10-ounce silver coin was offered for sale at $200. However, the price of silver bullion at the time was less than $6 per ounce, meaning the coin saw relatively little demand given its huge premium over spot; more than half of the 30,000 coins were melted.
In 1999, some silver Maple Leaf coins were issued with a privy mark to honor the 20th anniversary of the Royal Canadian Mint Maple Leaf program. Also in 1999, the RCM offered its first hologram and colorized gold Maple Leaf coins, both among the Mint's many special edition bullion coins.
Maple Leaf Coins in the 2000s
The year 2000 started off with a bang for Canada Maple Leaf silver coins. The RCM issued pieces bearing a privy mark that feature fireworks and a small number "2000." There was also the production of a millennium commemorative edition with 1999-2000 dual dating. Many of these special-issue privy mark coins were available only in Europe, though they have since entered the secondary market and are available to coin collectors and investors en masse.
In 2003, Susanna Blunt created a fourth portrait of Queen Elizabeth II, which appears on all Canadian coins made since 2003, including the silver and gold Maple Leaf coins. This portrait, which shows the Queen without her crown, calls to mind the portrait of her father George VI, who also requested that his effigy be depicted without a crown; his portrait was struck on Canadian coinage made from 1937 through 1952.
In 2005, the RCM struck the Liberation of Netherlands triple privy mark Silver Maple coin, which is among the rarest of coins in the entire silver Maple Leaf series. In 2005, the RCM also offered the North America Legacy of Liberty coin set, featuring two coins dated 2004 and two bearing the year 2005. The set contains the 2005 poppy colorized quarter and three one-ounce pure silver coins, including the 2004 D-Day, 2005 VE Day, and 2005 Victory Day coins. Other special-issue Maple Leaf coins have been struck, including the Maple Leaf Forever 1/2-ounce silver coins.
On the gold Maple Leaf coin side, the introduction of a 1-gram gold Maple Leaf coin in 2014 has opened up an affordable option for entry-level bullion investors. While the premiums on smaller gold coins are comparatively much higher than with the larger-size gold bullion coins, the fractional offerings have long been popular with both coin collectors and investors, and continue to sell at a brisk pace.
Another addition to the gold Maple Leaf coin production is the 99.999 fine, or "Five Nines Fine," gold coins. These are special-issue coins that were first offered in 2005 and are available in various denominations. Also added to the Canadian bullion coin lineup in 2005 was the platinum 1-ounce, $50 face Maple Leaf coins, which were issued intermittently through the year 2009.
The continued production of regular-issue and special edition silver and gold Canadian Maple Leaf coins keeps collectors and investors delightfully on their toes. Even with the ups and downs of the international bullion market, Canadian Maple Leaf coins continue selling well and are certain to maintain incredible popularity in the years ahead.
About the author
Joshua McMorrow-Hernandez is a freelance writer and author who has contributed hundreds of online articles and blog posts, as well as published Images of America, Tampa's Carrollwood (Arcadia Publishing, 2013). Joshua is interested in a wide array of topics, and since 1992 has been heavily involved in numismatics, a topic about which he loves to research and write. His main area of focus is 19th and 20th century United States coins, but he also enjoys Canadian coins.