U.S. Mint American Eagle Coins – Bullion Sales for Week Ending December 12, 2014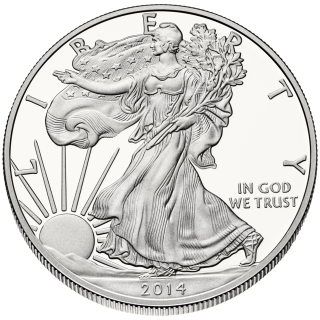 Gold and silver prices have climbed back to mid-October levels, but how long will bullion values sustain at this level? American silver and gold eagle coins seem to be languishing at the moment, as nobody can really tell where the bullion market will be tomorrow, next week, or next month. It seems this market uncertainty is persuading many investors to hold their wallets and purses tight, because as this U.S. Mint report for American silver and gold eagle bullion sales shows, there was relatively little activity this past week. Of course, some of that may have to do with the coming transition over to year 2015 American eagle coin production.
However, with gold prices back up to around $1,220 an ounce and silver peaking near $17, many investors who didn't buy bullion coinage when gold was down to $1,130 and silver $15 a few weeks ago may feel they missed opportunities to buy silver or gold at discount levels. Of course, time will tell if this is true or not.
Here are the U.S. Mint American eagle silver and gold coin sales figures for the past week ending December 12, 2014:
November 1-30

December 1-12

1 Oz. American Silver Eagle

3,426,000

901,000
1,722,500 for December

1 Oz. American Gold Eagle

49,000

0
12,000 for December

1/2 Oz. American Gold Eagle

8,000

0
0 for December

1/4 Oz. American Gold Eagle

12,000

0
6,000 for December

1/10 Oz. American Gold Eagle

40,000

0
30,000 for December
No gold eagle coins were distributed by the U.S. Mint over the past week. And while none of the 1/2-ounce gold coins were made last week and zero were made over the months of July and August, this past week was the first this year that no gold eagles were distributed at all. The American silver eagle, however, did post a moderate figure that helps bring that issue to nearly 2 million pieces for the month of December.
As we move into mid-December and close in on the end of the year, bullion forecasters are trying to make predictions and investors are looking for answers on where the market is heading as 2014 transitions into 2015. Here at CoinValues, we try to avoid drumming up a lot of speculation or making bold bullion predictions. All we will say based on concrete facts is that oil prices are still on shaky ground, and as many investors know, bullion prices often ride the ebbs and flows of other important markets (like crude oil). So, for the time being, hang on to the handlebars tightly and remember that the only thing that's really certain in bullion investing is uncertainty.
Rest assured we'll keep you posted.
By accepting you will be accessing a service provided by a third-party external to https://coinvalues.com/