U.S. Mint American Eagle Coins – Bullion Sales for Week Ending December 5, 2014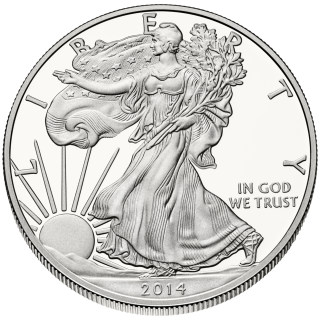 It was another busy week in silver and gold trading. Over last weekend, both metals stumbled in price, with silver at one point in the low $15 range and gold trading in the $1,140s. By Monday and Tuesday, a recovery brought prices of those metals respectively back into the $16 and $1,200 range. Meanwhile, the United States Mint is transitioning into 2015 American eagle coin issues, and release dates for those coins have been announced; the U.S. Mint will begin accepting orders for 2015 American silver eagles on January 12, 2015 while allocations for American eagle gold coins bearing the new date will begin on January 20.
Meanwhile 2014 American eagle silver and gold coins sold at a fast pace at the U.S. Mint. Here's a rundown on sales for the five American eagle silver and gold coin issues:
| | | |
| --- | --- | --- |
| | November 1-30 | December 1-5 |
| 1 Oz. American Silver Eagle | 3,426,000 | 821,500 |
| 1 Oz. American Gold Eagle | 49,000 | 12,000 |
| 1/2 Oz. American Gold Eagle | 8,000 | 0 |
| 1/4 Oz. American Gold Eagle | 12,000 | 6,000 |
| 1/10 Oz. American Gold Eagle | 40,000 | 30,000 |
While none of the 1/2-ounce American gold eagle coins have been made in December, you may notice a particularly large numbers of 1/10-ounce gold eagles have already been struck in December. Presumably, a large fraction of that figure has to do with holiday-related orders; many bullion distributors stock up on 1/10 American gold eagles since they are very popular holiday gifts.
There was also a strong demand for American silver eagles, as orders for more than 800,000 were made; many people buy silver eagles as gifts, too.
As we head toward the end of the year, we're see gas prices continuing to fall – an indication of lower crude oil prices, which generally affect bullion values. We are likely to see oil prices descend into early 2015, and therefore the daily gold and silver markets will continue to keep bullion investors on their feet, perhaps signaling a strong finish for all 2014-dated American eagles.
By accepting you will be accessing a service provided by a third-party external to https://coinvalues.com/