U.S. Mint American Eagle Coins – Bullion Sales for Week Ending January 9, 2015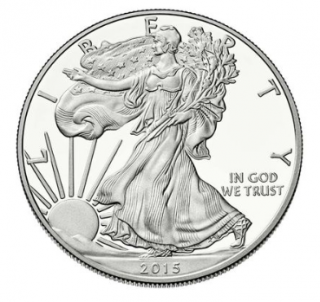 It's a new year, and with the start of a fresh calendar, the U.S. Mint bullion coin program is gearing up for what could be an exciting 2015. Going into January, bullion prices continue to stay soft, with silver in the $16 range and gold hanging out around $1,225.00 an ounce -- just about where bullion prices have remained since early last autumn.
While the buying opportunities seem ripe, given how low precious metal prices seem to be as compared to last year, it's also true that prices have been rather stagnant lately. Many bullion investors may be waiting to see what's going to happen next, as bullion prices had already plunged to recent lows (silver was $15 and gold $1,140) for a short period in early November. With crude oil, which is one of several determinant factors for bullion prices, showing signs of continued declines, some metals investors may be on the sidelines for now until there's some more defined movement among silver and gold prices.
As bullion investors start gauging the economic climate in 2015, the U.S. Mint has already distributed coins this year. Here's a look at the American silver and gold bullion coin mintage and distribution figures so far this year:
| | | |
| --- | --- | --- |
| | December 1-31, 2014 | January 1-9, 2015 |
| 1 Oz. American Silver Eagle | 2,459,000 | 0 |
| 1 Oz. American Gold Eagle | 13,000 | 26,000 |
| 1/2 Oz. American Gold Eagle | 0 | 13,000 |
| 1/4 Oz. American Gold Eagle | 6,000 | 24,000 |
| 1/10 Oz. American Gold Eagle | 35,000 | 65,000 |

Orders for 2015 American silver eagles are already being accepted, though there are no official figures to supply so far this year for the American silver eagle. Meanwhile, numbers for the American gold eagle coins appear to be quite strong, as 128,000 gold coins representing 45,000 ounces of the precious metal were sold so far this year. This is something of a correction from the last months of 2014, when the sale of American gold eagles slowed significantly.
By accepting you will be accessing a service provided by a third-party external to https://coinvalues.com/