U.S. Mint American Eagle Coins – Bullion Sales for Week Ending November 14, 2014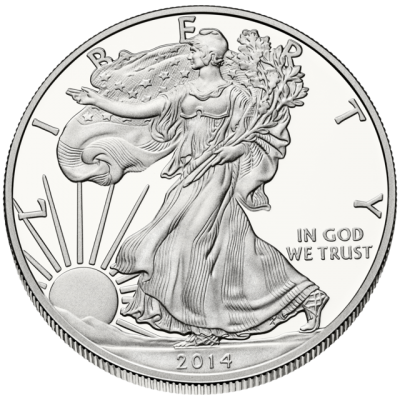 The first week of November saw silver and gold prices slide even further into four-year lows, but during the second week, it appears that a slight correction may be in the works. While we were talking about gold plummeting down to $1130 and silver dipping below $15 in the first week of November, this bullion report shows metal prices are edging northward again.
As of this writing, an ounce of gold has an asking price of $1189 while silver trades at $16.38, mimicking a pattern we saw back in October, a month that started with sinking metal prices and later rebounds in the middle of the month.
Meanwhile, many investors seem unsure as to whether or not they should buy silver and gold American eagles now or wait out the slight rebound and see if prices dip lower once more. At any rate, the buying frenzy early in the month led to a sell-out of 2014-dated American silver eagles.
The sellout is reflected in the chart below showing U.S. Mint bullion coin sales for the week ending November 14, 2014:
October 1-31

November 8-14

1 Oz. American Silver Eagle

5,790,000

0
(Sold out)
1,260,000 for November

1 Oz. American Gold Eagle

57,500

10,000
(39,000 for the month)

1/2 Oz. American Gold Eagle

6,000

2,000
(4,000 for the month)

1/4 Oz. American Gold Eagle

8,000

4,000
(8,000 for the month)

1/10 Oz. American Gold Eagle

50,000

15,000
(30,000 for the month)

The U.S. Mint is pledging to resume sales of American silver eagles on Monday, November 17. Even if silver prices don't show any signs of dipping in the coming week, expect to see robust sales activity nevertheless as silver bullion coin distributors try to get their hands on 2014-dated American eagle coins while they're still available from the source.
On the American gold eagle coin side, production rates have been fairly consistent in November so far, though for November a substantially larger share of 1 ounce gold eagles were produced during the first week than in the second.
Looking toward the week ahead, one wonders whether or not the U.S. Mint will sell out of American silver eagles once again, especially if silver prices continue to languish in the $15 spot range. Increased orders as holiday gifts could also add extra pressure on the available supply of American silver eagle coins.
About the author
Joshua McMorrow-Hernandez is a freelance writer and author who has contributed hundreds of online articles and blog posts, as well as published Images of America, Tampa's Carrollwood (Arcadia Publishing, 2013). Joshua is interested in a wide array of topics, and since 1992 has been heavily involved in numismatics, a topic about which he loves to research and write. His main area of focus is 19th and 20th century United States coins, but he also enjoys Canadian coins.