American Silver Eagle Sales Hit Astonishing Highs Last Week at U.S. Mint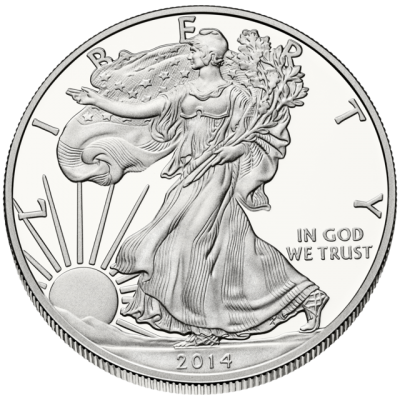 Dropping silver prices may be driving unprecedented levels of buying activity from bullion coin speculators. Just last week, the United States Mint sold more than 2,740,000 American silver eagles. In fact, on one day alone, the U.S. Mint took orders for some 1,150,000 silver eagles. That figure could very well be a U.S. Mint record for one day sales of American silver eagles.
With silver prices hovering right around $17 an ounce, it's possible this buying frenzy will continue. If this dizzying pace maintains, the U.S. Mint may have to implement rations on American silver eagles. However, at the moment, the U.S. Mint has reported having on hand an ample supply of silver to continue meeting demands for American silver eagles.
On Monday, October 6, American silver eagle sales amounted to 125,000 pieces – historically a healthy number, but far less than the 1 million-plus doled out on October 1. Bear in mind that if silver prices continue dropping, we could see continued growth in the number of orders, which indeed may instigate rations.
It seems most of the buying activity is coming from the major silver bullion distributors, who are handling an increasing number of orders from sales and local coin dealers; this is in large part what has driven the phenomenal American silver eagle sales as of late. What's more, it could be speculated that some of these silver dealers are stocking up on their inventories in the event of silver bullion coin rationing at the U.S. Mint.
Any news of silver coin rations would almost assuredly cause pressure on older American silver eagles and could create ripple effects on silver coin values.
About the author
Joshua McMorrow-Hernandez is a freelance writer and author who has contributed hundreds of online articles and blog posts, as well as published Images of America, Tampa's Carrollwood (Arcadia Publishing, 2013). Joshua is interested in a wide array of topics, and since 1992 has been heavily involved in numismatics, a topic about which he loves to research and write. His main area of focus is 19th and 20th century United States coins, but he also enjoys Canadian coins.