American Silver Eagle Sales Soar At U.S. Mint in August 2015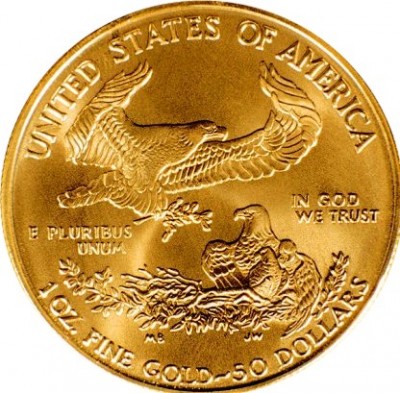 As the price of silver keeps dropping, sales of 2015 American Silver Eagles keep soaring higher and higher. August 2015 was another busy month at the United States Mint, as nearly 5 million American Silver Eagles and more than 240,000 American Gold Eagles of various denominations (totaling 101,500 ounces of gold) flew out of the U.S. Mint.
The bullion sizzle continued through the summer, as sales were also strong in June and especially July. The sales pace was quickened by several drops in the bullion price for both gold and silver, which saw some multi-year record lows going into August. This even resulted in a sellout of American Silver Eagles in July, when silver was stuck in a long losing streak.
For all the activity with the silver and gold American Silver Eagles, it must be noted that there have still been no Platinum American Eagles produced as of yet this year. Otherwise, here is a breakdown of the sales figures for the American Silver Eagles and American Gold Eagles from the United States Mint:
| | | |
| --- | --- | --- |
| Bullion Coin Type | July 2015 | August 2015 |
| 1 Oz. American Silver Eagle | 5,529,000 | 4,935,000 |
| 1 Oz. American Gold Eagle | 144,500 | 78,500 |
| 1/2 Oz. American Gold Eagle | 10,000 | 8,000 |
| 1/4 Oz. American Gold Eagle | 28,000 | 24,000 |
| 1/10 Oz. American Gold Eagle | 135,000 | 130,000 |
While overall sales figures are lower across the board than they were in July, what is most important to see is that all bullion sales from the U.S. Mint remain strong.
How Will Bullion Sales Look In The Fall / 4Q 2015?
While we at Coin Values never proclaim to have a crystal ball when it comes to any coin investments, sales activity, or other issues in the realm of bullion and numismatics, it is safe to say that the year will likely close out on a strong note for bullion coins. So far, 32,250,000 American Silver Eagles have been struck, and there are still four months to go in 2015. Last year's record of 44,006,000 American Silver Eagles could fall if the U.S. Mint strike just another 12 million pieces, which would average out to 3 million American Silver Eagles per month.
On the gold bullion side, sales have been robust as well. The question is, how long will the numbers carry? Unlike American Silver Eagles, which have a fairly large numismatic following, sales of American Gold Eagle, particularly those of the bullion-issue (non-proof) pieces, are driven by the investor market.
There is a lot of concern about what the Federal Reserve may do regarding interest rates in September 2015. Any actions, or lack thereof, could stir market troubles and perhaps affect bullion prices. At the same time, there are troubles in China and Greece, and these major world players could also create ripple effects in the global bullion market.
Meanwhile, gas prices in the United States are heading downward, with many cities reporting per-gallon prices at $2.00 to $2.20. Some analysts believe gas may go below $2.00 per gallon during the autumn, and this could also foretell where bullion prices may go in the coming months as well; as many bullion investors keenly know, oil prices often lead bullion prices, though there are always exceptions to the rule.
Bullion Prices So Far
As of this writing, gold prices are about $1,145.00 per ounce while silver is $14.75 an ounce. While these prices are still low as compared to early this year, early August was a great time to buy gold. That's when gold was trading around $1,190.00 an ounce; silver, meanwhile flirted with dropping below $14 an ounce for a brief time around August 26.
Could silver and gold go even lower? At this point, it is anyone's guess. A year ago, few investors would believe that silver would trade below $15 an ounce and gold could be bought for less than $1,200, let alone even below $1,100. The market appears to be in a state of stagnancy right now and may bounce up and down a bit before either heading back up or sinking even lower.
For the meantime, bullion is shaping up to be a gamble, and one could either score a profit or stand to lose, based on which way the market goes. For now, those who are willing to buy gold and silver should do so only if they are open to gambling; as always, investing in any coins or bullion truly is just that, and there are no "fast ways to earn a buck."
Will the bullion market continue to favor the buyer or soon become a seller's dream? Stay tuned.
About the author
Joshua McMorrow-Hernandez is a freelance writer and author who has contributed hundreds of online articles and blog posts, as well as published Images of America, Tampa's Carrollwood (Arcadia Publishing, 2013). Joshua is interested in a wide array of topics, and since 1992 has been heavily involved in numismatics, a topic about which he loves to research and write. His main area of focus is 19th and 20th century United States coins, but he also enjoys Canadian coins.