American Silver Eagles On Track for Record Year Again? U.S. Mint Sells Huge Number of Bullion Coins in January 2015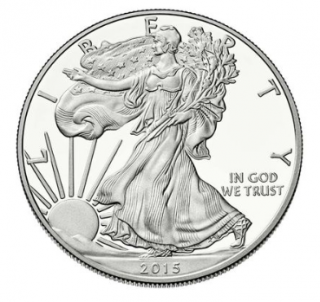 The new year was off to a remarkable start at the U.S. Mint, which sold a tremendous number of American silver eagle and American gold eagle coins in January. As many in the bullion community know, the U.S. Mint tends to see a marked increase in orders during the first weeks of the new year, but the rather low silver and gold prices that have persisted since 2014 4Q has only quickened the pace for orders.
It's no surprise that silver bullion saw an especially large surge going into the new year. Strong appeal of silver among investors sent American silver eagles flying to a record year in 2014, when 44,006,000 coins were produced. Gold was also strong, but had seen years with higher production figures. The .999-fine silver American eagles, however, were a hot item in 2014, and they start their 30th year once again on top.
Here's a breakdown of total sales figures for American silver and gold eagle coins for the month of January 2015, with comparisons to the previous January:
| | | |
| --- | --- | --- |
| | January 2014 | January 2015 |
| 1 Oz. American Silver Eagle | 4,775,000 | 5,530,000 |
| 1 Oz. American Gold Eagle | 62,500 | 51,500 |
| 1/2 Oz. American Gold Eagle | 12,000 | 18,000 |
| 1/4 Oz. American Gold Eagle | 28,000 | 36,000 |
| 1/10 Oz. American Gold Eagle | 160,000 | 115,000 |
Another Record Year For American Silver Eagles in Store for 2015?
What stands out right away is that 755,000 more American silver eagles were sold in January 2015 than last January. Does that mean 2015 could be yet another record-smashing year for the internationally popular American silver eagle? Clearly, 2015 is still young, but for a little mathematical fun, if the production of American silver eagles kept the same pace throughout the rest of this year as was seen in January, then 66,360,000 American silver eagles could roll off the presses this year. Obviously, that's a purely hypothetical figure, and one that will in all likelihood be off by several million pieces by the waning days of 2015.
For perspective on where American silver eagle numbers of January stand in relation to years earlier than 2014, it should be noted that the past month's sales figures do not constitute a January record. In January 2013, 7,498,000 silver ealges were sold. One year earlier, 6,107,000 silver eagles were distributed. 2011 was also a strong January, as 6,422,000 hit the market then.
In sum, January 2015 saw 5,530,000 ounces of silver distributed in the .999-fine, one-ounce coins; 81,000 ounces of gold were sold in 220,500 gold bullion coins released by the U.S. Mint in January.
Factors Behind U.S. Mint Sales Figures
Fluctuations in silver prices has been a driving force behind the ebbs and flows of silver eagle distribution in 2014, which was a year that saw at least two monumental moments for the silver bullion coin. The first came early in October 2014, when 1.15 million American silver eagles were sold on just one day – an all-time single-day sales record for the coin. Just a bit more than one month later, the U.S. Mint sold out of silver eagles.
Both events occurred on days when silver bullion prices were heading down to multi-year lows. In fact, shortly before the November sellout, silver bid prices had briefly settled below $15 per ounce – a figure that hadn't been seen in the silver bullion markets for more than four years. Just a few months earlier, during the summer, silver prices boiled above $20 an ounce.
Meanwhile, gold had seen similar drop-offs as the summer months cooled into the autumn. Gold fell into $1,150-per-ounce territory, coming off prices that were nearly $170 higher that previous August.
While the bullion declines were disappointing to gold and silver investors who dumped hundreds, if not thousands, of dollars into the precious metals market earlier in the year, the price drops were welcome news to people who wanted to buy silver and gold. For many, it became a veritable silver rush, with American silver eagles dropping below $20 each for the first time in years. Gold saw similar buzz among buyers, but, given the higher prices for gold coins, saw fewer actual transactions than American silver eagles, which enjoy a wide market base consisting of both investors and numismatists.
Bullion Prices Appear to be Heading North
The month of January has been fairly eventful in terms of silver prices, which started off the year at around $15.80 but had steadily climbed upward to nearly $18.50 by January 22. Silver ended the month at around $17.35. Gold also has seen a wild month. January commenced with gold trading in the neighborhood of $1,190. The metal climbed just past $1,300 on January 22 and is sitting at $1,285 with the month drawing to a close.
As many investors know, oil prices are a huge driving factor behind precious metal price activity, and the tanking gas prices have also helped drive down bullion values since late last year. Some indications point to rising oil prices in the coming weeks, and that may be what's helping to fuel a steady, upward trend in silver and gold prices since the start of the year.
Obviously, as bullion prices presumptively rise higher still, bullion coin sales may head downward from the robust figures reported for January. The bullion industry and other markets will surely respond as more financial reports summing up activity in 4Q and the entire year of 2014 come to light.
By accepting you will be accessing a service provided by a third-party external to https://coinvalues.com/