Summer Bullion Coin Sales On Fire at U.S. Mint In July 2015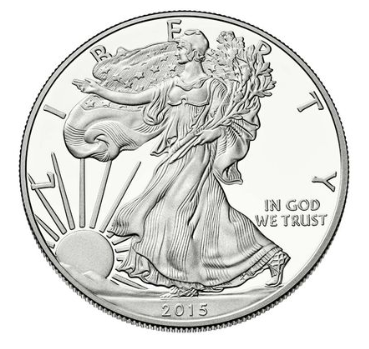 Summer is sizzling, and so are bullion coin sales at the United States Mint which, helped by stumbling bullion prices, has been busy stocking orders as sales have increased to a feverish point for July 2015. In fact, for the month, the U.S. Mint reported some of the strongest sales figures for the year across all 2015 silver and gold bullion coins. Yet, as of the end of July, there have still been no platinum bullion coins minted.
An old adage goes, it's always good to "buy low," and it seems many investors think now is the time to do that, as silver rests below $15 an ounce and gold stays below $1,100, where it has been during most trading periods in the last week of July. While both silver and gold prices could certainly head even lower, among the individuals buying up bullion right now, it seems the consensus is that precious metals are a bargain right now. And they are, at least as compared to their values at this time last year, when silver was $20 an ounce and gold was $1,300.
There will be more analysis below, but here is a month-by-month comparison of American Gold Eagle and American Silver Eagle coin sales from the U.S. Mint in June and July 2015:
| | | |
| --- | --- | --- |
| Bullion Coin Type | June 2015 | July 2015 |
| 1 Oz. American Silver Eagle | 4,840,000 | 5,529,000 |
| 1 Oz. American Gold Eagle | 62,500 | 144,500 |
| 1/2 Oz. American Gold Eagle | 4,000 | 10,000 |
| 1/4 Oz. American Gold Eagle | 12,000 | 28,000 |
| 1/10 Oz. American Gold Eagle | 85,000 | 135,000 |
What Do the Numbers Above Mean?
A glance at the sales figures for July versus June clearly shows a huge increase in bullion coin distribution by the U.S. Mint over the course of those two months. Interestingly, the American Silver Eagle coin sales were still quite impressive for July despite the fact that there was a sellout early in the month for that coin series. Allocations resumed some three weeks after the U.S. Mint ran dry on the popular silver bullion coins.
Meanwhile, the U.S. Mint is reporting that its gold coin sales are at their highest in two years, following the tumble in gold bullion prices. In fact, compared to June, the July sales of each of the four different American Gold Eagle coin series was about double, more or less, than their June sales figures. In all, the U.S. Mint sold 317,500 American Gold Eagle coins in July, totaling the equivalent of 170,000 ounces in raw gold.
Certainly, the slide in bullion prices is the main driving factor behind the increase in bullion coin sales at the U.S. Mint. But, are their other factors at play here?
The financial crisis in Greece certainly has some investors on their toes, with doomsday-ers wondering if this is the beginning of the end for the Euro. Other investors are taking a wait-and-see approach to the Greek financial woes, and are moving forward with a more conservative outlook on bullion procurement.
Nevertheless, anytime the world markets look to be in jeopardy, gold and silver become very hot commodities. Not to mention, there is always a strong presence of silver and gold buyers who believe the U.S. dollar is on its way out and that bullion will skyrocket in price to new heights.
There is also the casual bullion coin buyer who has "heard something" about silver prices and gold prices heading downward and is buying a few pieces of bullion now. In some cases, these buyers are acting on reasonable prudence, though for others the impetus may more rest on the fact that it has become fashionable in some sense to buy bullion coins now, even though they have been on a generally downward trend in price since last autumn.
The nagging question for many of these buyers and those who are dipping their toes in the investment waters is, "when will bullion bounce back?"
Will American Eagle Coins Still on Track to Break Records?
With July a memory and August now afoot, there is still some time yet to see how 2015 shakes out for bullion. The Greek financial troubles have not yet quelled, fuel prices appear to be on the way down, and perennial uncertainty in the Middle East are all playing out and could have implications on the bullion market moving forward.
What can be said with some degree of certainty is that the American Eagle silver and gold coins, particularly the 1 ounce and 1/10 ounce coins in the case of the gold, are having a very strong year in terms of sales and could eclipse previous year-end sales records. That is, if the pace for sales in June and July continues during the remainder of the year.
What Will Happen During the Rest of 2015 3Q?
The Greece financial crisis has continued having a heavy influence in the world markets, which get finicky when any of the European nations show signs of economic weakness. Meanwhile, there have been recent predictions that gasoline prices in the U.S. may head back down to $2 per gallon or even lower going into the fall. Traditionally, falling gas prices relate to falling bullion values, but those two events don't always go hand in hand.
The best question might be, what happens if silver and gold prices fall to, say, $12 and $950, respectively – much higher than the prices of those two metals 10 or 15 years ago, but mfar lower than they have been in recent memory. Will investors simply stop buying silver and gold bullion coins if the coins' intrinsic values don't stabilize? During many past points along the bullion roller coaster, buyers tended to become more active when prices went up, not down. So, time will only tell if strong bullion coin sales at the U.S. Mint continue.
Stay tuned!
About the author
Joshua McMorrow-Hernandez is a freelance writer and author who has contributed hundreds of online articles and blog posts, as well as published Images of America, Tampa's Carrollwood (Arcadia Publishing, 2013). Joshua is interested in a wide array of topics, and since 1992 has been heavily involved in numismatics, a topic about which he loves to research and write. His main area of focus is 19th and 20th century United States coins, but he also enjoys Canadian coins.