Bullion Coin Sales at the United States Mint Are Brisk in May 2015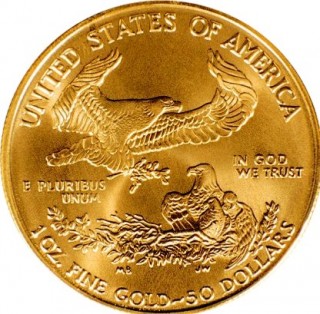 Heading into the late spring, bullion coin sales at the United States Mint continued to be strong for both silver and gold American Eagle coins, though there were a few noticeable differences in sales patterns during May as compared to the sales data posted for April. While we at Coin Values tend to focus mainly on silver and gold bullion coins sales, it's also well worth noting that the United States Mint did not strike any platinum American Eagles in May, meaning none have been made for the year of 2015 up to this point.
Here's a comparison of American Eagle bullion coins sales activity for April and May 2015, with month-to-month comparisons.
| | | |
| --- | --- | --- |
| | April 2015 | May 2015 |
| 1 Oz. American Silver Eagle | 2,851,000 | 2,023,500 |
| 1 Oz. American Gold Eagle | 23,500 | 13,500 |
| 1/2 Oz. American Gold Eagle | 4,000 | 3,000 |
| 1/4 Oz. American Gold Eagle | 4,000 | 10,000 |
| 1/10 Oz. American Gold Eagle | 30,000 | 40,000 |
What Do the Bullion Coin Sales Numbers Above Mean?
Noticeably, the total of American Silver Eagles struck in May 2015 is down markedly from the sales data we reported in April 2015, with some 800,000 fewer Silver Eagles selling in May than during the previous month. Certainly, this must be a reflection of the relative stagnation in silver bullion prices over the course of the past several months. Even still, bullion prices did bounce a bit in May, with per-ounce silver prices starting out the month at around $16.19 and hitting as high as $17.80 on May 18. During the last two weeks of the month, silver settled around the $16.70s.
Sales of American Gold Eagles, however, were stronger in May than in April. This situation likely correlates with the small spike in gold bullion prices during the middle of May. May 1st saw gold trading at $1,178 per ounce, followed by a sudden surge peaking at $1,230 on May 18 – the same day silver also trended to its highest point for the month.
As other Coin Values bullion reports have reflected, sales increases for American Gold Eagles and American Silver Eagles usually follow sudden and significant bullion price changes. Certainly, silver prices enjoyed a spike in May as gold did, but investors sometimes tend to react more with gold bullion price changes because of that metal's overall pricing premiums and high demand on the world bullion market.
That's not to suggest investors don't get excited when silver starts showing signs of significant price movement one way or the other – they do, as evidenced by the American Silver Eagle sellouts in the autumn of 2014, when silver prices took a turn south. Besides, silver has a robust industrial market, which dedicated silver investors follow very closely.
Are American Eagle Coins on Track to Break Sales Records in 2015?
In the April 2015 silver and gold bullion report, we had posed this question: will American Eagle coins break any sales records in 2015? With more than half of the year still to go, the answer to this question is a resounding "anything's possible." However, American Gold Eagle coin production, to this point, has been strong but not necessarily outstanding. Meanwhile, American Silver Eagle sales started the year off very strong and were mathematically poised to break year-end sales records, had the pace of sales in January continued throughout the year; certainly, overall sales numbers have since fallen.
Of course, it's generally implausible that sales of American Silver Eagles (or American Gold Eagles, for that matter) would be sustained at a steady pace month to month for the course of an entire year. Natural sales patterns dictate that there will be ebbs and lows in the production and sale of bullion coins. That is primarily because bullion coin demand tends to reflect overall market conditions, which, as we all well know, are anything but static.
So, to turn this long answer into a short answer, the likelihood of there being year-end record sales for American Silver Eagles is probably lower now than what was anticipated at the start of the year. However, the year is still relatively young. If market factors such as major changes in oil prices or significant domestic or international events play out, there could certainly be upward or downward pressure on bullion prices.
If silver and gold prices plunge lower or rise precipitously higher, which is always a possibility, then we could see sudden surges in gold and silver bullion coin activity. That would, of course, mean increases in sales figures for American Gold Eagles and American Silver Eagles.
What Will Happen to Silver, Gold Bullion Prices During the Rest of 2015 2Q?
While we don't have a crystal ball here at Coin Values, it's likely the market will continue to see bullion investors largely remain on the sidelines as many wait out this period of relatively stable gold and silver prices. Many bullion investors are simply waiting to see whether silver bullion prices return to the $20+ mark that had been sustained for a period of several years (until late) or if silver makes a slow but steady decline under $15.
Surely, we haven't seen $15-per-ounce silver values in months now, but it may be that silver is simply taking an undulating roller coaster ride down to lower values for the long haul. Gold, meanwhile, is similarly stable, save for the typical peaks and valleys that accompany day-to-day trading.
We saw gold and silver prices plunge during the late summer of last year, when oil prices also took a sustained fall. Surely, bullion investors are waiting to see if we see similar drops in oil prices later this year as the summer traveling season wanes.
Stay tuned!
By accepting you will be accessing a service provided by a third-party external to https://coinvalues.com/