5 Proven Tips for Buying Coins on eBay - How to Avoid Scams and Come Out a Real Winner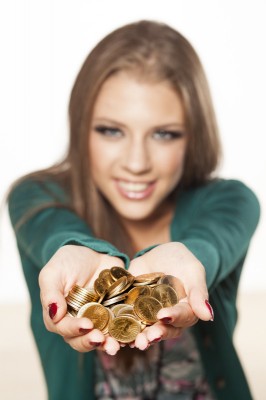 Thousands of people are buying coins on eBay everyday, and it's not hard to see why. While I still frequent my friendly local coin dealers, I do enjoy browsing coins online and will occasionally buy some on eBay. Of course, as is the case with any products sold on eBay, there are always some risks associated with buying coins sight-unseen.
Sometimes, coins are misrepresented, and there's the ever-inherent danger of buying counterfeit coins – something we've seen tons of in recent years with the arrival of fake coins from China.
I've bought many coins on eBay and am quite satisfied with what I've bought there over the years. However, I don't buy coins willy-nilly on eBay, and I'm always careful when dropping more than a few bucks on a coin that I've found online.
Here are five tips that I'd like to share to help you make the best purchases when buying coins on eBay:
Always check seller feedback before making a purchase – If the coin seller has lots of positive marks and has been around for a while, you're probably OK. Avoid sellers who have negative marks though. Thankfully, most eBay sellers have fantastic reviews and seem to have few, if any, problems to report.
Don't buy a coin unless it's pictured – This may seem like pretty obvious advice, but you'd be surprised how many people are buying coins on eBay without ever seeing a photo of what they're about to purchase.
Ask questions about the coin – If you need to find out more about the coin's grade or overall condition, you might want to ask the seller for details first. Do bear in mind though that many sellers defer questions about a coin's grade to what's seen in the coin's photo. Some coin sellers will use a standard guide, like Photograde or the ANA grading guidelines.
If you're buying rare coins on eBay, be sure they're certified – I know there are plenty of genuine, "raw" coins on eBay because I've seen them, but there are also lots of counterfeit coins floating around, too – and some are pretty convincing. I therefore play it safe, and if I'm buying rare coins, I make sure they come in sonically sealed plastic. Buying slabbed coins on eBay from reputable firms like PCGS, ANACS, SEGS, NGC, and ICG, should keep you in the clear.
If a deal is too good to be true, it probably is – This old adage rings true in the coin world, too. Don't try to go for a "cheap deal," becuase, really, the words "cheap" and "deal" never go together. You pretty much will always get what you pay for! You aren't going to buy, say, a 1909-S VDB Lincoln cent for $200, turn around, and then sell it for $1,000. Why? Because a 1909-S VDB penny that sells for $200 is probably a fake. Check out our U.S. coin prices here on Coin Values to see about what you should expect to pay before buying coins on eBay (or anywhere else, for that matter).
There are many advantages to buying coins on eBay, and I never let the relatively small risk of getting scammed stop me. I know if I'm careful buying coins on eBay and follow the tips I've shared above, I should be safe. Take my advice, and you should be, too.
About the author
Joshua McMorrow-Hernandez is a freelance writer and author who has contributed hundreds of online articles and blog posts, as well as published Images of America, Tampa's Carrollwood (Arcadia Publishing, 2013). Joshua is interested in a wide array of topics, and since 1992 has been heavily involved in numismatics, a topic about which he loves to research and write. His main area of focus is 19th and 20th century United States coins, but he also enjoys Canadian coins.