Canada Looney Tunes Coins Keep Collectors In Stitches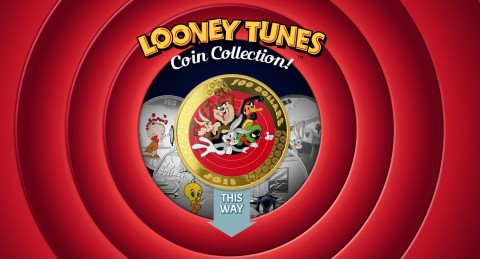 Canadian Looney Tunes coins are spreading joy among bullion investors and numismatic collectors these days. In 2015, the Royal Canadian Mint began offering a series of coins that honors one of the most world's most beloved cast of animated characters – Looney Tunes. These silver and gold Canadian coins – many of them colorized – come in a variety of denominations and feature some of the most popular characters from the Looney Tunes gang, including Bugs Bunny, Daffy Duck, Wile E. Coyote, the Tasmanian Devil, and many others.
While the officially licensed coins are made from precious metal, these gold and silver coins aren't necessarily the best buys for penny-pinching bullion investors due to the high premiums over spot for these coins. However, they make great gifts for coin collectors young and young at heart, and they are particularly nice coins for anyone who is a devoted fan of the Looney Tunes series.

The Royal Canadian Mint has released numerous Looney Tunes coins in 2015. Here's a current rundown of the different types of Looney Tunes coins that have been made:
2015 12-Gram Gold Proof $100 Looney Tunes Coin with Colorized Surfaces
2015 $20 Silver Merrie Melodies Coin with Colorized Surfaces
2015 4-Coin $20 Silver Coin Subscription Set Featuring Tweety Bird, Sylvester the Cat, Daffy Duck, and Bugs Bunny
2015 8-Coin $10 Silver Coin Subscription Set Featuring Tweety Bird, Sylvester the Cat, Marvin the Martian, Road Runner, Wile E. Coyote, Daffy Duck, Bugs Bunny, and "That's All Folks" coin with a group of the lovable characters
2015 $250 1-Kilogram Ensemble Cast Silver Coin with Bugs Bunny, Daffy Duck, Wile E. Coyote, Sylvester the Cat, Marvin the Martian, Tweety Bird, Porky Pig, Foghorn Leghorn, Elmer Fudd, the Tasmanian Devil, Road Runner, Speedy Gonzalez, Yosemite Sam, Pepé le Pew, and Michigan J. Frog with colored enamel on Bugs Bunny's likeness
2015 $2,500 1- Kilogram Ensemble Cast Gold Coin, which features the same design as the 1-kilo silver coin; this piece has a mintage of just 10 and sells for $69,000 CAD.
While the coins could be ordered through the Royal Canadian Mint, these pieces have limited mintages and, thus, may no longer be offered for sale directly from the Mint. Those who are interested in buying these coins should therefore also check out secondary market coin dealers. Another great source for buying these collectible coins is eBay. Just be sure you're getting the best price – you don't want anybody dropping proverbial anvils on your head, after all.
"That's all, folks!" (I couldn't resist).
About the author
Joshua McMorrow-Hernandez is a freelance writer and author who has contributed hundreds of online articles and blog posts, as well as published Images of America, Tampa's Carrollwood (Arcadia Publishing, 2013). Joshua is interested in a wide array of topics, and since 1992 has been heavily involved in numismatics, a topic about which he loves to research and write. His main area of focus is 19th and 20th century United States coins, but he also enjoys Canadian coins.