Coin Buying Ethics - Is It OK To Cherrypick?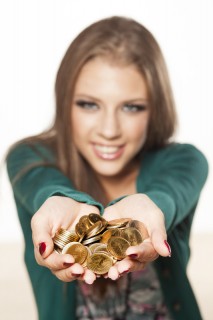 I was thinking about the matter of ethics in buying coins the other day while shopping at a local coin dealer and I wondered – we all talk about how important it is that coin dealers are honest and play fairly with their customers. But what about the matter of honest, ethical coin buyers? What should we numismatic consumers do if we spot a rare coin variety in an otherwise common mint set offered for $4, or accidentally receive a coin that is much more valuable than what we paid for it?
I experienced a situation just like that several years ago when I was still a kid. I had purchased a standard, "Good/Very Good" Barber half dollar as a type piece from a mail order coin dealer. The price for that coin was advertised at $6 (this was back in the mid 1990s). About two weeks later, I opened my mailbox to find a package from the coin dealer and, in it, was my order. What "G/VG Barber half dollar" did I wind up with? A problem-free 1913 (Philadelphia) Barber half dollar. The coin, even back then, was worth at least $25 to $30, or significantly more than the amount that I paid.
As a kid, I didn't know what to do except to place another order from that coin dealer a few weeks later.
The irony of this story is that the coin dealer, who I'll leave unnamed in this article, later ended up not sending customers their orders and closed up shop -- unannounced. No refunds were issued. The coin dealer was not deceased, and I wasn't the dealer's only customer to have suffered a blow.

My mom (I was still a minor) placed a call on my behalf to the Better Business Bureau, but we never received the coins I had ordered – or the money back from the $47 purchase. The amount I lost was still much more than the difference in value between, say, a Good 4 1913-D (common) Barber half and the much scarcer 1913 in the same grade I received.
What To Do If You Spot A (Really) Good Deal On Coins
So, I had both enjoyed tremendous profit and had been bitten by the same coin dealer. Lesson learned? Work with reputable coin dealers -- of which there are so many more out there than otherwise.

Do we coin buyers have an ethics guideline to follow like our friends on the other side of the glass coin case should as businessowners? Surely, we expect coin dealers to be honest when working with us. Is it therefore too much to ask that they expect their customers to also be honest?
This topic came up in a recent conversation I recently had with noted coin expert Mitch Spivack, who is an advocate of educating oneself to be able to "cherrypick" coins in one's numismatic area of interest. During my interview with Mitch, he discussed cherrypicking high-end cameo proof coins and die varieties in modern, copper-nickel clad and 40% silver proof sets.
He suggested that one appropriate manner to address the cherrypicking issue might be to simply pay one's dealer of choice who routinely supplies nice, fresh material a premium for their sets. "For example," he says, "if one was paying $5 per set for fresh 1968 or 1969 proof sets and was often receiving lovely sets with a deep cameo coin or two (and possibly even a variety or two still in the sets), then perhaps a nice way to address the cherrypicking issue might be to offer that coin dealer $6 or even $7 for future sets," he remarks. "There is obviously no guarantee that future [proof] sets will be as nice as sets from the past, but this suggestion essentially gives back a little bit of the past profits to the dealer who is continuing to supply truly fresh material to you and not junk."
Coin Buying Ethics Outside The Coin Dealer
Spivack's advice seems sound to me. Quietly "tipping" your favorite coin dealer for their great coins (and wonderful service) is a wonderful idea – it rewards the coin dealer with a small cut of the profits you've made from buying choice coins or scarce varieties at bargain-basement prices without directly calling out that dealer for "missing" valuable pieces that are being inadvertently sold in sets, rolls, or "junk" lots.
I'd say this is a win-win for both parties, especially if you're dealing with a professional coin expert who otherwise "should" be aware of coin varieties, cameo proofs, and other coins winding up in his or her inventory.
Of course, the matter of cherrypicking ethics can't be resolved in every coin buying transaction exactly as discussed above. What about the genuine (but "raw," or unslabbed) 1909-S VDB penny being offered for $1 at an estate sale managed by a 91-year-old widow whose husband just passed away? Knowingly making a 1,000 percent profit on that purchase wouldn't settle well in the hearts of many ethical, scrupulous individuals. Surely, offering only $5 or even $50 for a 1909-S VDB cent worth a $1,000 woudn't be deemed fair by many people who consider themselves "ethical."

In other words, the unspoken guidelines of fair coin buying are different when buying coins from a professional coin dealer and, say, an elderly person at a yard sale. In any case, let your best judgment of fairness guide coin buying your decision. And always ask yourself this question: how would you want somebody to treat you?
By accepting you will be accessing a service provided by a third-party external to https://coinvalues.com/