Collecting Canadian Small Cents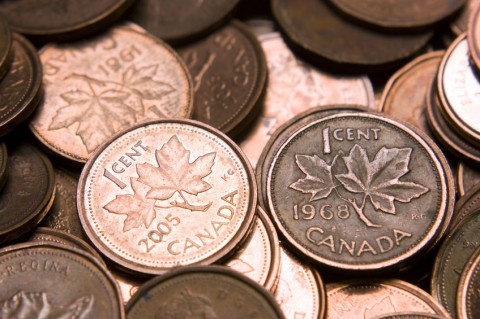 Canadian small cents are great coins to collect because they represent a relatively affordable series yet still offer many challenges for even the most seasoned of coin hobbyists. While Canada introduced its one-cent coin in 1858, the denomination was originally struck as a so-called "large" cent, similar to the half-dollar-size U.S. large cents and broad British pennies of yesteryear. Canada reduced the size of its one-cent coins in 1920 from 25.5 millimeters in diameter to 19.1 millimeters and continued striking pennies until 2013, when the nation eliminated that denomination.
Canadian small cents were made with two distinct reverse designs and saw three different reigning monarchs; Queen Elizabeth II alone had four different obverse portraits on the Canada cent. Additionally, there were a few commemorative designs and an array of die varieties. This adds up to several interesting elements to help keep coin collectors on their toes.
Here is a rundown of the major types of Canadian small cents:
King George V – 1920-1936
King George VI – 1937-1952
Queen Elizabeth II, 26 years old – 1953-1964
Queen Elizabeth II, 39 years old – 1965-1989
Queen Elizabeth II, 64 years old – 1990-2002
Queen Elizabeth II, 76 years old – 2003-2013
Over the years, there have been a few commemorative designs on the Canadian small cent that represent single-year types:
1936 George V Dot Below Date Cent
1967 Canadian Confederation Centennial with Rock Dove
1992 Canadian Confederation 125th Anniversary, 1867-1992 dual dating
2002 Queen's 50th Jubilee 1952-2002 dual dating
How Much Are Canadian Pennies Worth?
Most circulated Canadian small cents are worth 5 cents to $1 each in circulated grades, while proof cents are generally worth $1 to $10. Several business-strike Canadian pennies are worth considerably more. Here's a rundown of the valuable semi-key and key-date Canadian pennies:
1922 – $15
1923 – $30
1924 – $7
1925 – $25
1926 – $4
1927 – $1.50
1930 – $2
1936 Dot Below Date – $250,000
1955 Without Strap – $100
1965 Large Beads & Pointed "5" – $1.50
1985 Pointed "5" – $1
*Values are for coins in average circulated condition and are worth more in better grades and less if well worn, cleaned, or damaged.
How To Collect Canadian Small Cents
Those who are collecting Canadian pennies from pocket change may choose to store their coins in cardboard folders, which is perfectly sufficient for circulated common-date pieces. Hobbyists who endeavor upon collecting uncirculated and/or proof coins or wish to acquire scarcer Canadian pennies might be prudent in selecting more protective (though more expensive) coin albums. Several manufacturers offer coin folders and albums for Canadian pennies, including Whitman, Dansco, and H.E. Harris.
Because the Canadian Mint no longer makes pennies, the overall range of Canada's small cents is closed – meaning there is a defined starting point (1920) and ending point (2013). For this reason, many people simply collect all Canadian small cents from 1920 through 2013. Still, there are coin collectors who will focus on a specific reigning monarch, such as George V or Queen Elizabeth II. Within the Queen Elizabeth II Canadian pennies alone, there are at least four well-defined short sets, all based around the four different obverse portraits of the Queen.
Some coin collectors even go one step further in defining their Canadian penny short sets, focusing on just the various "straps" or "without straps" design modifications of 1953 through 1955 or the die varieties concerning the rim border beads and variations on the date digit "5" among the 1965 Canadian pennies. Indeed, the possibilities for collecting Canadian small cents are virtually endless!
About the author
Joshua McMorrow-Hernandez is a freelance writer and author who has contributed hundreds of online articles and blog posts, as well as published Images of America, Tampa's Carrollwood (Arcadia Publishing, 2013). Joshua is interested in a wide array of topics, and since 1992 has been heavily involved in numismatics, a topic about which he loves to research and write. His main area of focus is 19th and 20th century United States coins, but he also enjoys Canadian coins.