Columbian Half Dollars Were the First U.S. Commemorative Coins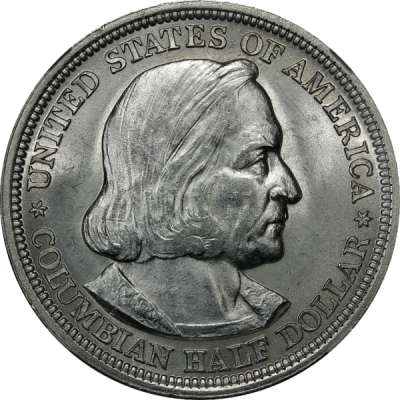 In 1892, the United States first minted Columbian Exposition silver half dollars to commemorate the 400th anniversary of Christopher Columbus' voyage to the Americas. The Columbian half dollar was struck in 1892 and 1893 and was sold for $1 as a souvenir at the World's Fair in Chicago. Over the course of two years, some 5 million pieces were struck, with 950,000 dated 1892 and the remainder made in 1893.
The Columbian half dollar was a collaborative effort of two famous coin designers – Charles E. Barber and George T. Morgan. Barber, whose popular work includes the Liberty nickel and "Barber" silver coinage, designed the obverse of the Columbian half dollar. George T. Morgan, whose most famous coin is the Morgan silver dollar, handled the art on the reverse of the Columbian half dollar.
While Columbian half dollars were popular with fairgoers, not all of these commemorative silver coins were sold. Only about half of the total number of pieces were either sold or released, and many wound up in circulation. In fact, a great many of these collectible souvenir coins entered the channels of commerce, and by 1900, Columbian half dollars were frequently found in pocket change. Few were carefully preserved by coin collectors.
Today, most of the surviving Columbian half dollars exhibit wear and age. Even those that were saved by coin collectors show signs of light handling, and many were cleaned – something that happened to scores of pre-20th century coins. However, by no means are Columbian half dollars rare, and most are found between the grades of Extremely Fine 40 and Mint State 60, and typical specimens cost between $15 and $30. Pristine uncirculated specimens are much rarer and can cost hundreds of dollars.
About the author
Joshua McMorrow-Hernandez is a freelance writer and author who has contributed hundreds of online articles and blog posts, as well as published Images of America, Tampa's Carrollwood (Arcadia Publishing, 2013). Joshua is interested in a wide array of topics, and since 1992 has been heavily involved in numismatics, a topic about which he loves to research and write. His main area of focus is 19th and 20th century United States coins, but he also enjoys Canadian coins.