Delaware Dollars Kick Off American Innovation $1 Coin Series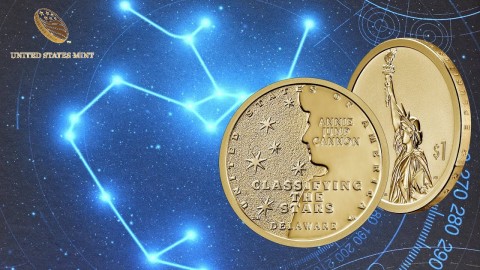 The American Innovation $1 coins are among the latest releases from the United States Mint, and the first of these new golden dollar coins honors an astronomical pioneer from the state of Delaware. The name of this "star" is Annie Jump Cannon, and she was instrumental in developing the Harvard Classification Scheme, a modern method of star classification still used today in astronomy. Cannon was born in Dover, Delaware, on December 11, 1863 the daughter of a ship builder and state senator.
Delaware Dollar First State Honored in American Dollar Series
A school-age Annie had a love for astronomy and, though she suffered hearing when she was young, she pursued her love of science and parlayed this passion into a successful career. The Delaware dollar features on its obverse an abstract side-profile silhouette of Cannon looking leftward into a sea of stars with the words "CLASSIFYING THE STARS" emblazoned on the lower half of the coin. The reverse design is designed by Donna Weaver and engraved by Joseph Menna. Meanwhile the obverse depicts an image of the Statue of Liberty, a design by Justin Kunz and engraved by Phebe Hemphill.
The Delaware dollar is the first state to be individually honored in the American Innovation $1 coin series, which will honor inventions and inventors from each of the 50 states plus the District of Columbia and the outlying U.S. territories. The coins are being released in the order that each state or territory joined the United States, with Delaware the first state to join the Union and, thus, also the first state to be recognized in this series.
American Innovation Dollars Gearing Up For Long Ride
The American Innovation dollar coins were first released in 2018 with an introduction coin that kicked the series off with a likeness of George Washington's signature approving the United States patent program that began in 1790. Including the initial 2018 introduction coin, there will be a total of 57 issues in this series. With releases coming at a clip of four per year beginning in 2019, the series will culminate in 2032 with a quarter featuring a subject specific to the Northern Mariana Islands.
The Delaware American Innovation $1 coin is joined by three other 2019-dated dollar coins in the series, including those honoring the polio vaccine (Pennsylvania), the lightbulb and filament (New Jersey), and the first experimental agriculture garden (Georgia). None of the 2019-dated dollar coins are slated for release into circulation but they can be acquired from the United States Mint in uncirculated sets, proof sets, rolls, and other products.
Collecting American Innovation Dollars
As American Innovation dollar coins aren't being released into circulation, collectors will need to turn to the United States Mint or private coin dealers to build a collection of these golden dollars. Some collectors will opt to buy just one example of each dollar coin, while others will pursue both business-strike examples and proofs.
There are a multitude of supplies on the market giving collectors a bevy of attractive methods for storing and organizing their American Innovation dollar sets. These include albums, folders, and display cases, and these can be found online or at your nearest coin dealer, with options available for collectors of virtually every budget level.
About the author
Joshua McMorrow-Hernandez is a freelance writer and author who has contributed hundreds of online articles and blog posts, as well as published Images of America, Tampa's Carrollwood (Arcadia Publishing, 2013). Joshua is interested in a wide array of topics, and since 1992 has been heavily involved in numismatics, a topic about which he loves to research and write. His main area of focus is 19th and 20th century United States coins, but he also enjoys Canadian coins.