eBay Top 25 Morgan Dollar Sales for November 2014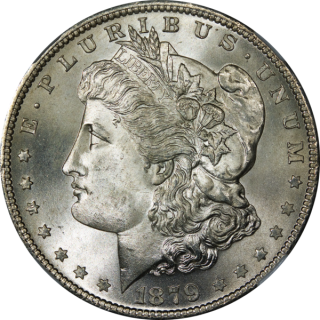 Morgan silver dollars are always a top seller on eBay, the most popular online auction site around. In November 2014, some very rare and expensive coins crossed the virtual auction block. In this post, we'll check out which ones were the most expensive Morgan silver dollars to sell on the site that month.
Here's a rundown of the Top 25 most expensive Morgan silver dollars sold on eBay in November 2014. As you'll see, the usual suspects of the rare variety make numerous appearances on this list, along with a litany of premium-quality dollars that would make any cartwheel coin connoisseur salivate:
1893-S NNC MS 62, $14,899.99 – It's never a surprise when the 1893-S Morgan dollar appears at the top of the monthly CoinValues most expensive silver dollars list. This is not a bad deal at all for an uncirculated 1893-S dollar, which is probably due to the coin being in a National Numismatic Certification (NNC) holder instead of a slab from the more popular Professional Coin Grading Service (PCGS) or Numismatic Guaranty Corporation (NGC), which are usually known as being conservative grading firms.
1893-CC NGC CAC MS 63, $9,650.00 – Usually the 1893-S dollar takes the #1 spot on our most expensive coin lists, but the 1893-CC is typically not far behind. This piece even received the elusive CAC designation.
1885 PCGS MS 66+ DMPL and CAC, $8,295.00 – Only 1 example of this issue is known to be finer than this one. As with all Morgan dollars in his rundown of November sales, there are some solid prices being paid for the top coins, which indicated interest is definitely strong in the better-grade and better-date material.
1903-S PCGS MS 64, $7,995.95 – The 1903-S is a one of the key coins in the Morgan silver dollar series. So, with a price tag of under $8,000 this is a handsome deal, especially considering that this piece is housed in a PCGS slab.
1893-S PCGS XF 40, $7,799.00 – Another 1893-S comes in within the Top 5 portion of our most expensive dollar list. Even though this is not an uncirculated specimen as the NNC holder claims for the #1 coin, this is a high-end circulated specimen in a PCGS slab – a coin that would be prized by any true Morgan dollar connoisseur.
1891-S PCGS CAC MS 65, $6,811.00 – Though not a scarce coin by measure of mintage or availability in the lower grades, an 1891-S silver dollar is considerably scarce in the mint state grades and, especially, in MS 65. The CAC designation and PCGS slab make this extraordinary coin even more appealing to collectors.
1895-S NGC MS 63+, $6,761.00 – The 1895-S is a positively scarce coin in any grade, and in uncirculated grades, it's often considered rare. This choice silver dollar is also in an NGC slab, which helps boost the confidence among some buyers that this coin is truly a mint state coin with some better-than-typical surfaces.
1896-S NGC MS 64+, $6,100.00 – Like many Morgan silver dollars, the 1896-S isn't scarce in the lower circulated grades, but is considerably rare in uncirculated grades. Choice coins like this make a great buy for any Morgan dollar aficionado.
1889-CC NNC MS 62, $6,100 – There's an extra special allure about Carson City Morgan dollars. For one, any CC-mintmark Morgan dollar is scarce, and in mint state grades they're even rarer. Make it a key-date silver dollar like this one, and an owner is guaranteed to find a ready market when the time comes to sell.
1893-S NNC AU 55, $5,913.00 – To round out the Top 10 portion of this list is another 1893-S and this one, like the #1 coin, is in an NNC slab. For an 1893-S dollar listed at AU 55, a price under $6,000 is a steal. However, each coin certification company has its own grading standards, and sometimes buyers may perceive a coin to be in a different grade than what the label inside a coin slab states. Perhaps that explains the low final bid on this piece.
Top 25 Most Expensive Morgan Dollars for November 2014 – 11th Through 25th Highest Priced on eBay
What follows are prices for the 11th through 25th most expensive Morgan silver dollars sold on eBay in November 2014. The coins listed below reflect a little more diversity in dates and attributions. There are even some GSA hoard dollars, a VAM piece, and some premium-quality common dates.
11. 1889-CC NGC CAC XF 45, $5,100.00
12. 1879-CC NGC MS 62, $5,008.00
13. 1893-S NGC VF 25, $4,900.00
14. 1893-S raw & ungraded, $4,863.00
15. 1895-S VAM 3 S/S PCGS MS 61 $4,700.00
16. 1884-CC PCGS DMPL MS 66, $4,550.00
17. 1893-CC DMPL uncirculated & raw, $4,543.79
18. 1881-CC PCGS MS 67, $4,500.00
19. 1881 NGC Proof 64, $4,322.50
20. 1883-CC GSA Hoard NGC MS 66+, $4,300.00
21. 1883-CC PCGS CAC MS 67, $4,250.00
22. 1896-O Uncirculated mirror proof-like & raw, $4,162.00
23. 1893-S PCGS VF 25, $4,158.00
24. 1921-S PCGS MS 66, $4,003.03
25. 1890-CC GSA Hoard MS 62, $3,868.90
By accepting you will be accessing a service provided by a third-party external to https://coinvalues.com/