eBay Top 25 Morgan Dollar Sales for October 2014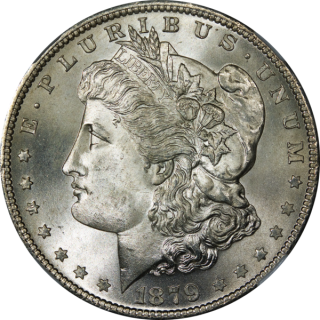 It's always educational for Morgan dollar collectors and investors to look over eBay sales data and see what various issues in the series have sold for over the past month. This glance at the Top 25 eBay sales for Morgan dollars in October 2014 shows many of the usual suspects claiming Top 10 spots, along with a few encapsulated high-grade specimens that are otherwise "common dates."
Let's take a look at the Top 25 most expensive Morgan dollars sold on eBay in October 2014:
1889-CC PCGS MS-62 DMPL – $49,995 – One of the most sought-after dates in the Morgan dollar series, the 1889-CC is difficult to locate in any grade. This one snagged an MS-62 grade from the rather conservative Professional Coin Grading Service (PCGS) and has a Deep Mirror Proof Like designation to boot.
1893-S Average Uncirculated – $15,100 – You knew it wouldn't be long before an 1893-S Morgan dollar showed up on this list, and here's the first of several to appear this month. This "raw" example was sold as an uncirculated specimen and garnered more than 40 bids.
1893-S AU – $9,447.34 – Another "raw" 1893-S, though this one is significantly less expensive than the one above. The price difference owes to the fact that this specimen is "only" an Almost Uncirculated coin, versus the one above, which is graded Uncirculated.
1879-CC GSA NGC MS-62 $8,000 – This Carson City Morgan dollar was graded by NGC in the coin's 1970s GSA sale holder, which only helps to add value to the coin. GSA dollars are very popular with coin collectors, and the third-party label would seal the deal for virtually any Morgan dollar aficionado with deep pockets.
1884-S Uncirculated "blast white" – $7,000 – This "raw" 1884-S Morgan silver dollar wasn't sold with a specific grade beyond "uncirculated," but its bright white surfaces are a huge selling factor.
1893-S VF-25 – $6,450 – While buying "raw" 1893-S Morgan dollars isn't usually advisable, that's precisely what seems to have happened multiple times on eBay in October. Of course, with enough knowledge in coin authentication diagnostics, there's no reason a buyer should pass up an opportunity to buy a rare piece like the 1893-S Morgan dollar. But buyers should be aware of the many counterfeits that are floating around.
1879-CC PCGS MS-62 – $6,095 – Interestingly, the only difference between this MS-62 Morgan dollar and the one above in the #4 spot (aside from the third-party grading company) is the GSA holder included with the coin above. This helps illustrate the difference in value between regular Carson City Morgan dollars and those in their GSA holders.
1893-S PCGS VF Detail – $5,334.99 – "Details" coins are usually looked upon as pariahs in the marketplace, but when it comes to pieces like this rare 1893-S Morgan dollar, there's almost always a buyer to be found.
1892-S PCGS AU-55 – $5,250 – The 1892-S may seem fairly plentiful with 1,200,000 pieces minted, but recall that millions of Morgan dollars were melted in later years. The 1892-S, which sells for right around $100 in Very Fine, jumps in values in the upper grades.
1895-O Proof-Like Uncirculated blast-white – $5,105 – 1895 Morgan dollars are, across the board, rare for that year. One has to wonder if this coin would have received a higher final price if it had been in a third-party holder. Nevertheless, it pulled in more than $5,100 for its previous owner and closes out this month's Top 10 review of Morgan silver dollar sales on eBay.
What follows are the 11th through 25th most expensive Morgan dollars to sell on eBay in October 2014. It's no surprise that the 1893-S makes several more appearances below, and there are also a few Morgan dollars that grade on the better side of MS-65.
On a side note, don't forget that we now have a great new feature here at CoinValues where you can view all Morgan dollar sales for a particular year. To find eBay sales listings going back several months, simply click on the Morgan dollar year of choice from our Morgan dollar hub.
1893-S NGC VF-30 $5,100
1878 in GSA Soft Pack - $5,051
1893-S uncirculated - $5,000
1893-S PCGS VF-20 - $4,875
1878-CC NGC MS-66 - $4,400
1889-CC PCGS XF-45 $4,399
1883-S Gem Mint Uncirculated PQ++ - $4,325.81
1880/79-CC Rev of 78 Gem Uncirculated Depp Mirror Proof-Like - $4,261
1878-CC PCGS MS-66 - $4,249
1893-S PCGS VF-20 - $4,168
1885-CC Gem Uncirculated Deep Mirror Proof-Like - $4,159
1891-S PCGS MS-66 $4,150
1883-CC PCGS MS-67 $4,148
1893-S PCGS F-15 CAC Certified $4,139.50
1884 PCGS MS-65 DMPL - $4,075
By accepting you will be accessing a service provided by a third-party external to https://coinvalues.com/