eBay's Top 25 Mercury Dime sales for January 2014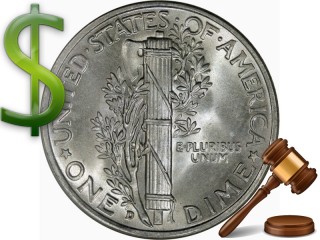 The Mercury dime, or Winged Liberty Head dime as numismatic aficionados refer to the type, is a classic silver coin that was struck during the years 1916 through 1945 and has remained a popular collectible to this day. The Mercury dime, designed by Adolph A. Weinman, remains on top of many collectors' lists not only as a type coin for rounding out 20th century coin sets and birth year sets, but also a coin to be collected as a series.
In this rundown of the most expensive Mercury dimes according to eBay sales from the month of January 2014, you'll see that one particular date keeps popping up on a consistent basis among the most expensive Mercury dimes.
What date, you ask?
You probably know – it's the 1916-D. With a mintage of only 264,000 (and presumably only a fraction of these remain today), the 1916-D Mercury dime is the key date of the series, and is the holy grail for Mercury dime collectors as the famous 1909-S VDB cent is to Lincoln penny enthusiasts.
Here's a look at the priciest Mercury dimes on eBay during January 2014:
#1 1916-D AU 58 Details in an ANACS slab, $8,500 – What does it say when the highest-priced Mercury dime on eBay during the month of January 2014 was an impaired 1916-D? Volumes, actually. The 1916-D is perhaps the most famous dime, though indeed not the rarest coin of the denomination. And, insomuch, the 1916-D attracts heavy interest from coin collectors who wants an example of this coin, especially a specimen that is only a few surface rubs shy of being uncirculated.
#2 1916-D Original Fine, $2,275 – It's interesting to note that this 1916-D Mercury dime was sold raw. Of course, it takes a lot of guts to bid on an unslabbed rare coin on eBay, but apparently this one had no problem finding a buyer, even if the coin wasn't in sonically sealed plastic bearing the name of a reputable third-party coin grader. Real 1916-D Mercury dimes with honest-to-goodness wear are hard to come by, and the buyer of this coin looks to have found a sweet deal indeed.
#3 1916-D Ungraded, $2,205.01 – This 1916-D Mercury dime was listed on eBay as a judge-for-yourself piece. Given the going price of a little north of $2,200, it appears the final bidders judged this coin to be around a fine to very fine, if pricing is consistent with the typical going prices of Mercury dimes in the middle grades.
#4 1934-D MS 67 Full Bands in a PCGS slab, $1,979 – While a 1934-D Mercury dime is common in terms of dates, there is simply nothing common about this blazing beauty with full split bands in the fasces, seen on the reverse design. High-level mint state Mercury dimes are true gems and make gorgeous additions to any collections of 20th century U.S. coinage.
#5 1916-D Very Fine, $1,825 – Another gutsy bid by an eBayer who has faith in the notion of buying unslabbed rare coin. Not that there's anything wrong with that, though usually buyers of rare coins on eBay are advised to buy only those specimens that are housed in third-party plastic. Of course, buying a raw rare coin on eBay may be a good deal – the potential of fewer bidders on raw rare coins means great deals for those who actually score legitimate rarities!
#6 1916-D Fine in an ANACS slab, $1,800 – Only $25 separates the raw VF 1916-D above and this ANACS-certified F-12 1916-D Mercury dime. That price disparity drives home the point made above – slabbed rare coins are worth more in the eyes of eBay bidders than raw pieces. Of course, if the raw piece checks out as legitimate, than it is an incredible deal indeed. Buying unslabbed rare coins can be like playing Russian roulette. Sometimes you score, sometimes you're burned.
#7 1916-D Fine-Plus, $1,695 – More proof that raw rare coins go for less than similar pieces in a third-party slab. If this piece is truly a Fine-plus 1916-D Mercury dime (at least Fine 15), then the buyer of this coin got a much better deal than the bidder who bought the coin that came in at the Number 6 spot above!
#8 – 1926-D MS 65 in a PCGS slab, $1,650 – Less than 7 million 1926-D dimes were originally minted, making this coin a better date. A blazing white MS 65 1926-D Mercury dime like this one is a definite treasure for any Mercury dime enthusiast.
#9 – 1916-D Very Good with Colorful Toning in a PCGS slab, $1,595 – Let's face it, toning is a hit or miss thing in coin collecting. Two collectors can have two very different opinions on what they consider beautiful toning, but who can turn down a slabbed example of a toned 1916-D Mercury dime grading VG-8? Coming in at under $1,600, this 1916-D Mercury dime wasn't a bad deal at all.
#10 1929-S MS 66 Full Bands in a CAC-Approved PCGS slab, $1,495 – Under 5 million 1929-S Mercury dimes were ever made, and we can all lay our money down on their being fewer of these today than there were in 1929. Premium-quality Mercury dimes like this one, which features full split bands to boot are great grabs for any enthusiast of this series and wraps up the top 10 of this month's feature on most-expensive Mercury dimes. Read on to see the rest of the top 25.
January 2014 Mercury Dimes Sales Chart
| | | | | | |
| --- | --- | --- | --- | --- | --- |
| Coin | | Starting Price | Sale Price | Bids | Date |
| 1916-D Mercury Dime - ANACS AU58 Details (Ultra Rare) | | $8,500.00 | $8,500.00 | 1 | 1/15/2014 |
| 1916 D Mercury Head Dime Fine Key Date Original US Coin #5085 | | $2,395.00 | $2,275.00 | 1 | 1/3/2014 |
| 1916-D Mercury Dime | Auction | $899.99 | $2,025.01 | 9 | 1/30/2014 |
| 1934-D Mercury Dime Ten Cent PCGS MS67FB CAC 25350487 | Auction | $1,979.00 | $1,979.00 | 1 | 1/30/2014 |
| 1916-D MERCURY DIME VERY FINE RARE KEY DATE!! | Auction | $0.99 | $1,825.00 | 26 | 1/28/2014 |
| 1916-D 10C Mercury Dime ANACS F-12 | Auction | $1,800.00 | $1,800.00 | 1 | 1/9/2014 |
| 1916 D MERCURY DIME SHARP LOOKING FINE + KEY DATE | | $1,695.00 | $1,695.00 | 1 | 1/4/2014 |
| 1926-D Mercury Dime - PCGS MS-65 FB - US Coin | | $1,650.00 | $1,650.00 | 1 | 1/9/2014 |
| Scarce 1916 d PCGS VG08 Colorful Toned Key Date Mercury Dime | | $1,595.00 | $1,595.00 | 1 | 1/20/2014 |
| 1929-S MERCURY DIME PCGS MS-66 FB CAC APPROVED! | | $1,495.00 | $1,495.00 | 1 | 1/6/2014 |
| 1916-D Mercury Dime PCGS VG8 | | $1,549.00 | $1,430.00 | 1 | 1/11/2014 |
| 1916-D 10c Mercury Dime VG8 CAC PCGS | | $1,413.00 | $1,413.00 | 1 | 1/8/2014 |
| 1942/41 Mercury Dime, Challenging Key Date, CHOICE AU++/UNC ** Free Shipping! | Auction | $1,260.00 | $1,260.00 | 2 | 1/29/2014 |
| 1916 D MERCURY DIME KEY DATE DIME | | $1,000.00 | $1,000.00 | 1 | 1/10/2014 |
| 1916 D MERCURY DIME KEY DATE DIME | | $1,000.00 | $1,000.00 | 1 | 1/17/2014 |
| 1916 D MERCURY DIME KEY DATE DIME | | $1,000.00 | $1,000.00 | 1 | 1/31/2014 |
| 1942/41 Mercury Dime NGC AU 55 Rare 1942/1 Overdate | Auction | $0.99 | $937.37 | 24 | 1/7/2014 |
| 1942/1 D Mercury Dime 10¢ PCGS AU53 KEY DATE Certified Silver AU53 1942 over 1 | Auction | $495.00 | $921.00 | 17 | 1/5/2014 |
| 1921 MERCURY DIME, CHOICE AU+, FULL MINT LUSTER | Auction | $900.00 | $900.00 | 1 | 1/17/2014 |
| 1916-D Mercury Dime! Free Shipping! | Auction | $0.99 | $861.00 | 30 | 1/26/2014 |
| 1916-D 10c PCGS G 04 CAC Mercury Dime | | $850.00 | $850.00 | 1 | 1/10/2014 |
| 1916D MERCURY DIME SILVER KEY COIN | | $850.00 | $850.00 | 1 | 1/21/2014 |
| 1916D MERCURY SILVER DIME KEY TO THE SERIES PCGS G6 #225 | Auction | $0.01 | $841.00 | 19 | 1/12/2014 |
| 1916-D MERCURY DIME PCGS G04 FROM A STACKS AUCTION SILVER COIN | Auction | $99.00 | $821.00 | 25 | 1/28/2014 |
| 1916-D Mercury Dime, Rare Key Date, ** Free Shipping! | Auction | $0.99 | $803.41 | 36 | 1/28/2014 |
| 1916-D Mercury Dime PCGS G04 | Auction | $800.00 | $800.00 | 1 | 1/10/2014 |
| 1916-D PCGS G04 Mercury Dime - Key Date | | $825.00 | $800.00 | 1 | 1/23/2014 |
| 1934-D MERCURY DIME PCGS NO 14508545 MS66FB | Auction | $445.00 | $756.50 | 15 | 1/14/2014 |
| 1916 D Mercury Dime PCGS Good 4 Key Date | | $769.99 | $752.00 | 1 | 1/30/2014 |
| United States 1916-D Mercury Dime - Graded ANACS | Auction | $699.99 | $720.01 | 2 | 1/4/2014 |
| 1925 MERCURY DIME PCGS MS65FB GREEN LABEL | | $720.00 | $720.00 | 1 | 1/29/2014 |
| 1936-S Mercury Dime NGC MS 66 FB ** Free Shipping! | Auction | $0.99 | $710.00 | 39 | 1/29/2014 |
| 1921 D MERCURY DIME AU DETAILS IMPROPERLY CLEANED! CERTIFIED BY NGC! | | $750.00 | $700.00 | 1 | 1/19/2014 |
| 1942/41 Mercury Dime | | $800.00 | $700.00 | 1 | 1/30/2014 |
| 1916 D Mercury Dime Bold, Strong 'D' NO Cleaning 100% Original Series Key Date | Auction | $0.01 | $700.00 | 37 | 1/23/2014 |
| 1935-S MERCURY DIME FULL BAND MS66FB PCGS | | $670.00 | $670.00 | 1 | 1/28/2014 |
| 1921-P MERCURY DIME ALMOST UNCIRCULATED DETAILS FULL SPLIT BANDS ! MAKE OFFER | | $695.00 | $670.00 | 1 | 1/1/2014 |
| 1916-D Mercury Dime * Super Rare Date * Nice Good Quality * Free Layaway * | | $649.50 | $669.99 | 1 | 1/21/2014 |
| 1942/41-d OVERDATE 10C MERCURY DIME-NGC/CAC-EF-40 CERTIFIED | | $799.00 | $650.00 | 1 | 1/24/2014 |
| 1927 Mercury Dime PCGS MS66 FB - FULL BANDS | | $649.00 | $649.00 | 1 | 1/30/2014 |
| 1942/1 XF 45 Old Generation Blue Holder PCGS Mercury Dime Double Date | | $815.00 | $635.00 | 1 | 1/4/2014 |
| 1916 D MERCURY DIME IN GOOD DETAILS SCRATCHES CERTIFIED BY NGC! | | $645.00 | $630.00 | 1 | 1/2/2014 |
By accepting you will be accessing a service provided by a third-party external to https://coinvalues.com/