eBay's Top 25 Morgan Silver Dollar sales for January 2014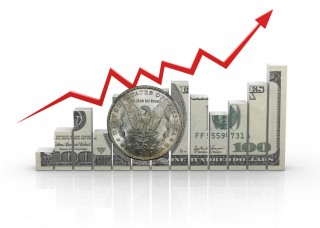 Morgan dollars are a perennial favorite among coin collectors, and sales figures on eBay from January 2014 tell the story – Morgan dollars remain as popular as ever. The eBay online auction site saw a lot of action in January surrounding its Morgan dollar offerings, with hundreds of pieces closing in the four-figure range, and two specimens pulling in more than $10,000 each.
While many coin series, such as Lincoln cents, have seen prices pull back somewhat in recent times for high-end and key-date specimens, it seems Morgan dollars are enjoying plenty of enthusiastic interest from both coin collectors and coin investors.
The top 10 most expensive Morgan dollars in the list below include a variety of dates in an array of conditions, including circulated grades. This is indicative of the fact that there are several key-date Morgans that are scarce even in worn grades, and the princely premiums they command are in many cases higher than they were just a few years ago, when prices across the board for the Morgan dollar series were at soft levels after a plummet from late-1980s highs.
1892-CC, MS-65 in a PCGS slab, $12,400 – It's no surprise at all that this Carson City rarity pulls in at the top spot for the most expensive Morgan dollar sold on eBay during the first month of 2014. The 1892-CC is among the rarest of dates in the popular Morgan dollar series and always a heavy hitter in the pricing category.

1878 8 Tailfeathers, Proof-66 in a PCGS slab, $11,300 – Who can turn down a gorgeous proof specimen of a first-year Morgan dollar? Nobody with enough money to spend on one, that's for sure. Proof Morgan dollars are beautiful coins and must-haves for any collector who loves these large silver coins.

1893-S, XF-40 in a PCGS slab, $8,055 – There are few things more exciting for a collector of Morgan dollars than a beautiful, high-grade 1893-S Morgan with only hints of honest wear.

1883, Proof 65 in a PCGS slab, $6,395 – Again, all proof Morgan dollars are a thing of beauty, and one that can pull in a grade of PF-65 from a respected third-party coin grader like PCGS is nothing to sneeze at.

1893-S, VF-35 in an ANACS slab, $6,170 – Ah, what do we see here? Another 1893-S Morgan dollar in this Top 10 run down? Yes, and Morgan dollar collectors know why – this coin is exceedingly rare and instantly become a crown jewel in the collection of any person who buys one.

1896-S, MS-64 in a PCGS slab, $6,100 – The 1896-S is a scarce date with only 5 million piece struck, and is a tough date even in circulated grades. Offer an uncirculated 1896-S for sale, and you'll be sure to attract the eyes of many a Morgan dollar connoisseur!

1893-S, VF-20 in a PCGS slab $6,040 – With only 100,000 ever minted and certainly far fewer remaining thanks to meltings over the years, the 1893-S is, across the board, rarer than virtually any other business-strike Morgan dollar.

1879-CC, MS 62 in a PCGS slab, $5,550 – Carson City Morgans of any year are in high-demand, and mint state examples such as this one are a premium pickup for any Morgan dollar collector with enough cash to buy such prime pieces.

1894, MS 63 in an NGC slab, $5,449 – Another low mintage piece, with only 1,260,000 struck, the 1894 is a scarce coin that is exceedingly tough to find in mint-state grades.

1879-CC, MS 61 in a PCGS slab, $5,414 – The "only" difference between this 1879-CC and the one listed above at #8 is one mint-state gradient.
In the realm of Carson City Morgan dollars, one point on the grading scale upward, especially for mint-state pieces, means a big leap in prices. Remember, Morgan dollars are big, heavy coins that got abused in their original mint bags, and many Carson City Morgan dollars spent several decades languishing in bank vaults before being uncovered in the 1960s and sold by the United States Mint in a special sale. After many years of relatively unprotected storage in those vaults, few Carson City Morgan dollars survived above Mint State 60 or 61 (this applies, really, to all Morgan dollars, which were unfortunately banged around in their original mint bags). Still, an MS 61 Carson City dollar is an excellent coin to own, and caps off this month's look at the Top 25 most expensive Morgan silver dollars.
January 2014 Morgan Silver Dollar Sales Chart
| | | | | | |
| --- | --- | --- | --- | --- | --- |
| Coin | | Starting Price | Sale Price | Bids | Date |
| 1892-CC Morgan Silver Dollar MS65+ PCGS CAC $1 | | $14,350.00 | $12,400.00 | 1 | 1/7/2014 |
| 1878 8TF $1 Morgan Silver Proof Dollar - PCGS PR66 - very gorgeous toning | | $12,800.00 | $11,300.00 | 1 | 1/23/2014 |
| 1893-S Morgan Silver Dollar PCGS CERTIFIED XF-40 Handsomely Toned & OGH | Auction | $1.00 | $8,055.00 | 30 | 1/20/2014 |
| 1883 $1 NGC Proof 65 Morgan Silver Dollar | | $7,475.00 | $6,395.00 | 1 | 1/27/2014 |
| 1896-S $1 PCGS MS64 - Pretty Toning, Scarce Date Morgan Silver Dollar | | $6,170.00 | $6,170.00 | 1 | 1/8/2014 |
| 1893-S $1 Morgan Silver Dollar Anacs VF35 Make an Offer SHIPS INSURED AND FREE | | $6,750.00 | $6,100.00 | 1 | 1/29/2014 |
| 1893-S $1 PCGS VF20 - Key Date Morgan Silver Dollar | | $6,040.00 | $6,040.00 | 1 | 1/10/2014 |
| 1879 CC Morgan Silver Dollar MS 62 PCGS (#2455) | | $5,819.40 | $5,550.00 | 1 | 1/21/2014 |
| 1894 $1 Morgan NGC MS63 *Key Date* Choice grade Silver Dollar coin Philadelphia | | $5,449.00 | $5,449.00 | 1 | 1/5/2014 |
| 1879-CC $1 MORGAN SILVER DOLLAR PCGS MS61 ★CAPPED DIE★ WOW! CAC! OGH! PQ++! | | $5,414.05 | $5,414.05 | 1 | 1/14/2014 |
| 1893 S PCGS VF25 Morgan Silver Dollar Cert#28890016 SDL | | $5,320.00 | $5,320.00 | 1 | 1/27/2014 |
| 1893-S Morgan Silver Dollar, NGC Certified VF-25-- RARE | | $5,140.00 | $5,140.00 | 1 | 1/23/2014 |
| 1879 CC PCGS MS62 Capped DIe Morgan Silver Dollar Cert#06908101 SDL | | $5,000.00 | $5,000.00 | 1 | 1/27/2014 |
| 1896-S PCGS MS64 Morgan Silver Dollar | | $5,250.00 | $4,875.00 | 1 | 1/25/2014 |
| 1890-CC $1 PCGS MS65 Morgan Silver Dollar | | $5,250.00 | $4,825.00 | 1 | 1/19/2014 |
| 1893-S MORGAN SILVER DOLLAR COIN PCGS VF20 | Auction | $0.99 | $4,581.00 | 63 | 1/13/2014 |
| 1889 CC PCGS XF45 Morgan SIlver Dollar Cert#26030604 SDL | | $4,150.00 | $4,150.00 | 1 | 1/29/2014 |
| 1893-S US Morgan Silver Dollar ANACS VF 30/30, mintage 100,000 - free shipping | Auction | $0.99 | $4,097.00 | 35 | 1/20/2014 |
| 1894 P Morgan Silver Dollar Coin ICG MS 62 SMD1664 | | $4,500.00 | $4,050.00 | 1 | 1/4/2014 |
| 1889-CC Morgan Silver Dollar, ANACS EF-45 *Key Date* | | $4,495.00 | $4,000.00 | 1 | 1/29/2014 |
| 1889-CC Morgan Silver Dollar, NGC Certified XF-45 | | $3,975.00 | $3,975.00 | 1 | 1/22/2014 |
| 1893 S Morgan Silver Dollar - ANACS F 12 - Series Key Date! | Auction | $0.95 | $3,500.00 | 33 | 1/20/2014 |
| 1892 CC MORGAN SILVER DOLLAR *** PCGS MS 64 *** | | $3,775.00 | $3,250.00 | 1 | 1/15/2014 |
| 1890-CC Carson City Morgan Silver Dollar - PCGS MS 63 Tail Bar - Regency Holder | | $3,900.00 | $3,200.00 | 1 | 1/13/2014 |
| 1904 Morgan Silver Dollar, Monster RARE Proof, SUPERB GEM PF ** Free Shipping! | Auction | $0.99 | $3,050.01 | 22 | 1/5/2014 |
| 1889-CC MORGAN SILVER DOLLAR PCGS AU-DETAILS/FILED RIMS NO RESERVE!!!!!! | Auction | $0.99 | $3,050.00 | 68 | 1/24/2014 |
| 1893 S Morgan Silver Dollar PCGS VG08 | | $2,970.00 | $2,970.00 | 1 | 1/20/2014 |
| 1881 $1 PCGS/CAC MS66 - Colorful Toning Morgan Silver Dollar | | $3,500.00 | $2,950.00 | 1 | 1/23/2014 |
| 1889-CC Morgan Silver Dollar, ANACS EF-40, Extra Fine Coin | | $3,295.00 | $2,950.00 | 1 | 1/21/2014 |
| 1889 CC Morgan Silver Dollar XF 40 PCGS (#4229) | | $3,450.00 | $2,940.00 | 1 | 1/25/2014 |
| 1884 S PCGS AU58 Morgan Silver Dollar Cert#25352254 SDL | | $2,925.00 | $2,925.00 | 1 | 1/26/2014 |
| 1893-S MORGAN SILVER DOLLAR - KING OF MORGANS - FINE GRADE - 1893S 1893 S | Auction | $99.99 | $2,917.59 | 35 | 1/6/2014 |
| 1889-CC Morgan Silver Dollar, NGC Certified XF-40 | | $2,860.00 | $2,860.00 | 1 | 1/23/2014 |
| 1892 -cc PCGS MS 64 Morgan Silver Dollar | Auction | $0.99 | $2,854.00 | 25 | 1/12/2014 |
| 1893-S Morgan Silver Dollar VF ++ Very Fine S$1 Ultra Rare Extremely Low Mintage | Auction | $0.99 | $2,851.01 | 59 | 1/2/2014 |
By accepting you will be accessing a service provided by a third-party external to https://coinvalues.com/