Top 25 eBay Sales for Buffalo Nickels October 2014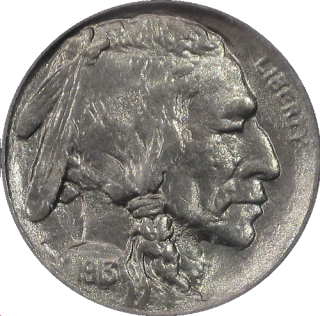 Buffalo nickels are very popular with old-time coin collectors and younger ones alike, and many of these classic five-cent coins did very well on the eBay auction site in October 2014. In fact, one Buffalo nickel sold for three grand on eBay in October, and all the rest of the Buffalo nickels on this Top 25 list sold for $1,025 or more – very respectable prices indeed.
The most prevalent coin on this list is the 1937-D Three Legged Buffalo nickel, which recorded several entries among the Top 25 issues. Several other listings are for so-called "tough-date" Buffalo nickels, or issues which may be more obscure to average collectors not familiar with the series but are nonetheless very scarce, especially in higher grades.
Here's the list of the Top 25 most expensive Buffalo nickels sold on eBay in October 2014:

1. 1919-S PCGS MS 64 $3,000.00 – While 7,521,000 nickels were made at the San Francisco Mint in 1919, they were not saved in large numbers, and therefore very few still survive in uncirculated grades. This 1919-S in MS 64 garnered some strong interest when it hit the eBay auction block and sold for a price that well reflects this coin's overall scarceness.
2. 1936 PCGS PR 66 $2,075.00 – The first modern U.S. proof sets were made in 1936, and this nickel is one of the more brilliant examples of the first-year U.S. proof coinage in the modern era. Remember, many 1930s proofs are discolored or otherwise in lackluster condition due to poor handling and environmental effects.
3. 1925-S PCGS MS 63 $1,850.00 – This tough date was struck to the tune of 6,256,000 pieces, which is a rather low number for a 20th-century minor denomination coin. This date was not saved in large quantities and is considerably rare in uncirculated grades.
4. 1937 NGC PF 66 $1,850.00 – While the 1937 proof nickel is not extraordinarily rare, those grading as high as Proof 66 are definitely noteworthy. Relatively few 1930s U.S. proof coins can really achieve a grade higher than PF 63 or PF 64.
5. 1936 PR 66 CAC Satin Proof $1,600.00 – This pretty proof coin received CAC designation, which indicates the stronger eye appeal of this piece over typical representatives of this issue in the same grade.
6. 1926-S NGC AU 50 $1,599.00 – The 1926-S is the scarcest regular-issue Buffalo nickel, in terms of mintage; only 970,000 were made. It appears this coin sold for several hundred dollars lower than retail, which may be due to the fact that it was sold "raw." Perhaps a surface mark or two may have also eased the bidding war for what is otherwise a sought-after coin for Buffalo nickel enthusiasts.
7. 1915 NGC PR 64 Matte Proof $1,567.50 – Before the "modern" era of annual proof coin production in the U.S., there was a period of sporadic proof coinage. Many of these proof coins were manufactured with a more subdued "matte" finish, which may not be as visually stunning as many modern proof coins, but are nonetheless beautiful.
8. 1925-S BU $1,550.00 – This "raw" 1925-S is a scarce coin in any uncirculated grade, and makes a great purchase for any Buffalo nickel collector in need of some high-end tough dates to complete his or her series set.
9. 1937-D 3-Legged PCGS AU 58 $1,475.00 – The 1937-D 3-legged Buffalo nickel variety arose thanks to some over-zealous die polishing at the U.S. Mint. The result? The creation of what is arguably the most popular Buffalo nickel ever made.
10. 1926-S MS 62 $1,450.00 – We close out the Top 10 segment of this list of most-expensive Buffalo nickels with a "raw" 1926-S. This tough date is always a major purchase for Buffalo nickel collectors and is often one of the last – or first – holes filled in a Buffalo nickel album, depending on the strategy (and budget) of the coin collector.
The remainder of this Top 25 list of most-expensive Buffalo nickels contains several more 3-Legged nickels, a couple proofs, and a handful of other scarce dates. Its interesting to note that none of the very expensive overdate or doubled die Buffalo nickels made an appearance on this list. That fact may reflect the rarity of those pieces, including the 1916 doubled die obverse and 1918-D 8/7, each of which easily sells in the $1,500+ range.
Here's the rest of the Top 25 list of most expensive Buffalo nickels:
11. 1937 NGC PR 65 $1,425.00
12. 1936-S PCGS MS 67 $1,354.85
13. 1914-D PCGS MS 65 $1,300.00
14. 1937-D 3-Legged PCGS AU 55 $1,299.95
15. 1937-D 3-Legged NGC AU 58 $1,250.00
16. 1937-D 3-Legged NGC AU 58 $1,250.00
17. 1937 PCGS PR 66 $1,241.79
18. 1937-D 3-Legged Uncirculated $1,175.00
19. 1916 PCGS MS 66 $1,100.00
20. 1936-D 3-1/2-Legged Fine 12 $1,100.00
21. 1928-S PCGS MS 64 CAC $1,050.00
22. 1938-D NGC MS 67+ $1,050.00
23. 1937-D 3-Legged NGC AU 58 $1,050.00
24. 1938-D PCGS MS 67+ $1,050.00
25. 1924-S AU $1,025.00
By accepting you will be accessing a service provided by a third-party external to https://coinvalues.com/