Top 25 eBay Sales for Lincoln Cents October 2014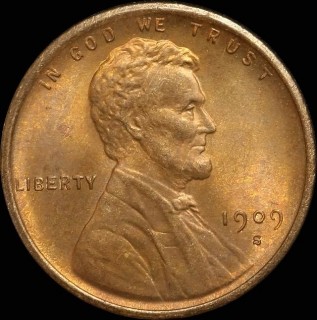 Lincoln cents are one of the most popular collectible American coins, and they always do big business on eBay. October 2014 was no exception, as dozens of rare, expensive Lincoln cents hit the popular online auction block. The usual suspects all were all among the Top 10 most expensive Lincoln cents sold on eBay in October, though surprisingly the 1922 no-D does not show up until the 12th spot. You will also see a few supreme-grade coins represented across the Top 25 and, of course, a heaping helping of 1909-S VDB Lincoln cents to round out this list.
Unlike coins such as the Morgan silver dollar, which sees a market loaded with high-end investors, Lincoln cents, particularly Lincoln wheat pennies, are predominantly collected by diehard numismatists, so high-five-figure sales are pretty rare in the Lincoln cent industry. Still, there's a lot of Lincoln cent action to track for October, and we start with one coin that took in nearly $10,000 for the buyer – the elusive 1914-D cent.
Here's the rundown of the most expensive Lincoln cents sold on eBay in October 2014:
1. 1914-D NGC Red/Brown MS 65 - $9,995.00 – This beauty traded hands for nearly $10,000, a strong bid for any Lincoln penny. The MS-65 grade is extremely difficult to obtain for these 1914-D Lincoln cents, and this piece also claimed a very nice Red/Brown grade, which is what most coin collectors would expect with an original 1914-D penny.
2. 1909-S VDB PCGS CAC MS 65 Red - $5,695.00 – The most expensive 1909-S VDB in October 2014 sold on eBay in October was this one, which sold for nearly $5,700. This MS-65 Red 1909-S VDB cent is definitely one pretty penny, and remarkably a very large number of the remaining 1909-S VDB Lincoln wheat cents are found in uncirculated grades mainly because so many were saved early on.
3. 1909-S VDB MS 66 Red/Brown $4,450.00 – Another 1909-S VDB cent makes the Top 3, and while this piece grades one point higher than the #2 penny, this one also has the Red/Brown designation, which knocks it down a notch in the eyes of many coin collectors.
4. 1962-D PCGS MS 67 Red $2,760.00 – Many people are surprised to learn that Lincoln Memorial cents in the high Mint State grades are actually very scarce. In fact, just about any Lincoln Memorial cent grading over MS 65 is a rare bird, as this 1962-D grading MS-67 is.
5. 1955/55 doubled die obverse PCGS MS 62 Brown CAC $2,580.00 – The 1955 doubled die cent is one of the most popular varieties in the Lincoln cent series. This brown MS-62 specimen would be a welcome addition to any cent collector's set.
6. 1940 PCGS MS 67 Red $2,450.00 – There's not much more that can be said about this supreme 1940 Lincoln cent, except to note that it's a doozy of a coin – a blazing beauty.
7. 1955 PCGS doubled die MS 62 Red/Brown $2,440.00 – This 1955 doubled die is a pretty red-brown specimen, and is probably from the color standpoint a piece that many collectors would find more desirable than the brown that sold in the #5 spot above. Bear in mind, this coin lacks the all-important CAC designation that the brown coin has, indicating the superior eye appeal of the #5 coin.
8. 1909-S VDB Lamination error NGC MS 63 Red $2,247.22 – This is one interesting coin; not only is it a 1909-S VDB cent, but it also is a lamination error coin. This would be a particularly exciting piece for an error collector, as it is the timelessly appealing 1909-S VDB cent with a dramatic metal error to boot.
9. 1909-S VDB PCGS MS 64 Red/Brown $2,246.00 – This piece would make a handsome addition to any uncirculated set of Lincoln cents. Not particularly expensive for a Mint State 1909-S VDB penny, it has a beautiful surface and nice, even color.
10. 1955 doubled die NGC MS 62 Brown $2,195.00 – The Top 10 is rounded out with this 1955 doubled die Lincoln cent. Another brown penny (typical for the lower-end uncirculated '55 doubled dies), it has a good surface and handsome color.
The rest of the Top 25 most expensive Lincoln cents below are represented by 1909-S VDB, 1914-D, 1922 no-D, and 1955 doubled die pennies, which are always top among Lincoln penny collectors' wish lists. The least expensive coin on this list still costs a hefty $1,650.
11. 1955 doubled die PCGS MS 62 Brown $2,169.99
12. 1922 no-D AU $2,101.00
13. 1909-S VDB Red/Brown PCGS MS 64 CAC 98% RED $2,100.00
14. 1909-S VDB NGC MS 64 Red/Brown $2,025.00
15. 1909-S VDB MS 64 Red/Brown NGC $1,909.00
16. 1909-S VDB PCGS MS 64 Red/Brown $1,900.00
17. 1914-D NGC AU-55 CAC $1,875.00
18. 1909-S VDB PCGS MS 64 Red/Brown $1,875.00
19. 1955 doubled die PCGS MS 62 Brown $1,800.00
20. 1909-S VDB MS 63 Red/Brown PCGS $1,799.99
21. 1922 no D PCGS XF 40 CAC $1,799.95
22. 1955 doubled die PCGS AU 55 $1,750.00
23. 1909-S VDB NGC MS 64 Brown $1,700.00
24. 1909-S VDB NGC MS 63 Red/Brown $1,700.00
25. 1955 doubled die NGC AU 55 Brown CAC $1,650.00
By accepting you will be accessing a service provided by a third-party external to https://coinvalues.com/