Top 25 eBay Sales Prices for Lincoln Cent December 2014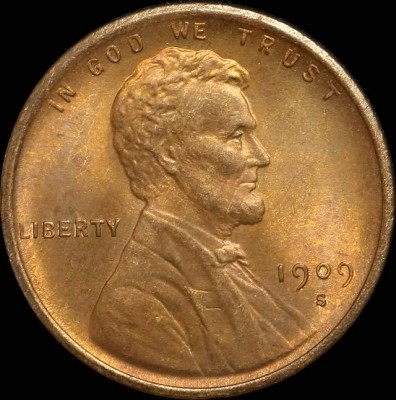 A look at the Top 25 Lincoln cent sales on eBay in December 2014 reveal a few modern pieces managed to trade hands for Top 10 prices along with the usual gamut of key dates that usually dominate the top price rankings. In fact, the Top 10 portion of this list looks rather different than usual, with a non-1909-S VDB cent taking the top spot, two modern error varieties, and at least one high-end "common" wheat cent.
It looks like several exciting sales were made during the period covered within this list, so without further adieu, let's take a gander at the Lincoln cent eBay action from December 2014. Here we go:
1912 PCGS PR 66, $6,595.00 – This mostly red proof specimen took the top spot for December 2014, notching a final bid of more than $6,500. This is certainly a high price for a Lincoln cent, but when considering how scarce gem red proofs are from teens, this was a great price for a pretty penny.
1909-S VDB NGC MS 66, $4,257.00 – The 1909-S VDB penny is a perennial favorite among coin collectors, even if prices have subsided a bit from their previous highs in 2008 and 2009. This superb gem specimen would make an incredible addition to any Lincoln cent collection.
1990 no S NGC PF 68, $3,995.00 – Moderns don't usually turn up in our Top 25 eBay price rundowns, but three of them easily made the Top 10 this month, with this 1990 no S cent taking the top position among those three later-date "pennies." Fewer than 200 exist, which is an extraordinarily small number of pieces for a series as widely popular and collected as the Lincoln cent series.
1909-S VDB PCGS MS 65, $3,990.00 – Another 1909-S VDB penny makes the Top 10 for December, with this MS 65 specimen taking the #4 spot. Red, slabbed pieces like this one are especially desirable among coin collectors who favor the Lincoln cent series.
1955 NGC MS 63 Red/Brown, $3,600.00 – The 1955 doubled die obverse penny is perhaps the most popular doubled die variety in the U.S. coin collecting scene. This one features handsome red/brown surfaces and a nice strike.
1909-S VDB PCGS CAC MS 65, $3,250.00 – This red/brown 1909-S VDB penny is the third example of the issue listed within the Top 10. This piece offers nice surfaces and a good strike, making it a fantastic addition to any high-end coin collection.
2014-D PCGS MS 68, $2,999.95 – A brand-new penny made the list this month, and check out that final bid of nearly $3,000. So far, 2014-D pennies grading as high as MS 68 are rare, with a population so far of just 2 known specimens. While the population may climb in the years ahead, it's pretty well documented that business-strike Lincoln cents of any era rarely grade higher than MS 67.
1930-S NGC MS 67, $2,950.00 – This beautiful, red 1930-S penny would make an exciting addition to a registry set. As many coin collectors have realized when they pursue high-end Lincoln cents, very few really exist from the pre-1934 era. Pieces like this one rightfully command huge premiums.
1972 Doubled Die Obverse ANACS MS 64, $2,900.00 – The third modern Lincoln cent on the Top 10 portion of this list is also the second "error" variety. The 1972 doubled die cent, though not as widely acclaimed as the 1955 doubled die penny, is still quite popular among coin collectors and most especially Lincoln cent enthusiasts.
1914-D ANACS MS 63, $2,500.00 – The Top 10 portion of this list wraps up with a representative 1914-D Lincoln cent. And what a beauty this one is, boasting red/brown surfaces and a good strike. Any Lincoln cent enthusiast would treasure this uncirculated, key-date specimen.
What follows is a wrap-up of the Lincoln cents that traded hands for the eleventh through twenty-fifth most-expensive prices on eBay in December 2014. While the Top 10 included a broad array of dates, what follows is a more typical rundown of keydates and early high-grading pieces.
11. 1909-S VDB PCGS CAC MS 65 Brown, $2,375.00
12. 1955 Doubled Die PCGS AU 58, $2,375.00
13. 1909-S VDB PCGS MS 64 Red/Brown, $2,150.00
14. 1918 PCGS MS 66+ CAC $2,113.35
15. 1922 no D NGC XF 45 Brown, $2,050.00
16. 1955 Doubled Die Obverse PCGS AU 58, $1,994.85
17. 1909-S VDB NGC CAC MS 63 Red/Brown, $1,900.00
18. 1955 Doubled Die Obverse PCGS AU 58, $1,875.00
19. 1955 Doubled Die Obverse NGC MS 61, $1,860.89
20. 1955 Doubled Die Obverse BU Red (raw), $1,860.00
21. 1917-S MS 64 PCGS MS 64 Red/Brown, $1,825.00
22. 1955 Doubled Die Obverse Uncirculated Red/Brown (raw), $1,805.00
23. 1909-S VDB Choice BU Red (raw), $1,800.00
24. 1914-S NGC MS 64 Red, $1,775.00
25. 1955 Doubled Die Obverse PCGS MS 62 Brown, $1,707.00
About the author
Joshua McMorrow-Hernandez is a freelance writer and author who has contributed hundreds of online articles and blog posts, as well as published Images of America, Tampa's Carrollwood (Arcadia Publishing, 2013). Joshua is interested in a wide array of topics, and since 1992 has been heavily involved in numismatics, a topic about which he loves to research and write. His main area of focus is 19th and 20th century United States coins, but he also enjoys Canadian coins.