eBay Top 25 Walking Liberty Half Dollar Sales for January 2014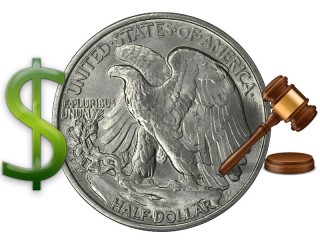 Considered among the most beautiful of all silver coins, Walking Liberty half dollars are a top-favorite coin among many numismatists and are popularly collected as both a type coin and as a series. Walking Liberty half dollars, designed by famed sculptor Adolph A. Weinman, were struck from 1916 through 1947 and contain a composition of 90 percent silver and 10 percent copper.
Walking Liberty half dollars have been widely collected since the coin's heyday in the 1940s, and are mainly collected by date and mintmark. Some collectors choose to make so-called "short sets" of Walking Liberty half dollars (usually confining the date range from about 1934 to 1947) to avoid the high costs of many pre-1934 dates in the series.
As you will see in this run-down of the top 25 most expensive Walking Liberty half dollars sold on eBay in January 2014, many of the listings are early dates in mint state grades, though a few of them are in upper circulated grades. This list also includes a few superior-quality later dates, indicative of how collectors fancy beautiful mint-state and proof examples of Walking Liberty half dollars, regardless of how common the date.
1. 1919-D AU-58 in an NGC slab, $4,150 – Coming in at the top spot for January 2014 is a near-uncirculated 1919-D. The 1919-D had a mintage of 1,165,000, which is comparatively low even among early-date Walking Liberty halves. Very few coins of this date were saved, and in mint-state grades they are exceedingly rare. So, the lucky buyer of this 1919-D has a truely scarce treasure in his or her hands.
2. 1936 Proof-64 in a PCGS slab, $2,700 – The United States Mint has intermittently struck proof coinage since the 19th century, but 1936 marked the beginning of the modern proof era, when proof coins were first released on an annual basis, as they are today, with a few exceptions. The first proof year of the Walking Liberty half dollar, represented by this piece, is a popular collectible and makes a beautiful entry into the collections of any Walking Liberty aficionados.


3. 1929-S MS-66 in an NGC slab, $2,564 – This premium mint-state Walking Liberty half dollar represents among the best of the best for the earlier dates of the series. Less than 2 million 1929-S Walking Liberty halves were struck, and many of them were salvaged only in the lower grades, with relatively few surviving in uncirculated grades. So, specimens such as this Mint-State 66 represent the crown jewel of any Walking Liberty collection.
4. 1946-D MS-67 in a PCGS slab, $2,500 – Though among the scarcest of the latter dates in terms of mintages, 1946-D Walkers are relatively easy to come by, especially in the lower grades. A blazing MS-67 like this one represents the crème de la crème of the Walking Liberty half dollar realm and makes a wonderful prize for any collector of this beautiful series.
5. 1921-S Choice AU, $2,475 – You probably guessed that an entry from among the three 1921 issues (1921-P, -D, and -S) would appear here. Though the 1921-S is the most common of those three 1921-dated issues, with 548,000 pieces minted, it is nonetheless a scarce coin, especially in the upper circulated grades. In fact, with a bid of $2,475, it could be said the winner of this coin got quite a steal. Many nearly uncirculated 1921-S Walkers have sold for $6,000-$9,000 in recent years.
6. 1917-S obverse-mintmark MS-62 in an ANACS slab, $2,425 – Changes in mintmark location among the earliest Walkers led to several issues over the course of 1916 and 1917. A little more than 950,000 obverse-mintmark 1917-S Walking Liberties were struck, and – though not the scarcest issue from the first two years of the series in terms of mintages – are the most expensive of that same timeframe in the uncirculated grades. Remember, relatively few issues were saved in uncirculated grades, and the 1917-S obverse-mintmark Walking Liberty half is one such coin. Given that an MS-60 might sell for $2,000-$2,200, the winning bidder here got a pretty good deal on a slabbed MS-62.
7. 1919 Choice BU+, $2,250 – It takes a degree of confidence – and maybe just sheer guts – to place a bid like this one on an unslabbed Walking Liberty half dollar that is claimed to be choice BU, especially when there are tons of doctored sliders on the market masquerading as BUs. However, an uncirculated 1919 Walking Liberty half dollar is hard to come by, period, and this winning bidder was obviously looking to take a calculated gamble.
8. 1919-D AU/MS, $2,200 – Very few of the early mintmarked Walkers were saved, and therefore relatively few of these coins exist today in anything better than moderately circulated grades. That may help to explain the high prices paid for such pieces like this one – a beautiful 1919-D. It may have come in a little under uncirculated (notice the split decision on its grade), but is nevertheless worth a princely sum and is most assuredly sitting in a very proud owner's coin collection –or is on its way now to be certified.
9. 1942-D MS-67 in a CAC-Approved PCGS slab, $2,081 – No matter how common the date, there is nothing more beautiful than a blazing white Walking Liberty half dollar with virtually flawless surfaces. This 1942-D belongs in any supergrade collection.
10. 1921-D XF, $2,000 – An unslabbed walker rounds out the Top 10 portion of this list, and as you'll note it is also a piece from 1921, this one a Denver issue. The 1921-D Walking Liberty half is the most expensive key date in the series and is worth hundreds evens in well-worn grades. Check out the rest of the list below for an overview of the remaining top 25 most expensive Walking Liberty halves sold on eBay in January 2014.
11. 1946 MS-67 in a PCGS slab, $1,855
12. 1929-D MS-64 in a CAC-Approved PCGS slab $1,840
13. 1916-S MS-63 in a CAC-Approved PCGS slab, $1,788
14. 1919-D, ungraded, $1,750
15. 1939-S MS-67 in a CAC-Approved PCGS slab, $1,599
16. 1936 Proof-63 in an ANACS slab, $1,500
17. 1946 doubled-die reverse MS-65 in a PCGS slab, $1,500
18. 1916-D MS-64 in a PCGS slab, $1,350
19. 1917-D reverse-mintmark Choice BU+, $1,300
20. 1917-D reverse-mintmark Choice/Gem BU, $1,199.50
21. 1934-S MS-64 in a PCGS slab, $1,120
22. 1934-S MS-64 in a PCGS slab, $1,100
23. 1934 MS-67 in an old PCGS slab, $1,100
24. 1919 AU/BU, $1.095
25. 1933-S MS-62 in a PCGS slab, $1,025
Top 25 Walking Liberty Half Dollar Sales
| | | | | | |
| --- | --- | --- | --- | --- | --- |
| Coin | | Starting Price | Sale Price | Bids | Date |
| 1919-D WALKING LIBERTY HALF DOLLAR AU58 NGC | | $4,150.00 | $4,150.00 | 1 | 1/16/2014 |
| 1936 50c PCGS Proof 64 Walking Liberty Half Dollar | Auction | $2,700.00 | $2,700.00 | 2 | 1/19/2014 |
| 1929-S WALKING LIBERTY HALF DOLLAR MS66 NGC... | Auction | $0.99 | $2,564.00 | 15 | 1/19/2014 |
| 1946-D Walking Liberty Half Dollar PCGS MS67 Better Date, Great Color! | | $2,995.99 | $2,500.00 | 1 | 1/13/2014 |
| 1921-S Walking Liberty Half Dollar - Choice AU | Auction | $2,475.00 | $2,475.00 | 1 | 1/28/2014 |
| 1917-S 50¢ Obverse Walking Liberty Silver Half Dollar ANACS Graded MS 62 | Auction | $0.99 | $2,425.00 | 56 | 1/19/2014 |
| 1919 Walking Liberty Half Dollar CHOICE BU++/NEAR GEM BU ** Free Shipping! | Auction | $2,250.00 | $2,250.00 | 1 | 1/10/2014 |
| 1919-D Walking Liberty Half Dollar Key/Date AU/MS Tough/Low Mintage | | $2,495.00 | $2,200.00 | 1 | 1/19/2014 |
| 1942-D Liberty Walking Half Dollar PCGS MS67+ CAC 25346725 | Auction | $1,749.00 | $2,081.00 | 3 | 1/23/2014 |
| 1921 D Walking Liberty Half Dollar Coin XF HAL2373 | | $2,500.00 | $2,000.00 | 1 | 1/9/2014 |
| 1946 50C WALKING LIBERTY HALF DOLLAR PCGS MS67 ~ NICE! EYE APPEAL! LUSTROUS! | | $1,949.00 | $1,855.00 | 1 | 1/27/2014 |
| 1929-D WALKING LIBERTY HALF DOLLAR CAC PQ! MS64 PCGS | | $1,840.00 | $1,840.00 | 1 | 1/5/2014 |
| 1916-S Walking Liberty Half Dollar MS63 PCGS CAC | Auction | $1,763.00 | $1,788.00 | 2 | 1/8/2014 |
| 1919d Walking Liberty Half Dollar. Nice Coin (1305) RARE Denver mint !!! | | $2,000.00 | $1,750.00 | 1 | 1/12/2014 |
| 1939-S Liberty Walking Half Dollar PCGS MS67 CAC 25350239 | Auction | $1,599.00 | $1,599.00 | 1 | 1/23/2014 |
| 1936 PROOF Walking Liberty SILVER Half Dollar ANACS PR63 HIGH GRADE! | | $1,999.95 | $1,500.00 | 1 | 1/21/2014 |
| DOUBLED DIE REVERSE! 1946 Walking Liberty Silver Half Dollar PCGS MS 65 RARE | | $1,500.00 | $1,500.00 | 1 | 1/30/2014 |
| 1916-D Walking Liberty Half Dollar PCGS MS-64 | | $1,350.00 | $1,350.00 | 1 | 1/7/2014 |
| 1917-D Walking Liberty Half Dollar, Reverse Mint-Mark, CHOICE BU++ ** Scarce! | Auction | $1,065.00 | $1,300.00 | 5 | 1/26/2014 |
| 1917-D Reverse Walking Liberty Half Dollar * Ch/Gem BU Quality * Layaway Avail * | | $1,199.50 | $1,199.50 | 1 | 1/31/2014 |
| 1934-S 50c SILVER WALKING LIBERTY HALF DOLLAR MS64 PCGS | | $1,179.95 | $1,120.00 | 1 | 1/19/2014 |
| 1934-S PCGS MS64 WALKING LIBERTY HALF DOLLAR | Auction | $1,100.00 | $1,100.00 | 1 | 1/12/2014 |
| 1934 PCGS MS67 WALKING LIBERTY HALF DOLLAR "Old Holder" | Auction | $1,100.00 | $1,100.00 | 1 | 1/25/2014 |
| 1919-P WALKING LIBERTY HALF DOLLAR * BU/AU * FREE Layaway * | | $1,095.00 | $1,095.00 | 1 | 1/16/2014 |
| 1933-S WALKING LIBERTY HALF DOLLAR MS62 PCGS | | $1,025.00 | $1,025.00 | 1 | 1/25/2014 |
| 1934-D PCGS MS65 WALKING LIBERTY HALF DOLLAR | Auction | $1,000.00 | $1,000.00 | 2 | 1/25/2014 |
| 1916 S Walking Liberty Half Dollar About Uncirculated AU Sharp US Coin #6056 | | $995.00 | $995.00 | 1 | 1/16/2014 |
| DOUBLED DIE REVERSE! 1946 Walking Liberty Silver Half Dollar PCGS MINT STATE 64 | | $995.00 | $995.00 | 1 | 1/20/2014 |
| 1917-S Obverse Walking Liberty Half Dollar AU+/MS Semi/Key Low/mintage | | $1,019.00 | $950.00 | 1 | 1/3/2014 |
| 1916-S * Walking Liberty Half Dollar * Sharp AU * FREE Layaway * | | $949.50 | $949.50 | 1 | 1/7/2014 |
| 1916-S * Walking Liberty Half Dollar * Sharp AU * FREE Layaway * | | $949.50 | $949.50 | 1 | 1/22/2014 |
| 1937 NGC PF65 Proof Walking Liberty Silver Half Dollar Proof PR65 Light Cameo | | $947.50 | $947.50 | 1 | 1/17/2014 |
| 1916-1947 COMPLETE WALKING LIBERTY HALF DOLLAR SET | Auction | $0.99 | $937.00 | 16 | 1/12/2014 |
| 1916-D Walking Liberty Half Dollar PCGS MS-63+ CAC | | $935.00 | $935.00 | 1 | 1/16/2014 |
| 1921-D Walking Liberty Half Dollar CHOICE VF FREE SHIPPING | | $1,067.99 | $925.00 | 1 | 1/22/2014 |
| Rare 1940 S Walking Liberty Half Dollar PCGS MS66- Auctions Start @.99 NR | Auction | $0.99 | $906.00 | 30 | 1/20/2014 |
| 1940 50c PCGS Proof 67 Walking Liberty Half Dollar | | $1,030.00 | $900.00 | 1 | 1/20/2014 |
| 1946 P 50C Walking Liberty Half Dollar (PCGS MS64) DDR Doubled Die Reverse | | $874.95 | $874.95 | 1 | 1/31/2014 |
| 1929-S WALKING LIBERTY HALF DOLLAR VERY CHOICE UNCIRCULATED | | $894.95 | $825.00 | 1 | 1/23/2014 |
| 1917-D OBVERSE WALKING LIBERTY HALF DOLLAR CHOICE UNCIRCULATED++++ | | $824.95 | $800.00 | 1 | 1/17/2014 |
| 1921 Walking Liberty Half Dollar CHOICE VF++ ** Free Shipping! | | $795.00 | $795.00 | 1 | 1/1/2014 |
By accepting you will be accessing a service provided by a third-party external to https://coinvalues.com/