Holiday Gifts for Coin Collectors: These Are A Few Of My Favorite Things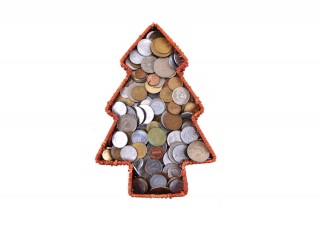 The holidays are a great time to be a numismatist, because you stand the chance of receiving some really great coin collecting gifts from those who know you're a collector. But what do coin collectors want for Christmas or any other gifting holiday in the year?
Each coin collector has his or her own gift wishlist. Here's mine to help inspire those who aren't sure what gifts to buy their favorite coin collectors:
#1 – The Latest Edition Of A Guide Book of United States Coins ("The Red Book") – Since 1947, each annual edition of "The Red Book" has helped countless coin collectors fresh and seasoned alike learn about their coins, including coin values, mintmark and designer information, mintages, grading, and much more. Buying the latest edition of A Guide Book of United States Coins, which comes in various formats and can be bought for $15.95 to $49.95, is a great way to send good holiday tidings to the coin collector in your life.
#2 – High-Quality Coin Loupe – Every coin collector needs a good coin loupe – a type of small, folding magnifying glass that visually enlarges the surfaces of a coin through the viewing glass at a perspective five to 10 times larger than usual. A coin loupe is essential for grading coins, attribution of die varieties, and enjoying the smaller details on the coin. Good coin loupes cost anywhere from $10 and up.
#3 – Coin Supplies – Coin collectors usually keep a supply of flips, coin tubes, and other items on hand to help them take proper care of their coins. Any well-stocked coin dealer should have a good supply of all the coin collecting essentials surely to make any coin collector (and his or her coins) smile on the holidays and after, too!
#4 – Rare Coins & Key Coins – This is about as personal a gift one can give the favorite coin collector in his or her life. You really have to know the recipient well to know what coin he or she really wants, then you have to familiarize yourself on how to pick the best example of the coin you can while bearing in mind considerations such as authenticity, condition, and other critical factors. The more expensive or rare the coin, the greater care you will need to use in purchasing just the right specimen. Nail this gift, and you've made your coin collecting gift recipient the happiest numismatist on the block!
#5 – Gift Card – I think many of us resort to giving gift cards these days, and why not? They're easy to buy, you don't risk getting the recipient the "wrong" gift, and the person who received the gift card can have fun going on a free shopping spree. Many coin dealers offer gift cards and gift certificates. Just be sure the amount there is a guaranteed period for spending the amount and find out whether there is an expiration date and get that in writing on the card.
Now that you have some surefire ideas for buying great holiday gifts for coin collectors, the next step is to go out and buy them for your beloved numismatists. You should be able to find everything listed above at your nearest coin shop or large online coin dealer.
By accepting you will be accessing a service provided by a third-party external to https://coinvalues.com/