Limited Mintage Stardust Silver Terminator Round!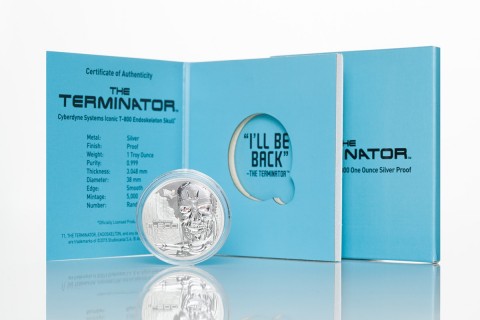 ​Stardust Silver is a brand-new company that the rare coin and precious metals industry should know about. They have just introduced their first, limited mintage Terminator Silver Round, and the piece is unbelievable.
The Terminator movie series has been a fan-favorite since the first movie came out around 31 years ago. Stardust Silver took initiative and produced a masterpiece that is paralleled by none other. The T-800 Terminator Silver Round is brilliantly struck in .999 silver by world famous Sunshine Minting! The detail on this silver round is outstanding as the owners commissioned a high end engraver to ensure that Terminator lovers around the world would receive only the highest quality product.
This popular silver round is struck with a reverse-proof finish and comes numbered on the edge to make it even more collectible. Better yet, the eyes of the skull are colored red to bring the image to life. Each coin comes with a Certificate of Authenticity and a beautiful, blue box ensuring the item's integrity. This 1 oz Stardust Terminator Silver Round has a limited mintage of 5,000 pieces and is only being offered by a select few dealers.
Design
Obverse: The obverse of this silver round features the skull of the T-800 Terminator that was sent to the year 1984 to kill Sarah Connor in the movie. The background features the destruction this machine left behind.
Reverse: The reverse features a full-body shot of The Terminator as seen in the blueprints in the movie and the tagline that started off this successful movie series.
Specifications
Metal Type: Silver
Weight: 1 troy oz
Purity: .999
Strike: Reverse Proof
Mintage: 5,000
This is a must have for any Terminator enthusiast. Bullion Shark is a proud retailer of this gorgeous product. Get your T-800 Terminator Silver Round today while supplies last!
About the author
Bullion Shark
is a rare coin and precious metal dealer, who specializes in precious metal analysis, news and information. With an in-house editorial team of experienced bullion and rare coin dealers, you can be assured you will be reading only premium content. Feel free to request a post on a topic you wish to further increase your knowledge on. Check out our
Bullion Shark Blog
for even more news and analysis!