eBay's Top 25 Lincoln Cent Sales from September 2014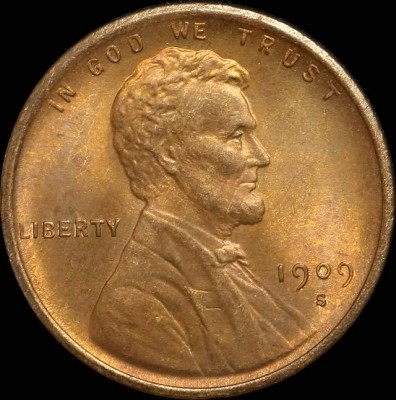 What are the most valuable Lincoln pennies according to eBay sales from September 2014? We've got the list here, and it includes many of the usual suspects you'd expect to find among a rundown of the most expensive Lincoln cents, along with a few rare, super-grade Lincoln cents from otherwise common years in the series.
The most expensive Lincoln cent on eBay in September sold for a little under $5,000 and it was not a 1909-S VDB Lincoln penny.
Many numismatists know that while the 1909-S VDB Lincoln penny is by far the lowest-mintage, regular-issue Lincoln cent in the series, it's not necessarily the rarest, since so many were saved by coin collectors early on.
In fact, some of the rarest pieces, especially in the high-grade market, are mintmarked Lincoln wheat pennies from the 1910s and 1920s, along with a few of the rare varieties, such as the 1922 no-D and 1990 no-S Lincoln cents.
Here's a rundown of the Top 25 most valuable Lincoln pennies on eBay in September 2014:
#1 1914-D Red-Brown PCGS MS 64 $4,960 – If you're a longtime Lincoln penny collector, the fact that an uncirculated 1914-D penny tops this list probably doesn't surprise you at all. Difficult to find in mint state grades, the 1914-D Lincoln penny is often considered the real rarity in the series by numismatists since so few of these coins were saved.
#2 1909-S VDB Red-Brown PCGS MS 66 $4,671 – You knew a 1909-S VDB Lincoln penny had to turn up somewhere high on this list of most expensive Lincoln pennies, and in September, one claimed the number-two spot. If you've got around $5,000 to spend on a Lincoln cent, there a few pennies that you'd be prouder to own than a blazing, high-grade 1909-S VDB penny with original color.
#3 1914-D Red-Brown PCGS MS 63 CAC Verified $4,425 – Another mint state 1914-D penny comes in high on this list, and it's CAC verified, meaning it's particularly attractive for its grade. If you want to own a truly rare Lincoln penny, then buy an uncirculated 1914-D penny.
#4 1990 "No-S" PCGS PR 68 Deep Cameo $4,216 – OK, the 1914-D Lincoln penny is a scarce coin without a doubt – but the 1990 no-S proof Lincoln cent charts among the most elusive of U.S. coins. It's estimated that only 200 no-S 1990 proof cents exist, and it's among the ranks of but only a few modern proof coins missing their S mintmark, such as the 1971 no-S proof nickel and 1968 no-S proof dime.
#5 1955 Doubled Die Red-Brown PCGS MS 64 CAC Verified $4,000 – We go from one rare mint error cent to yet another on this list – the 1955 doubled die penny, which is easily the most famous error coin ever made. Only 20,000 or so were ever made, far fewer survive today, and fewer remain in uncirculated condition.
#6 1909-S VDB Red MS 65 RD $4,000 – Is there anything nicer for a Lincoln cent enthusiast than owning a PCGS-certified "red" Lincoln 1909-S VDB Lincoln penny grading MS 65? I don't think so. Owning such a coin is probably the epitome of achievement for a Lincoln penny collector. Then again, isn't owning any 1909-S VDB Lincoln penny? A "red" Lincoln cent represents a penny that is blazing red-orange in color, versus the deeper hues of brown on this coin. It's really very difficult to find century-old copper coins that don't exhibit some traces of brown.
#7 1909-S VDB Red-Brown PCGS MS 65 CAC Verified $3,500 – $500 separates this MS 65 1909-S VDB penny from the one above, and as evidenced it's because this is a "red-brown" specimen versus the "red" one listed above. This is, I should note, a CAC verified piece, so it's not a bad-looking specimen.
#8 1949 PCGS MS 67 $3,250 – Time to throw a super high-end Lincoln cent into the mix, and that's being done with the addition of this 1949 Lincoln penny. This date is common as far as Lincoln wheat pennies go, but this one is comparitively rare as very few Lincoln pennies of that era could possibly grade above MS 65 today. This one did.
#9 1922 No D Pair 2 PCGS XF 45 $2,750 – When the 1922 no-D Lincoln penny was first discovered decades ago, it was thought to be a Philadelphia piece due to the evident lack of a mintmark (no pennies were made that year in Philadelphia). It turns out the "D" was worn off due to die polishing. But this piece has become a staple for Lincoln penny collectors anyway. Somewhere around 15,000 pieces are thought to exist, and an example grading Choice Extremely Fine is a real find.
#10 1924-S Red PCGS MS 65 $2,570.90 – The Top 10 portion of this list of most expensive Lincoln pennies is rounded out with a 1924-S penny grading Mint State 65. As I mentioned a while ago, mintmarked pennies from the teens and twenties are especially rare. Why? Virtually nobody saved them. So when one is discovered, they rightfully are able to command a "pretty penny."
The Rest of eBay's Top 25 Lincoln Cent Sales from September 2014
Here's the remainder of the Top 25 most expensive Lincoln pennies on eBay listed in September 2014. Not many surprises are to be found below, but one early matte proof does show up.
#11 1955 Doubled Die NGC Brown MS 62 CAC $2,525
#12 1937-D Red MS 67+ CAC $2,500
#13 1922 No-D Choice Brilliant Unciruclated, Weak Reverse $2,499
#14 1909-S VDB Red PCGS MS 64 $2,410
#15 1909-S VDB Red-Brown PCGS MS 64 CAC Verified $2,275
#16 1955 PCGS Brown AU 58 $1,980
#17 1909-S VDB Red Brown PCGS MS 64 $1,900
#18 1914-D Red-Brown, Choice Unciruclated $1,895
#19 1914-S "Lustrous Toning" $1,873.54
#20 1955 Doubled Die NGC AU 58 $1,751
#21 1955 Doubled Die "Sharp" BU $1,695
#22 1912 Matte PCGS PR 64 $1,695
#23 1909-S VDB Red-Brown PCGS MS 64 $1,661.19
#24 1909-S VDB PCGS "BU" $1,659.10
#25 1914-D PCGS AU 58 $1,652
About the author
Joshua McMorrow-Hernandez is a freelance writer and author who has contributed hundreds of online articles and blog posts, as well as published Images of America, Tampa's Carrollwood (Arcadia Publishing, 2013). Joshua is interested in a wide array of topics, and since 1992 has been heavily involved in numismatics, a topic about which he loves to research and write. His main area of focus is 19th and 20th century United States coins, but he also enjoys Canadian coins.