Top 25 eBay Sales of Lincoln Cents, February 2015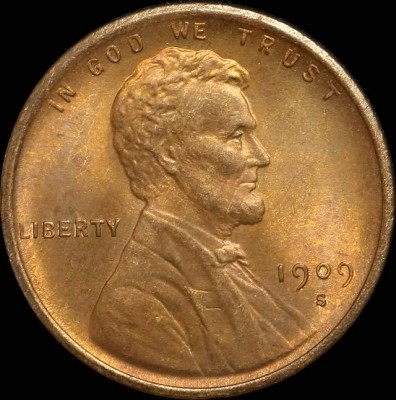 The top 25 most expensive Lincoln cents sold on eBay in February 2015 include a rather diverse array of offerings. In fact, the most expensive Lincoln penny that traded hands on the popular online auction website wasn't any of the early key dates, like the 1909-S VDB Lincoln penny. That rare cent doesn't show up until the third-place coin for February 2015.
Lincoln cents, which were originally designed by Victor David Brenner and first made in 1909, comprise a perennially popular coin series, much like Morgan silver dollars and Walking Liberty half dollars. For that reason, Lincoln pennies are important coins to track with the eBay sales listings, and below you'll find the top 25 most expensive Lincoln cents that were sold. The most expensive penny this month is a piece that doesn't turn up very often. This will actually mark its first appearance on any of the top sales listings here at Coin Values. It's…
1982 ANACS AU 58 Small Date Doubled Die, $8,000.00 – This doubled die penny is a relatively recent discovery, but one that many enthusiasts are embracing. Perhaps only 1,000 to 2,000 pieces exist, and it occurred with the scarcest of the seven different business-strike 1982 pennies, nonetheless.
1937 PCGS Proof 66, $5,150.00 – This premium-quality coin from the first years of the modern proof era would make an incredible addition to any coin collection and a pretty piece to include in a registry set. All 1930s proof coins are scarce, and this 1937 proof cent would be considered rare due to its grade.
1909-S VDB PCGS MS 65, $4,675.00 – The first of several 1909-S VDB Lincoln cents on this list comes in at #3, which is unusually low for this coin, which normally takes the top spot on the monthly rundowns of most expensive Lincoln cents sold on eBay.
1931-D PCGS MS 66, $4,350.00 – Virtually all pre-1934 Lincoln cents are quite scarce in uncirculated grade, and most especially the mintmarked issues. Lincoln cents of that era grading MS 65 or higher are particularly rare.
1955 Doubled Die NGC MS 64, $4,080.00 – The 1955 doubled die Lincoln cent is perhaps the most popular doubled die variety of all. Pieces like this, which exhibit reddish surfaces, are difficult to find, as it seems most 1955 doubled dies that come on the market are almost entirely or completely brown.
1914-D PCGS MS 64, $3,664.00 – This rare, red/brown 1914-D Lincoln cent is an incredible find. In fact, it's one of the more challenging Lincoln cents to locate in mint state condition.
1931 NGC MS 67, $3,500.00 – This red specimen is the finest-known example of the date and a hands-down registry set winner. Few coin collectors of the financial means would turn down the opportunity to buy this incredible coin, which offers outstanding eye appeal.
1909-S VDB PCGS MS 65, $3,400.00 – This red/brown 1909-S VDB is notable for its MS 65 grade, a very challenging condition in which to find this date. Add on the fact that this is a PCGS-graded coin and its buyer can rest assured of having made a great deal on a solid piece.
1914-D PCGS MS 63, $3,100.00 – This red/brown 1914-D Lincoln cent is definitely a handsome purchase for any penny connoisseur. Very few 1914-D pennies are ever found in grades better than circulated condition, making this piece all the more satisfying to own.
1915-S PCGS MS 64, $3,040.90 – It can't be stressed just how difficult it is to find a 1910s branch mint Lincoln cent in uncirculated condition, let alone with red surfaces like this piece offers.
The remaining 16 (yes, 16, as there is a tie for 25th place) coins round out the last of the top 25 most expensive Lincoln cents sold on eBay in February 2015. Several more 1955 doubled die Lincoln cents make appearances here as well as a relatively high-grading 1922 plain Lincoln penny.
11. 1936 PCGS Proof 65 CAC, $2,950.00
12. 1909-S VDB PCGS MS 64 Red, $2,475.00
13. 1924 PCGS MS 66 Red CAC, $2,450.00
14. 1955 Doubled Die PCGS MS 63 Brown, $2,399.00
15. 1955 Doubled Die PCGS AU 58 CAC, $2,250.00
16. 1955 Doubled Die Ungraded, $2,249.00
17. 1982-S PCGS Proof 70 DCAM, $2,233.70
18. 1929 PCGS MS 66 Red, $2,205.00
19. 1909-S VDB PCGS MS 64 Red/Brown, $2,100.00
20. 1909-S VDB PCGS MS 64 Red/Brown, $2,050.00
21. 1922 Plain NGC XF 40 Brown, $2,025.00
22. 1955 Doubled Die PCGS MS 62 CAC, $2,017.00
23. 1909-S VDB PCGS MS 63 Red, $2,000.00
24. 1909-S VDB PCGS MS 64 Red/Brown, $1,975.00
T.25 1909-VDB PCGS MS 63 Red, $1,950.00
T.25 1909-S VDB PCGS MS 63 Red, $1,950.00
About the author
Joshua McMorrow-Hernandez is a freelance writer and author who has contributed hundreds of online articles and blog posts, as well as published Images of America, Tampa's Carrollwood (Arcadia Publishing, 2013). Joshua is interested in a wide array of topics, and since 1992 has been heavily involved in numismatics, a topic about which he loves to research and write. His main area of focus is 19th and 20th century United States coins, but he also enjoys Canadian coins.