2015 March of Dimes Special Silver Set, Reverse Proof Roosevelt Dime Excite Collectors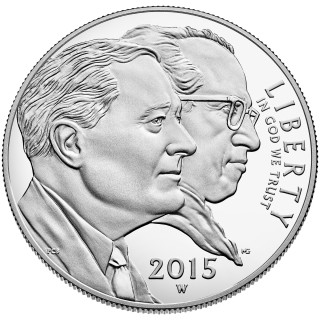 Two 2015 proof Roosevelt dimes are really catching the attention of coin collectors. The 2015 March of Dimes Special Silver Set is being offered to the public for $61.95 beginning at 12 PM Eastern Time on May 4. This 3-coin set will not only feature the namesake 2015 March of Dimes commemorative silver dollar, but it will also bring to the table two special proof Roosevelt dimes – a Philadelphia reverse proof dime and West Point standard proof dime.
With a total production of just 75,000 sets and an ordering limit of five per household, it's expected that these sets could sellout very quickly. Of course, what's really drawing the attention isn't the beautiful and nobly themed March of Dimes silver dollar per se, but the two Roosevelt dimes. The set will mark the first time that a reverse proof Roosevelt dime has been made and will also include the first W standard proof Roosevelt dime. Many coin collectors may recall that the West Point mint also struck a W dime in 1996, which was included in that year's uncirculated sets as a surprise offering to commemorate the 50th anniversary of the first Roosevelt dime.
Demand is expected to be strong for the 2015 W proof Roosevelt dime and 2015 reverse proof P Roosevelt dime, since both pieces will be needed by collectors to complete their Roosevelt dime series sets. With only 75,000 of each dime being made, prices may certainly escalate quickly in the aftermarket.
To place your order on the 2015 March of Dimes Special Silver Set, be sure to visit the United States Mint website or call the U.S. Mint's customer service line at 1-800-USA-MINT (872-6468).
By accepting you will be accessing a service provided by a third-party external to https://coinvalues.com/