eBay's Top 25 Mercury Dime Sales for September 2014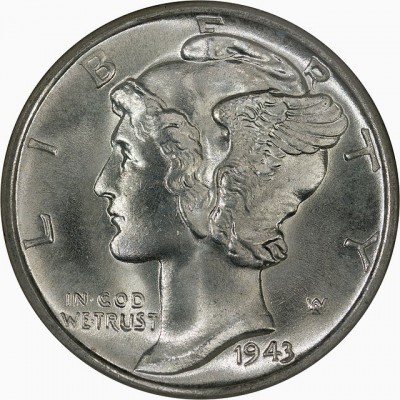 Take a look at the top eBay sales of Mercury dimes from September 2014 and you'll see a good mixture of high-end common dates, circulated key dates, and a few minting varieties. Perhaps most interesting about the Mercury dimes on this list are the number of super-grade pieces – those that grade Mint State 67 or higher.
While the Mercury silver dime is an obsolete series (struck from 1916-1945), they were produced in the era that coin collectors began setting aside rolls of coins virtually fresh from the U.S. Mint. So some pieces – though not very many – survive to this day in extraordinary condition. Certainly the small size and light weight of the Mercury dime means more pieces are found in the higher grades, which are quite unlike the larger and heavier coins, such as silver dollars – many of which were in continuous, jarring contact with contact with each other for decades as stockpiles languished in bank vaults.
High-grade dimes are plentiful at least on this list, and one starts us off on this rundown of eBay's top 25 Mercury dime sales for September 2014:
1945-S Micro S PCGS MS 67 Full Bands CAC - $7,975 – At nearly $8,000, this premium-quality, popular variety takes the top spot as the most expensive Mercury dime to be sold on eBay in September 2014. It's important to note that this coin not only has a MS 67 grade, but it also boasts the coveted "full bands" designation, referring to complete horizontal lines on the bands that bind the fasces seen on the reverse of the coin. The full bands, also known as "fully split bands" (commonly abbreviated FSB), is an important distinction in grading uncirculated Mercury dimes, and pieces that have a full bands grade are supremely desirable.
AU/BU 1916-D Repunched Mintmark - $3,800 – You knew it wouldn't be long before a 1916-D Mercury dime showed up on this list. This dime isn't certified, and it appears to be a slider/borderline uncirculated piece. But what adds a degree of interest to this particular specimen is the fact that it has the repunched date. This coin checked out as authentic, but always be careful when buying uncertified 1916-D Mercury dimes, as they are among the most counterfeited U.S. coins.
1939 NGC Proof 67 - $2,700 – Up next is this glistening proof coin. At PR 67, there is one proof example of this date known to be in finer grade, but this high-grade example is nothing to sneeze at. Remember that all pre-1950 U.S. proof coins are especially difficult to find on the more pristine states of preservation, as many have been mishandled over the years or have been exposed to fumes and chemicals that have dulled their appearance.
1936 NGC Proof 67 - $2,651.25 – Here's another nice proof Mercury dime, and from the first year of modern proof coinage, no less. If you can afford earlier, high-grade proof coinage like this be sure not to pass up the opportunity to buy pieces in high grades like this, as they are extremely difficult to find.
1916-D full strong rims, no problem - $2,081.89 – No grade is listed with this uncertified coin, but a photo of the coin, which was presented with the auction, suggests this 1916-D grades somewhere in the range of Fine to Very Fine. Understanding the diagnostic of 1916-D Mercury dimes so you can tell authentic pieces from counterfeit lookalikes is very important. One key piece of advice to remember is that the "D" on real 1916-D Mercury dimes is similar to the "D" on 1914-D Barber dime.
1944 PCGS MS 67 Full Bands $1,580 – 1944 Mercury dimes are decidedly common, but in grades about Mint State 65, they are actually quite rare. This blazing MS 67 beauty is a treasure to behold and looks nearly perfect with its fully split fasces bands.
1920-D PCGS MS 64 Full Bands $1,550 – It's true that most mintmarked U.S. coins from the 1910s and 1920s teens were not saved in large quantities, and therefore very few survive today in decent uncirculated grades. The same is true in the case of this 1920-D Mercury dime, which managed to score a grade of MS 64 and has fully split bands.
1916-D NGC VG 8 $1,475 – Here's a solid, circulated 1916-D Mercury dime. This coin may not be the prettiest, and definitely it's not counted among the highest-grading specimens for this date, but it displays honest wear and is authentic – more than enough to satisfy many of the most discriminating Mercury dime enthusiasts.
1916-D NGC VG 8 $1,400 – There's a lot to be said about a nice, circulated rare piece like this 1916-D Mercury dime. These coins are rare in any grade, and this piece definitely fills an expensive hole in any Mercury dime album.
1916-D PCGS VG 8 $1,395 – Perhaps a minor surface flaw or simply the time of day that the auction closed is enough to set this piece $5 lower than the VG 1916-D Mercury dime claiming the #9 spot on this list. Whatever the case, the typical 1916-D Mercury dime appears to be trending around $1,425 right now in a grade of VG 8.
11th - 25th Most Expensive Mercury Dimes on eBay in September 2014
The rest of this list includes a couple uncertified and several graded 1916-D Mercury dimes. A few more super-grade Mercury dimes do make the cut for inclusion in the Top 25 list of the most expensive Mercury dimes sold on eBay in September 2014.
#11 1916-D Ungraded $1,325
#121942/1 not graded $1,275
#13 1940-D PCGS MS 68 full bands, rainbow toned $1,275
#14 1916-D NGC Fine Details Cleaned $1,192
#15 1916-D PCGS G 6 $1,050
#16 1925 PCGS MS 66 FULL BANDS $1,007
#17 1936 PCGS PR 65 Light Golden Tone $949.99
#18 1936 NGC PR 65 $912
#19 1937 PCGS PR 67 $900
#20 1916-D ANACS G4 $878.90
#21 1916-D PCGS G 4 CAC $860
#22 1935-D PCGS MS 66 CAC $831.25
#23 1916-D PCGS G 4 $825
#24 1938 PCGS PR 67 CAC $819.99
#25 1934-D PCGS MS 66 $799
About the author
Joshua McMorrow-Hernandez is a freelance writer and author who has contributed hundreds of online articles and blog posts, as well as published Images of America, Tampa's Carrollwood (Arcadia Publishing, 2013). Joshua is interested in a wide array of topics, and since 1992 has been heavily involved in numismatics, a topic about which he loves to research and write. His main area of focus is 19th and 20th century United States coins, but he also enjoys Canadian coins.