Top 25 eBay Sales of Mercury Dimes in October 2014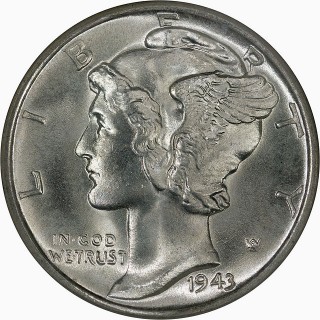 Mercury dimes are a favorite series for many collectors of 20th-century United States coinage and are commonly collected by date and mintmark, much like other series from the middle of the 20th century. Mercury dimes enjoy brisk sales on the eBay auction site, though for the most part the series is not considerably expensive to complete as a set, at least in circulated grades. Only a few issues in the Mercury dime series are categorically rare, and by far the most sought-after of the scarce issues is the 1916-D Mercury dime.
In fact, a look at the Top 25 most expensive Mercury dimes sold on eBay in October 2014 shows that most of the pieces trading hands for more than $1,000 are 1916-D Mercury dimes. Here's a rundown of prices for the priciest Mercury dimes sold on eBay in October 2014:
1916-D NGC MS 61 - $14,399.00 – Of course, the top Mercury dime sold on eBay in October 2014, in terms of price, is the 1916-D. This one is quite a beauty, too. Uncirculated 1916-D Mercury dimes are rare no matter how you slice it.
1916-D ANACS AU 53 details $8,000.00 – Many coin collectors simply avoid buying "details" coins, but many numismatists are willing to make exceptions in the case of rare coins like this 1916-D that still has a wear-based grade in AU.
1916-D PCGS AU $6,000.00 – For high-end Mercury dime collectors who aren't able to shell out 14 or 15 grand for an entry-level uncirculated 1916-D Mercury dime and want something with more detail than the $1,000 to $2,000 heavily circulated specimens, there are beautiful pieces like this one.
1916-D Choice AU $4,550.00 "raw" – In the era of the encapsulated coin, it's still surprising that many collectors and investors are willing to buy an uncertified 1916-D Mercury dime on an online auction site, but if the price is right and the coin looks good, it can be a gamble worth making.
1929-S PCGS MS 67 Full Bands CAC $4,500.00 – This nice white, premium-quality scarce date is a lovely purchase, and it has fully split bands, too – a Mercury dime characteristic that refers to the fasces bands on the reverse of the coin.
1916-D $3,850.00 – No grade was assigned to this 1916-D Mercury dime, which sold for a Very Fine retail price.
1916-D $3,550.99 – This no-grade assigned "raw" coin is very similar to the #6 1916-D Mercury dime, selling for a price that seems to reflect its moderately circulated state of preservation.
1916-D $3,500.00 – "Raw" 1916-D Mercury dimes are rightfully bought with caution, and even if the piece looks to be only lightly circulated (like this one does), an uncertified example may only sell for 60 to 70 percent of its retail price.
1916-D $2,480.00 – This uncertified, ungraded 1916-D Mercury dime sold for what would be a typical Fine 12 retail price, though this coin appears to be in substantially better condition than Fine. The sub $2,500 price is probably due to the "raw" nature of this coin, which, again, often drags down final bids for rare coins on sites like eBay.
1945 Horizontal D PCGS MS 65 $2,295.00 – This interesting variety fetched a strong price, and the MS 65 grade and PCGS holder certainly didn't hurt. PCGS-graded coins, as an unspoken rule, generally sell for more than similar "raw" coins or those in slabs from other grading companies. Chalk up the price premiums to PCGS's historically conservative grading philosophy.
What follows is a rundown of the remaining Top 25 most expensive Mercury dimes sold on eBay in October 2014. Not surprisingly, the vast majority of the coins below are 1916-D Mercury dimes in various grades. There are, however, a few super-nice dates grading in the high Mint State range, which are great registry set candidates.
1916-D PCGS Fine 12 $2,100.00
1945-S NGC MS 68 Full Bands $2,000
1916-D Ungraded $1,952.00
1916-D PCGS VG 10 CAC $1,950.00
1919 PCGS MS 66 Full Bands $1,826.01
1942-D PCGS MS 68 Full Bands $1,730.00
1916-D PCGS VG 10 $1,649.00
1916-D NGC VF details (environmental damage) $1,624.00
1916-D ANACS VG 8 $1,459.00
1916-D PCGS VG 8 $1,350.00
1921-D ICG BU/MS Full Bands $1,300.00
1942/1 "Exceptional Strike" $1,275.00
1945 Superb Gem BU $1,200.00
1927-D PCGS MS 63 Full Bands $1,200.00
1918 NGC MS 66 Full Bands $1,150.00
By accepting you will be accessing a service provided by a third-party external to https://coinvalues.com/