Top 25 Morgan Silver Dollar Sales on eBay in January 2015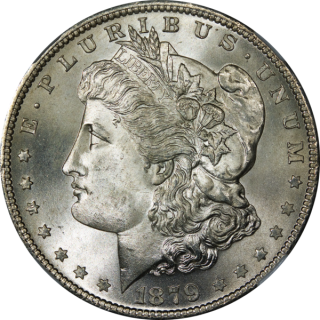 The first report on Morgan silver dollar sales on eBay during 2015 shows busy activity, as usual, for this popular coin series. Going into the first month of the year, it seems the Carson City silver dollars have been dominating the most expensive listings, as can be expected. However, the top two Morgan silver dollars weren't minted in the 19th-century silver bastion of Carson City but, rather, the Gold Rush mecca of San Francisco.
As you'll see among this listing of the Top 25 Morgan silver dollars sold on eBay in January 2015, the mintmarked coins in general reign supreme
1903-S NGC MS 65, $9,999.00 – Taking over a spot usually reserved on this list for the prized 1893-S silver dollar, it was in fact an S-mint sibling some 10 years younger that took the #1 slot on the ranking this month. The 1903-S dollar is indeed a prized coin in the upper mint state grades, and this MS 65 piece was encapsulated by the highly reputable Numismatic Guaranty Corporation (NGC).
1893-S PCGS XF 40, $8,800.00 – The 1893-S might have been beaten out in price by the 1903-S this month, but it wasn't pushed back very far. At nearly $9,000 this 1893-S Morgan dollar attracted decent bidding and is a solid, high-end circulated representative of this much sought-after rarity. Coins graded by the Professional Coin Grading Service (PCGS) typically pull in strong bidding, as this one certainly did.
1881-CC NGC MS 67, $7,399.00 – At MS 67, this 1881-CC Morgan silver dollar definitely is a stunner. In fact, only four 1881-CC silver dollars grade higher at this point. Not only is this a Carson City silver dollar, it's one of the relative few that grade above MS 65, which makes this piece a doubly attractive to the collector.
1878-CC PCGS MS 65 DMPL, $7,351.00 – Here's a premium-quality silver dollar for all those Morgan dollar enthusiasts. This Carson City dollar exhibits extremely attractive surfaces and has a strong, mirror-like finish. On top of that, this coin sits in a prized PCGS holder. It's no surprise that bidding was fervent for this piece.
1893-S NGC XF 40, $7,150.00 – Another 1893-S Morgan dollar hits the Top 5. It should be noted, however, that this one, like the 1893-S silver dollar in the #2 spot, is an encapsulated XF-40. While timing may be responsible for the roughly $1,700 difference in price between two coins of apparently equitable quality, this piece is in an NGC slab whereas the higher-priced XF-40 silver dollar is housed in a PCGS slab. This helps illustrate the premium usually awarded to PCGS coins – a phenomenon often attributed to the perception that PCGS is one of the most conservative coin grading firms in the industry today.
1889-CC PCGS AU 53, $7,059.95 – The 1889-CC is a popular rarity, and this high-end circulated example pulled in more than $7,000 – not surprising given the fact that it's contained within a PCGS slab.
1889-CC NGC AU 50, $6,650.00 – This second of three 1889-CC silver dollars in the Top 10 is another high-grading specimen of this especially rare coin. AU 50 coins are top specimens to be sure, and they usually appeal to a high-end market of investors and collectors.
1893-S PCGS VF 25, $5,995.00 – Many investors vie for the uncirculated and super high-end circulated coins, but there is something to be said about the desirability of a solid circulated key date like this one. A VF 1893-S silver dollar would feel right at home in any supreme coin collection and makes a great (albeit expensive) purchase for a mid-level coin collector who can lay out the $5,000 or $6,000 necessary to buy silver dollars as rare as this one.
1879-CC PCGS MS 62 CAC certified, $5,600.00 – There's no doubt that uncirculated Carson City silver dollars are a rare breed, and this one in an American Numismatic Association Certification Service holder not only attained a solid uncirculated grade from PCGS but also scored a CAC nod, designating this coin supreme for its grade.
1889-CC ANACS AU 50, $5,000.00 – Rounding out the Top 10 for January 2015 is this 1889-CC silver dollar grading AU 50. This is the third 1889-CC in the Top 10 and is also the third grading in the About Uncirculated range.
The rest of the Top 25 most expensive Morgan dollars sold on eBay in January 2015 reflects the usual array of key date coins, including a couple GSA (General Services Administration) silver dollars that were sold in special packaging by the U.S. Government in the 1970s. Also listed are a few supreme grade (MS 67+) pieces, which represent among the very best for their date.
11. 1885-CC PCGS MS 66, $4,700.00
12. 1889-O PCGS MS 65, $4,400.00
13. 1893-S NGC VF 25, $4,200.00
14. 1893-S (Raw), $4,150.00
15. 1884-S GSA, $4,017.00
16. 1890-CC GSA, $3,951.00
17. 1893-S ICG VF, $3,900.00
18. 1884-CC NGC MS 67, $3,875.00
19. 1893-S PCGS F 15, $3,865.01
20. 1882-S NGC MS 68, $3,800.00
21. 1903-O PCGS MS 67, $3,799.00
22. 1894 PCGS MS 62, $3,755.00
23. 1893-S (Raw), $3,645.00
24. 1892-CC PCGS MS 64, $3,600.00
25. 1891-CC PCGS MS 65, $3,600.00
By accepting you will be accessing a service provided by a third-party external to https://coinvalues.com/