Top 25 Morgan Dollar Sales on eBay in March 2015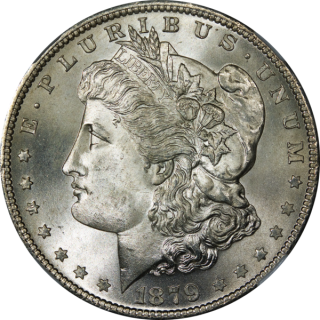 The top 25 eBay Morgan silver dollars sold on eBay in March 2015 represent a wide array of perennially popular keydates, semi-keys, and high-end common coins. The most expensive Morgan silver dollar that traded hands on eBay in March 2015 sold for more than $20,000. Even the 25th most expensive Morgan dollar went for nearly $4,700, which helps to show the incredible strength these coins have in the numismatic market. The frenetic nature of the Morgan silver dollar market is one reason why the prices for these coins are so robust.
Here are the top 25 most expensive Morgan dollars sold on eBay in March 2015, which begins with one of the most sought-after dates in the series:
1. 1893-S PCGS AU 50, $22,000.00 – This key date was struck with a relatively tiny mintage of 100,000 pieces, though far fewer survive today. Though difficult to track down in any grade, AU 50 pieces such as this one are especially challenging and tend to sell very quickly, even with prices topping $20,000, as this piece does.
2. 1893-CC PCGS MS 64, $13,300.00 – The second most expensive Morgan dollar sold on eBay in March 2015 is, not surprisingly, the 1893-CC dollar. This scarce Carson City dollar was made during what was a rather anemic year as far as the mintage of Morgan silver dollars is concerned. Just 677,000 pieces were struck, but many were melted. The coin is most commonly found in well-circulated grades, making this better uncirculated piece a true trophy for the collector or investor who bought it.
3. 1893-S PCGS XF 45, $12,189.99 – This 1893-S comes in just a touch shy of About Uncirculated, with a going price that reflects the superior appearance of this otherwise Extremely Fine Morgan silver dollar.
4. 1893-S PCGS XF 45, $10,100.00 – Perhaps this 1893-S XF 45 Morgan dollar, also in a PCGS slab like the higher-priced coin in the #3 spot, wasn't quite up to the nearly About Uncirculated quality of the specimen listed above. No matter – any XF 45 1893-S Morgan dollar is a terrific coin to own.
5. 1878-CC PCGS MS 66, $8,995.00 – This proof-like 1878-CC Morgan dollar is a true stunner. 2,212,000 Morgan silver dollars were produced at the Carson City mint in 1878, but most have been melted. Finding a specimen in this stellar grade is like finding a needle in a haystack.
6. 1888-O PCGS MS 61 Scarface Variety, $8,750.00 – The 1888-O "Scarface" silver dollar is one of then most popular and valuable Moran dollar varieties around. The name of this piece derives from the die crack running across the cheek and neck of Miss Liberty.
7. 1893-CC NGC MS 63, $8,500.00 – This piece has minimal contact marks and is overall a nice 1893-S Morgan dollar. Pieces like this are highly desirable and are quickly snapped up when they hit auction.
8. 1885-CC PCGS MS 67, $8,200.00 – This incredibly beautiful Carson City silver dollar is a beauty to behold. Issues like this really don't get any better than this MS 67.
10. (T) 1879-CC GSA Hoard NGC MS 63, $8,000.00 – This rare dollar was sold during a Government Services Administration (GSA) program in the 1970s. Found in government hoards and sold off in packaging, this 1879-CC is still in the original plastic package but has been graded by NGC.
10. (T) 1878-CC PCGS MS 66, $8,000.00 – This 1878-CC Morgan silver dollar has gorgeous surfaces and shines with bright, white luster. Few pieces compare in quality and it's therefore no surprise that this one traded hands for the healthy sum of $8,000.
What follows are the eleventh through twenty-fifth most expensive Morgan silver dollars. The following coins include several keydates and semi-keys in lower, circulated grades as well as a small handful of premium-quality common dates.
11. 1879-CC PCGS MS 63 CAC designation, $7,999.00
12. 1880 VAM 8 8/7 "Ears," $7,701.77
13. 1895-O NGC AU 53, $6,750.00
14. 1891-O PCGS MS 65, $6,562.50
15. 1893-CC "raw," $6,200.00
16. 1893-CC NGC MS 67, $5,875.00
17. 1885 PCGS MS 67 CAC designation, $5,850.00
18. 1893-S PCGS VF 35, $5,700.00
19. 1891-CC GSA Hoard NGC MS 63, $5,049.99
21. (T) 1881 PCGS MS 66, $5,000.00
21. (T) 1893-S NGC VF 30, $5,000.00
22. 1881 PCGS MS 68, $4,950.00
23. 1893-S XF Details, $4,800.00
24. 1904-S NGC MS 63, $4,700.00
25. 1893-S XF "raw," $4,680.00
By accepting you will be accessing a service provided by a third-party external to https://coinvalues.com/