eBay's Top 25 Morgan Silver Dollars In December 2014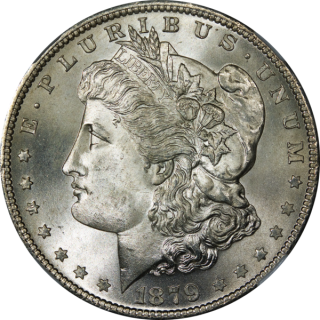 We have the latest sales figures for the Top 25 Morgan silver dollars that were sold on eBay in December 2014, and the data show some especially huge prices were paid during the month. Perhaps Santa Claus was filling the stockings of some very good coin collectors, because this list of the top-selling Morgan silver dollar coins from December is mainly comprised of high-value key dates. In fact, the top Morgan dollar on eBay in December sold for nearly $20,000 – that's an impressive figure for eBay coin sales.
Here's a look at the Top 25 most expensive Morgan silver dollars that were sold on eBay in December 2014:
1893-S NGC AU 50 - $19,500.00 – It's never a surprise when an 1893-S Morgan silver dollar tops out our monthly eBay sales lists. It is, however, somewhat unusual to see an AU specimen of this rare date cross the virtual floor of the popular online auction site.
1889-CC PCGS "Genuine" - $13,975.00 – It seems like slabbed "genuine" coins are often pariahs in the collector market. Except, that is, when the dreaded 7-letter word is applied to a coveted rare coin like this 1889-CC Morgan dollar, and it's in a PCGS holder, no less.
1893-CC PCGS MS 64 - $10,607.00 – The 1893-CC is a scarce coin in any grade, but in uncirculated condition it's truly rare. This one managed to snag a nice MS 64 grade from the conservative PCGS.
1885-CC PCGS MS 67 - $10,000.00 – This is one premium-quality coin. The 1885-CC, like all Carson City Morgan silver dollars, is already a desirable coin in any grade. But this MS 67 is one of the finest around, and it's been slabbed by PCGS. The winner of this true treasure of a coin must be quite happy with this purchase.
1893-S PCGS XF 40 - $9,750.00 – Circulated 1893-S Morgan silver dollars have a huge market, and they're especially desirable in the upper circulated grades like this specimen. Really, any graded 1893-S Morgan dollar, even FR 2 and AG 3 "slicks," have a ready market.
1895-O ANACS MS 60 - $9,500.00 – What Morgan silver dollar collector wouldn't want a nice, MS 60 1895-O in their coin collection? This MS 60 version has some nice surfaces for the grade, and as encased within sonically sealed plastic from a top-tier grading firm like ANACS, this coin makes a fantastic addition to any collection.
1888-O "Scar Face" PCGS MS 62 - $9,050.00 – Sure, 1888-O Morgan dollars may be a somewhat scarce in the grade of MS 62, but that in itself isn't why this common-date Morgan dollar sold for more than $9,000. This coin is a "scar face" variety Morgan dollar – one of the most obvious and valuable Morgan dollar varieties on the market. This late- to terminal-stage die break dollar ranks among the Top 100 coin die varieties.
1889-CC - $8,605.05 – This raw 1889-CC Morgan silver dollar has terrific surfaces but remains ungraded. Its selling price would suggest that the bidders througt this piece must grade somewhere in the lower to middle AU range, at least if we're using typical book values as a determining factor for making a bid on this coin.
1893-S NGC XF 40 - $8,268.75 – Another 1893-S XF 40 ranks among the Top 10 Morgan silver dollars sold on eBay in December 2014, but this one sold for some $1,500 than the other specimen, which ranked at #5 on this list. While many minor and significant factors (such as the selling time) could affect the price, perhaps the fact that the #5 specimen is a PCGS-graded coin influences the higher price for that piece over this one. It should be noted that while many coin collectors love NGC for its highly reputable name and accurate grading, PCGS is often considered an ultra-conservative certification company, and their coins thus tend to garner higher prices relative to the grade.
1889-CC NGC AU 50 - $7,777.77 – In many cultures (and countless casinos), the number "7" is a sign of good luck. At least that appears to be the case for the bidder who bought this 1889-CC Morgan dollar. Considering that the average retail price for an AU 50 example of this coin is closer to $8,100, it seems the bidder enjoyed a decent markdown over book values, too.


eBay's Top Morgan Silver Dollars in December 2014 - #11 through #25
Here are the remaining 15 listings for the December 2014 rundown of eBay's most expensive Morgan silver dollars sold on the auction website. For the most part, the coins below are mid- and upper-grade key date Morgan dollars:
11. 1879-CC PCGS MS 63 "Capped Die" - $7,500.00
12. 1893-S SEGS EF 45 - $6,662.00
13. 1904-S PCGS MS 64 - $6,650.00
14. 1879-CC PCGS MS 62 - $6,500.00 – GSA holder
15. 1895-S Redfield Collection "Full Luster" - $6,451.00
16. 1879-CC PCGS CAC designation - $6,450.00
17. 1893-S AU NNC - $6,300.00
18. 1889-CC NGC AU 50 - $6,055.55
19. 1893-S Raw - $5,900.00
20. 1889-CC NGC AU 50 - $5,750.00
21. 1893-S NGC VF 35 - $5,400.00
22. 1893-S PCGS CAC designation - $5,350.00
23. 1893-S NNC AU-55 - $5,304.00
24. 1893 PCGS MS 65 - $5,300.00
25. 1895-O Raw, Mirror Proof-Like - $5,176.51
By accepting you will be accessing a service provided by a third-party external to https://coinvalues.com/