Top 25 eBay Sales of Morgan Silver Dollars, February 2015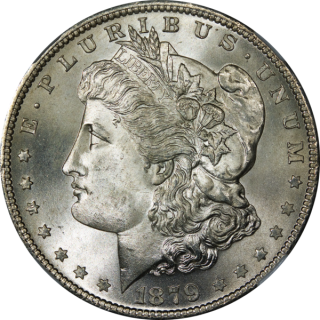 The most expensive Morgan silver dollar sold on eBay in February 2015 brought in a tremendous price – far higher than the 1903-S Morgan dollar that traded hands via eBay for $9,999 the previous month. This month's top-priced Morgan dollar sold for more than $30,000! Of course, as many silver dollar collectors know, the Morgan dollar series, which was designed by George T. Morgan and ran from 1878 through 1921, is full of heavy hitters.
In fact, a total of four Morgan dollars that were sold in February on eBay had a higher price than the $10,000 1903-S Morgan silver dollar that took the top spot on this survey for the previous month. Let's take a look at the top 25 most expensive Morgan silver dollars sold on eBay in February 2015. Many key dates show up on this list (as usual), and so do a couple super high-grade Morgan dollars that are real stunners.
1895-O PCGS MS 62, $31,000.00 – The most expensive Morgan dollar sold on eBay in February 2015 is a real doozy of a coin, coming in at $31,000 and grading an impressive MS 62. Anyone who considers themselves a Morgan silver dollars enthusiast will know the 1895-O is an extremely challenging, downright rare coin to find in a grade like MS 62. Needless to say, this 1895-O Morgan dollar is definitely a registry set candidate.
1904-S PCGS MS 66, $21,000.00 – This gem 1904-S Morgan dollar is a beautiful coin that not only qualifies as one of the highest grading for its issue, but is also a truly rare coin from the condition standpoint. Like the 1895-O Morgan dollar above, this 1904-S is another registry set winner.
1889-CC PCGS AU 55, $13,275.00 – Any Carson City Morgan dollar is scarce and valuable, but certain dates are simply tougher than others. That's always been the case with the 1889-CC Morgan dollar, long regarded as a key date coin in the series.
1893-S PCGS XF 45, $12,015.00 – The 1893-S Morgan dollar is a classic key-date coin that is at the top of most silver dollar collectors' want lists. This 1893-S silver dollar is actually very scarce even in the circulated grade of XF 45. Actually, any problem-free 1893-S Morgan dollar, even in lower grades such as Fine and Very Fine are very desirable pieces.
1897-O NGC MS 64, $9,112.00 – This well-struck 1897-O Morgan dollar is a choice uncirculated specimen with blast white surfaces and amazing eye appeal all around.
1893-S PCGS XF 40, $8,900.00 – This 1893-S Morgan dollar is substantially less expensive than the Choice XF specimen above. The three or four grading points that divide this piece from the one listed above is all it takes to knock a few thousand dollars of the price tag. However, this specimen is still very desirable and makes a relatively affordable option for the coin collector who wishes to complete a series collection of Morgan silver dollars.
1893-S PCGS XF 40, $8,290.00 – While this Morgan dollar technically is the same grade and even certified by the same authentication firm (Professional Coin Grading Service) as the previous piece, it sold for some $600 less. The price difference could be due to an eye appeal issue or, perhaps, even a matter of timing as to when this auction closed.
1889-CC NGC AU 50, $7,850.00 – This piece is exceptional for its grade and well worth the price that was paid for it. 1889-CC Morgan dollars, even in the upper circulated grades, are exceedingly scarce.
1889-S Ungraded, $7,600.00 – This 1889-S Morgan dollar was sold raw and ungraded, but its surfaces look great and detail seems to suggest it would grade somewhere in the mid Mint State grades.
1885-CC PCGS MS 67, $7,500.00 – Rounding out the top 10 on this list of most expensive Morgan silver dollars is a beautiful Carson City Morgan dollar. While not the scarcest CC Morgan dollar in most grades, remember that all Carson City silver dollars are rare in the supreme uncirculated grades, as this one surely is.
The other 15 entries on this list of the top 25 most expensive Morgan silver dollars sold on eBay in February 2015 include more key dates, a DMPL (Deep Mirror Prooflike) Morgan dollar, and some "genuine" (cleaned or damaged, but certified) pieces. Surprisingly, no GSA dollars show up on this list anywhere.
11. 1893-S ANACS EF 40, $6,995.00
12. 1893-S NGC Cleaned AU Details, $6,500.00
13. 1896 PCGS MS 66 DMPL, $6,400.00
14. 1889-CC PCGS AU+, $5,895.00
15. 1880/9-S NGC MS 68, $5,500.00
16. 1893-S PCGS VF 30, $5,500.00
17. 1883-S NGC MS 64, $5,499.00
18. 1891-O PCGS MS 65, $5,359.00
19. 1892 PCGS MS 65, $4,949.00
20. 1904-S PCGS MS 63, $4,850.00
21. 1893-S NGC Polished VF Details, $4,850.00
22. 1893-S PCGS VF 20, $4,805.55
23. 1893-S ANACS EF Details, $4,500.00
24. 1893-S PCGS XF Details, $4,481.99
25. 1893-S ANACS VF 30, $4,409.99
By accepting you will be accessing a service provided by a third-party external to https://coinvalues.com/