Top 25 Most Valuable Lincoln Cents Sold on eBay in March 2015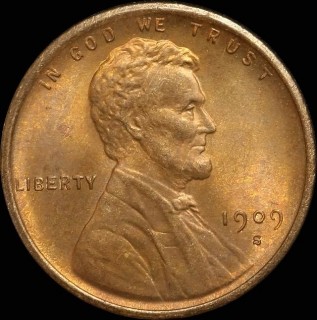 There's perhaps no more popular a U.S. collectible coin than the Lincoln cent. Given the action this series enjoyed on eBay in March 2015, there were plenty of people snapping up rare, semi-key, and desirable specimens for their coin collections and investment portfolios. What's most interesting about the list of top 25 most valuable Lincoln cents sold on eBay in March 2015 is that four of the cents among the top 10 were made in the 1970s, 1980s, or 1990s. Three are scarce varieties and one of them is a Proof 70 (yes, you read that correctly) specimen.
Check out the list of the top 25 most valuable Lincoln cents below:
1992 Close "AM" NGC MS 63 Red/Brown, $7,000.00 – Very few examples of this rare variety are known. In this case, the "A" and "M" in "LIBERTY" appear closer together than on most other 1992 Lincoln cents. This variety was discovered years ago and is one of the most sought-after pieces among modern coins.
1929 PCGS MS 67+ Red, $5,000.00 – While the 1929 Philadelphia-minted Lincoln cent is a common coin in terms of mintage, it's a conditional rarity in the stunning MS 67 grade. Throw in the fact that it's a "red" specimen, and it becomes a true treasure for any Lincoln cent connoisseur – and certainly makes for a fantastic registry set candidate, too.
1909-S VDB PCGS MS 65 Red, $4,725.00 – The 1909-S VDB Lincoln cent may be the lowest-mintage regular issue in the series, but it's not necessarily the rarest; leave that distinction to the varieties, such as the 1922 plain cent, 1955 doubled die, and other similar pieces. However, this is also a classic collector coin that is necessary for every "complete" Lincoln cent collection and thus is sought after by hundreds of thousands of people. With a mintage of only 484,000 and survival rate of perhaps 50,000 pieces, there certainly aren't enough 1909-S VDB cents to go around.
1955 Doubled Die PCGS MS 63 Red/Brown CAC designated, $3,832.50 – The 1955 doubled die cent is without a doubt the most popular doubled die coin in existence. While not necessary for a "complete" regular-issue collection, it's nevertheless a storied piece with huge collector demand.
1990 No-S PCGS Proof 67 Red Deep Cameo, $3,500.00 – With fewer than 200 pieces in existence, the 1990 no-S proof Lincoln cent variety is one of the scarcest pieces around. While it may not be as widely known as some of the earlier varieties, such as the 1922 plain cent or 1955 doubled die, the 1990 no-S cent is nevertheless an important variety to Lincoln cent connoisseurs.
1909-S VDB PCGS MS 65, $3,364.00 – This gem specimen 1909-S VDB Lincoln cent is a true collector treasure and certainly a fantastic candidate for a Lincoln cent registry set. At under $3,500, this PCGS-graded piece is a wonderful deal.
1955 Doubled Die, PCGS MS 64 Brown, $3,299.00 – This 1955 doubled die cent has the "brown" designation, meaning its surfaces are mainly chocolate colored. While many collectors like brown copper coins, these pieces aren't as valuable as those with traces of "red" and therefore make fantastic deals for collectors looking for a nice coin at a good price.
1972 Doubled Die PCGS MS 64 Red/Brown, $3,000.00 – The 1972 doubled die Lincoln cent is a popular variety and a great modern rarity. They are especially difficult to find in choice uncirculated grade.
1981-S Type I PCGS Proof 70 Deep Red Cameo, $2,999.99 – The "Type I" or "Filled-S" variety is the more common of the two 1981 proof types, but virtually absent in Proof 70. While a "modern" proof coin, the 1981-S is extremely rare in Proof 70 and certainly a top contender for a registry set.
1955 Doubled Die PCGS MS 64 Brown, $2,900.00 – Rounding out the top 10 most expensive Lincoln cents sold on eBay in March 2015 is the 1955 doubled die cent. While this is the same type of specimen listed above in the #7 that sold for $3,200, it's possible that timing difference with the two auctions or slight surface detractions allowed this piece to sell for $300 less than a similarly listed piece. This ultimately illustrates the idea that when buying slabbed coins, collector should buy the coin as if its raw and not base their buying decisions solely upon what the slab label says.
The 15 issues below that round out the top 25 most valuable Lincoln cents sold on eBay in March 2015 include 10 (yes, 10) 1909-S VDB Lincoln cents in various Mint State grades. There are also some 1914-D cents, 1922 plain cents, and one 1955 doubled die cent sprinkled among the crowd of 1909-S VDB pennies. Illustrating the great expense of the top Lincoln cent rarities, none of the 25 Lincoln cents listed for March 2015 costs less than $2,100!
11. 1909-S VDB PCGS MS 65 Red/Brown, $2,862.00 – g
12. 1909-S VDB "raw" $2,783.76
13. 1914-D PCGS AU 58, $2,651.00 – g
14. 1909-S VDB PCGS MS 65 Red/Brown, $2,650.00
15. 1909-S VDB PCGS MS 65 Brown CAC designated, $2,580.00
T. 16 1909-S VDB NGC MS 65 Red/Brown CAC designated, $2,500.00 – g
T. 16 1909-S VDB PCGS MS 64 Red, $2,500.00

18. 1909-S VDB PCGS MS 64 Red, $2,425.00
19. 1914-D "raw" $2,400.00
20. 1922 No-D PCGS AU 50, $2,346.99
21. 1955 Doubled Die "raw" $2,285.00
22. 1909-S VDB PCGS MS 64 Red, $2,282.77
23. 1909-S VDB PCGS MS 64 Red/Brown CAC designated, $2,250.00
24. 1909-S VDB PCGS MS 64 Red, $2,201.00
25. 1922 No-D NGC XF 45 Brown, $2,155.00
By accepting you will be accessing a service provided by a third-party external to https://coinvalues.com/