Top 25 Most Valuable Morgan Dollars on eBay in May 2015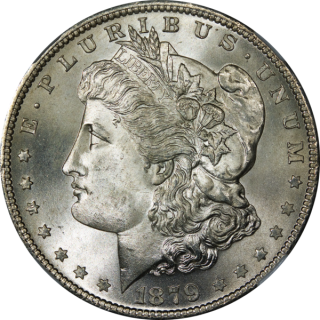 When the top 25 most valuable Morgan silver dollars crossed the virtual online block at eBay in May 2015, the list of top-sellers included a number of rare coins, such as the 1893-S and 1894 as well as a variety of scarce Carson City Morgan dollars. Amazingly, the most expensive Morgan dollar that was sold on eBay in May 2015 sold for more than $11,000.
There are many acronyms associated with Morgan silver dollars. Most of these terms have to do with the grading services that were used to authenticate the coins or coin grading adjectives. These include the following:
ANACS – American Numismatic Association Certification Service
CAC – Certified Acceptance Corporation
DMPL –Deep Mirror Proof Like
PCGS – Professional Coin Grading Service
What follows below is a list of the top 25 most valuable Morgan dollars that were sold on eBay. These coins sold between May 1 and May 31, 2015.
#1 – 1884-S Morgan Dollar NGC MS-61, $11,750.00
The 1884-S doesn't necessarily stand out as a scarce coin among other Morgan dollars when simply comparing mintage figures alone, as 3,200,000 minted for this issue -- a fairly "common" figure for issues within the series. But if one were to take into consideration conditional scarceness, then the 1884-S Morgan dollar looks like a real rarity. Relatively few survive in the upper circulated grades, and fewer still can be found in the grade of uncirculated. Book values for an 1884-S Morgan dollar in MS-60 are $8,900 and $37,000 for an MS-63 specimen.
#2 – 1890-CC Morgan Dollar PCGS MS-63, DMPL, CAC Designated, $8,500.00
All Carson City Morgan dollars are considerably scarce, and that is certainly the case with the 1890-CC, which was struck to the tune of 2,309,041 pieces and remains in much smaller quantities today. This specimen is a choice piece with mirrored surfaces and beautiful eye appeal.
#3 – 1893-O Morgan Dollar PCGS UNC Details, $7,195.00
This semi-proof-like Morgan dollar had apparently been cleaned years ago. That's a shame, because it's a great coin that likely stood on its own without the need for any improvement. Still, it's a scarce piece (only 300,000 were minted) and the details give this coin definition that often isn't seen with this issue.
#4 – 1893-S Morgan Dollar PCGS VF-30, $5,900.00
A highly sought-after series key-date with an original mintage of only 100,000 pieces, the 1893-S is a rare bird. These coins are desirable in Very Fine-30, and this piece would certainly make a great addition to any nice collection of Morgan dollars.
#5 – 1897-O Morgan Dollar NGC MS-64, $5,888.89
Some dates that are common in circulated grades are highly scarce in uncirculated. That's the case with this 1897-O Morgan dollar, which has a decent mintage of 4,004,000 pieces but wasn't largely saved in better grades. Today, the 1897-O Morgan dollar is a truly scarce issue in choice uncirculated, and this piece is a premium-quality, well-struck specimen to boot!
#6 – 1893 Morgan Dollar PCGS MS-65, $5,500.00
This blast-white Morgan dollar is a better-date with all the surface details any diehard coin collector would hope to have. All scarce Morgan dollars in a grade of Mint State-65 are truly valuable treasures.
#7 – 1893-CC Morgan Dollar BU+ Raw, $5,138.00
Here's a rare key-date offering incredible surfaces. It's somewhat bewildering that this coin is sold "raw," as it probably would have fetched a higher price in sonically sealed plastic from a reputable third-party coin grading company like PCGS or NGC. The coin still sold for a monster price.
#8 – 1894 Morgan Dollar NGC MS-63, $5,092.50
The 1894 Morgan dollar is a rare date and, in MS-63, it's a beautiful coin to behold. It's possible that an uncirculated 1894 like this, which starts at $1,200 in a mere grade of Good-4, would probably find a home in a high-end Morgan dollar collection.
#9 – 1893-S Morgan Dollar PCGC AU-53, $5,049.99
This coin, which has been encapsulated in a holder from a company called PCGC, is graded AU-53. As PCGC is not a major coin grading company, there might have been some reluctance on the buyer's part to spend more for a coin that is graded by PCGC as About Uncirculated. It's best to buy coins that are in slabs from well-recognized third-party coin graders, as it you can have the added assurance the coin was properly authenticated and graded.
#10 – 1886 Morgan Dollar NGC MS-68, $4,906.00
It's hard to find Morgan dollars that grade any higher than this MS-68 1886 dollar. At just under $5,000, this coin serves its buyer as a great registry set candidate.
11-25th Most Valuable Morgan Dollars Sold on eBay in May 2015
What follows is a rundown of the 15 next-most expensive Morgan dollars that traded hands on eBay in May 2015. There are few surprises here, which mainly combine a mix of high-end common-date Morgan dollars and some lower-grading key dates.
#11 – 1890-CC Doubled CC PCGS MS 65 VAM 7, $4,839.10
#12 – 1879-CC PCGS MS-62 Capped CC, $4,750.00
#13 – 1893-S ANACS Net EF-40 (Tool Cleaned), $4,617.98
#14 – 1893-S ANACS MS-61, $4,550.00
#15 – 1893-S NCG F-12 CAC Designated, $4,500.00
#16 – 1893-S PCGS XF Details (Cleaning), $4,151.00
#17 – 1893-S PCGS XF Details, $4,061.36
#18 – 1896-S PCGS MS-63 CAC Designated, $4,000.00
#19 – 1892 PCGS Proof-63 Cameo CAC Designated, $3,995.00
#20 – 1894 NGC MS-61, $3,831.00
#21 – 1885-CC PCGS MS-66+, $3,789.00
#22 – 1892-CC PCGS MS-64 CAC Designated, $3,619.00
#23 – 1880-S NGC MS-68, $3,611.00
#24 – 1898 PCGS Proof-64, $3,500.00
#25 – 1893-S PCGS F-12, $3,450.00
By accepting you will be accessing a service provided by a third-party external to https://coinvalues.com/