Top 25 Most Valuable Morgan Dollars on eBay in April 2015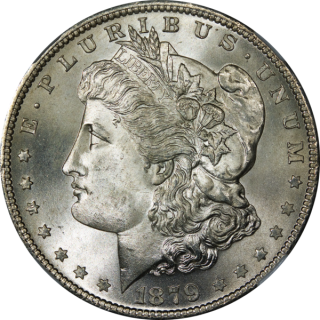 Morgan silver dollars are very popular with coin collectors and investors, and they consistently rank among the most valuable coins commonly traded on eBay. In April 2015, the 25 most valuable Morgan dollars sold on the online auction hub all sold for more than $4,000 each, indicating the activity for these classic silver coins is white hot.
The most valuable Morgan silver dollar sold in April 2015 on eBay scored a price of some $13,000 – about as much as a new, small sedan costs. Not surprisingly, many of the most expensive Morgan dollars sold on eBay are coveted keydate coins that coin collectors fervently bid on.

Below is a rundown of the top 25 most valuable Morgan silver dollars sold on eBay in April 2015:
1893-CC PCGS MS 64, $13,000.00 – The number-one spot on this list of most valuable Morgan dollars sold on eBay in April 2015 is occupied by none other than the 1893-CC Morgan silver dollar. This keydate almost always seems to place somewhere in the top 10 of our monthly Morgan dollar price lists, but this one claims the top due to its incredible MS 64 grade. Certainly, this is one of the better examples of the 1893 Carson City silver dollar we've seen traded in recent times.
1893-S AU 58, $10,868.87 – This 1893-S Morgan dollar is housed in a National Numismatic Certification (NNC). While NNC is not considered one of the larger, more well-known grading firms, it seems the coin within the holder carried its own weight. Though perhaps it sold for far less in a stated grade of AU 58 than it would have if it received the same grade from, say, the Professional Coin Grading Service (PCGS) or Numismatic Guaranty Corporation (NGC). As an aside, book values on 1893-S are around $9,500 for an XF 40 and $23,000 for an AU 50 specimen, suggesting that the bidders for this piece felt the coin may grade much closer to an XF than the purported AU threshold.
1879-CC PCGS MS 64, $8,500.00 – This rare Carson City keydate coin garnered strong bidding, but still resulted in a good buy for the winner, especially considering the $11,000 price tag suggested by many price guides for an 1879-CC in this grade.
1895-S PCGS MS 64+, $7,877.77 – This price seems just about right for an MS 64 specimen of the 1895-S. Choice uncirculated pieces like this are hard to come by, so the winner certainly scored a great prize with this keydate, which was made in a small quantity of just 400,000 pieces.
1893-CC PCGS MS 63, $7,500.00 – The rare 1893 Carson City Morgan dollar is a tough buy in any grade, but here is yet another. Unlike the MS 64 piece in the number-one spot above, this is an MS 63, yet still an incredible find. At $7,500, this piece looks to be a great deal, as it's in a slab from the conservative PCGS and sold for less than the $9,300 book value at this grade.
1893-S AU 58, $7,451.52 – It's interesting to note that this is the second 1893-S AU 58 piece in an NNC slab sold on eBay in April 2015. As mentioned earlier, NNC is not a well-known third-party coin grading company and it's possible that the grading standards in this case were lower than what most buyers would typically associate with an AU 58 coin. This piece sold for significantly less than the more typical $9,500 XF 40 price point for an 1893-S Morgan dollar.
1893-S ANACS EF 45, $7,155.00 – This 1893-S was sold in an older-style American Numismatic Association Certification Service (ANACS) holder. Many collectors associate older slabs with more conservative grading standards, largely because few coins were ever given supergrade (MS 69+) nods from any of the third-party coin grading companies before the 2000s.
1893-CC PCGS MS 63, $7,121.00 – This proof-like 1893-CC Morgan silver dollar represents a great deal for the buyer, who claimed it for less than the $9,300 MS 63 book value on an MS 63 specimen of this coin.
1903-S PCGS MS 63, $7,095.00 – The only 20th-century representative in the top 10 of this list of most valuable Morgan silver dollars is a premium-quality specimen of the 1903-S. This better date coin is tough to find in the higher grades and is certainly a trophy for any Morgan silver dollar aficionado.
1893-S PCGS VF 30, $6,995.00 – A fourth 1893-S Morgan dollar ranks in the top 10 for April 2015. Certainly a difficult coin in any grade, the 1893-S is seen here as a solid VF specimen, which makes it ideal for any nice collection of Morgan silver dollars.
Rounding out the last 15 places on this list of most valuable Morgan silver dollars sold on eBay in April 2015 is another batch of 1893-S Morgan dollars as well as a few Carson City specimens and a few stellar MS 67 pieces. Note that all coins listed below are either in a PCGS or NGC slab, something one might expect with higher-grade, expensive coins like the keydate silver dollars below.
11. 1893-S PCGS XF Details (Cleaned), $6,248.00
12. 1879-CC PCGS MS 63, $6,200.00
13. 1893 PCGS Proof 65, $6,000.00
14. 1898 PCGS MS 67, $5,995.00
15. 1888 NGC MS 67, $5,800.00
16. 1878-S NGC MS 67, $5,750.00
17. 1889-CC Raw Uncirculated, $5,600.00
18. 1893-S PCFS VF 20, $5,595.00
19. 1893-S PCGS VF 25, $5,589.00
20. 1893 PCGS MS 65, $5,200.00
21. 1892-S PCGS AU 55, $5,134.00
22. 1894 PCGS MS 63, $5,000.00
23. 1892-S NGC AU 55, $4,804.99
24. 1921-D NGC MS 67, $4,500.00
25. 1891-CC PCGS MS 65, $4,500.00
By accepting you will be accessing a service provided by a third-party external to https://coinvalues.com/