New Coins For 2017: Great Buys For Modern Coin Collectors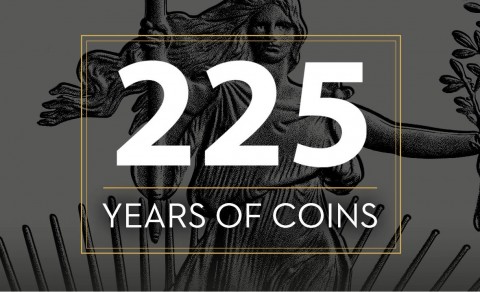 The year 2017 promises to bring many great things for coin collectors who enjoy modern coins. It's actually a big year for the United States numismatic scene, as April 2 marks the 225th anniversary of the establishment of the United States Mint. Thankfully, coin collectors get to enjoy many lustrous gifts during this monumental numismatic birthday bash.
Here's a rundown on some of the great new coins and coin products that coin collectors can look forward to from the U.S. Mint in 2017:
Commemorative Coins
Lions Clubs International Silver Dollar

Boys Town Centennial Commemorative Half Dollar, Silver Dollar & $5 Gold Coin

Annual Coin Sets

2017 Clad Proof Set

2017 Silver Proof Set

2017 America The Beautiful Quarter Clad Proof Set

2017 America The Beautiful Quarter Silver Proof Set

2017 Uncirculated Set

2017 America The Beautiful Quarter Uncirculated Set

Gold Coins & Bullion Products

2017 American Liberty High-Relief $100 Gold Coin

2017 American Liberty Silver Medal

2017 American Buffalo Gold Proof

2017 American Eagle Gold Uncirculated Coins

2017 American Eagle Gold Proof Coins

2017 American Eagle Silver Proof Coin

2017 American Eagle Silver Uncirculated Coin

Special Products

2017 – 20th Anniversary Platinum Proof Coin

2017 Limited-Edition Silver Proof Set

225th Anniversary of the United States Mint Enhanced Uncirculated Set

More Details On 2017 United States Mint Products

As is the case virtually every year, issue prices for U.S. Mint products are ordinarily not unveiled until soon before a given item is set for release. One of the reasons the Mint waits to update the public on pricing information for their new coin products is the ever-fluctuating price of bullion.

Gold, silver, and platinum prices are a key indicator of what certain bullion-related U.S. Mint products may cost. These prices change so much even over the course of just a few days. It is therefore infeasible for the Mint to release set prices for any of its products, and most especially those that contain gold, silver, or platinum, weeks or months ahead of the scheduled release dates of its products.

Confirmation of actual release dates for specific products is also kept under wraps in most cases. Coining needs, which are sometimes unpredictable due to national economic conditions and unforeseen national emergencies, may preempt the release of special collector products.

Coin collectors who are interested in buying the new 2017 U.S. Mint coins should join the Mint's mailing list for the latest information on products and related news. Don't forget to stay tuned here at CoinValues, too. We will offer the latest on new U.S. coin products as information and updates become available.

About the author
Joshua McMorrow-Hernandez is a freelance writer and author who has contributed hundreds of online articles and blog posts, as well as published Images of America, Tampa's Carrollwood (Arcadia Publishing, 2013). Joshua is interested in a wide array of topics, and since 1992 has been heavily involved in numismatics, a topic about which he loves to research and write. His main area of focus is 19th and 20th century United States coins, but he also enjoys Canadian coins.