eBay's Top 25 Peace Silver Dollar Sales from September 2014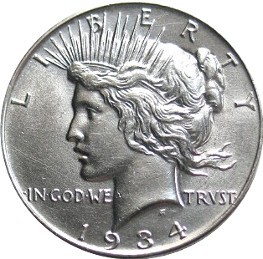 Peace silver dollars are commonly collected by seasoned numismatists and are included in many investors' portfolios as well. Peace dollars were first struck in 1921 and last officially produced in 1935. Though tens of millions of Peace dollars were made during the duration of the series, it's important to note that most of the coin's production came during the first five years of the series. Peace dollars experienced a long hiatus during the late 1920s and early 1930s as the Great Depression occurred and there was simply no economic need to produce silver dollars.
The Peace silver dollars that ranked among the 25 most expensive on eBay during September are quite representative of the entire run of the series, with a good number of dates ranging from the early 1920s right up through the mid 1930s. The most expensive Peace dollar that sold on eBay during September 2014 traded hands for $3,000, which really is not anywhere near the top price of the
Morgan dollars auctioned on eBay
during the same time period. In fact, Peace dollars are generally the more affordable of the two silver dollar series and there are some great deals to be had among these purely 20th-century dollar coins.
#1 1925 NGC MS 67 - $3,000
– Surprised the top spot didn't go the 1921 Peace dollar? This super-grade Peace dollar is a beauty to behold. In fact, those privy to the series realize Peace
silver
dollars grading Mint State 65 are truly rare and valuable, and that's precisely what this 1925 MS 67 silver dollar is.
#2 1921 NGC MS 65 $1,800 – This and the next two coins are all 1921 Peace dollars, which are one main keys coins in the series. What makes the 1921 Peace dollar literally stand out from the rest of the coins in the series is its high-relief finish. Striking issues required the relief to be lowered. Relatively few 1921 Peace dollars were made, with 1,006,473 pieces rolling off the presses that year.
#3 1921 NGC MS 65 $1,799 – Clearly the price point for a 1921 MS 65 Peace dollar in an NGC holder is right around $1,800 as of September 2014. This one was only a dollar less than the coin that occupies the #2 spot above. Of course, there could be minor variances between the two coins that would cause slight differences in the final realized prices.
#4 1921 PCGS MS 65 $1,725 – NGC and PCGS are perhaps the two favorite coin certification companies. It may surprise some that the 1921 Peace dollar in a PCGS slab went for less than the two above in NGC plastic, especially as the numismatic market usually seems to favor PCGS. Of course, one buys the coin, not the plastic around it. Perhaps a detracting mark or color issue separated this piece by the extra $75 or so each that two 1921 Peace dollars above realized.
#5 1927-S NGC MS 64 $1,300 – This issue has the second-lowest mintage (866,000) and is very scarce in mint condition. Grading MS-64, the 1927-S Peace dollar is truly a rare coin. Bear in mind, milions of Peace dollars were melted during the late 1970s and early 1980s when silver prices hit an all-time high, and many Peace dollars are considerably scarcer than their mintages suggest. As one of the four Peace dollar issues with mintages under 1 million, the 1927-S is a tough coin.
#6 1922-S NGC MS 65 (toned) $1,277 – 1922 is a plentiful year for the Peace dollar series, but coin collectors know that these silver dollars are pretty difficult to find above MS 63. From bag marks to rim nicks, there are many problems with most uncirculated Peace dollars that keep them below the MS 65 threshold.
#7 1922-S NGC MS 65 (toned) $1,252 - $25 separates this NGC M2-65 1922-S from the one above. Color preferences (notice both of these 1922-S dollars are toned according to their eBay descriptions) may have been what pushed one of these two pieces higher in price than the other. Remember, when you're buying a slabbed coin, you should consider the coin itself and not what the expensive plastic says.
#8 1928-S PCGS MS 64 $1,175 – Most of the available supply of 1928-S Peace dollars – many of which surfaced in hoard discoveries from the 1930s through 1970s – exhibit surface contact marks. This means 1928-S silver dollars grading MS 64 are quite scarce.
#9 1923-D PCGS MS 65 $1,140 – MS 65 Peace dollars are difficult to find, and the price of this 1923-D dollar, an issue that is largely considered common in lower grades, says it all.
#10 1928-S PCGS MS 64 $1,125 – The Top 10 portion of this list of most expensive Peace dollars on eBay during September 2014 wraps up with yet another 1928-S MS 64 dollar, though this coin is in NGC plastic. It's possible the $50 spread between this 1928-S MS 64 piece and the one listed above comes down to slab brand. Coin collectors and investors usually pay small premiums for PCGS coins due to a general perception by some numismatists that their grading standards for uncirculated coins are more stringent than other coin grading companies.
Peace Silver Dollar eBay Sales: 11th - 25th Most Expensive Issues in September 2014
The rest of this Top 25 list of most expensive Peace dollars on eBay in September 2014 includes mainly mid-range mint state issues representing a wide array of dates. It appears NGC slabs have a slight majority in representation among the coins that appear below:
#11 1923 PCGS MS 66+ CAC $1,080.50
#12 1925-S NGC MS 64 $1,075
#13 1928 NGC MS 64 $1,054
#14 1928-S PCGS MS 64 $1,034.25
#15 1927-D NGC MS 64 $1,015
#16 1928 NGC MS 64 $975
#17 1926-S NGC MS 65 $975
#18 1924-S PCGS MS 64 $950
#19 1921 PCGS MS 64 CAC Light Gold Toning $910
#20 1934 raw $910
#21 1934-S PCGS AU 58 colorful toning $885
#22 1921 NGC MS 64 CAC $850
#23 1928 NGC MS 63 blast white $840
#24 1928 NGC MS 63 $834
#25 1928 NGC MS 63 $832
About the author
Joshua McMorrow-Hernandez is a freelance writer and author who has contributed hundreds of online articles and blog posts, as well as published Images of America, Tampa's Carrollwood (Arcadia Publishing, 2013). Joshua is interested in a wide array of topics, and since 1992 has been heavily involved in numismatics, a topic about which he loves to research and write. His main area of focus is 19th and 20th century United States coins, but he also enjoys Canadian coins.