D. Brent Pogue Collection Sale Recap – Records Fall During Landmark Rare Coin Auction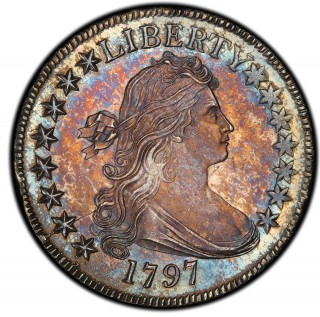 Bidders were on fire when the first 128 rare coins of the D. Brent Pogue Coin Collection went for sale on May 19 in New York during the much-anticipated Stack's Bowers Galleries and Sotheby's sale. Overall, the 128 coins took in more than $25 million, and records fell in virtually every denomination category that was offered that evening.
Here are some notable highlights from the sale:
1808 Capped Bust $2.50 Gold Quarter Eagle
Grading MS 65 by PCGS, this quarter eagle became the most valuable representative of its denomination when it sold for $2.35 million. Not only is it now the most valuable quarter eagle gold coin, it's also the most valuable 19th century U.S. gold coin ever sold at auction. This piece is well known as the single rarest U.S. type coin, as it was a design that was struck only in 1808.
1796 Draped Bust Quarter Dollar
This lustrous piece sold for $1,527,500 dollars and tied the world record for any U.S. quarter. This 1796 Draped Bust quarter graded MS 66 by PCGS and is a very popular first-year coin type.
1797 Draped Bust Half Dollar
Becoming the most valuable half dollar ever sold, this 1797 Draped Bust beauty traded hands for $1,572,500 – no small sum for a very rare coin. Only handfuls survive, and this piece grades an incredible MS 66, serving as the finest-known example of its date and type.
1796 LIKERTY Draped Bust Half Dime
This interesting rare, early dime variety sold for $411,250 and became the most valuable representative of its kind. In fact, the final realized bid was more than seven times higher than the previous highest price ever paid for a 1796 LIKERTY dime.
1804 14 Star Draped Bust Dime
This rare variety, which once belonged to the Eliasberg Collection before disappearing for decades, brought $329,000. It was one of several exquisite Bust dimes dating 1796 through 1807 that were sold at the Pogue auction.
In all, the May 19 sale garnered $25,312,731.25, far exceeding even the highest pre-sale estimates. The next of the seven Pogue Collection sales will take place at the Sotheby's headquarters in New York City and include Capped Bust half dollars, Flowing Hair silver dollars, and a variety of early quarter eagles, half eagles, and eagles.
By accepting you will be accessing a service provided by a third-party external to https://coinvalues.com/