Presidential Dollar Coin Series May End Early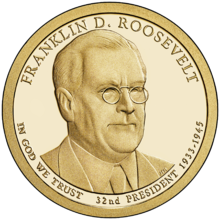 For the third time, a bill to end the U.S. Mint's Presidential $1 coin program, has been introduced in the Senate. The last two times the bill has been brought to the floor, it died from inaction. Will the third version, called S. 95 and introduced on January 7, bring the dollar program to its knees?
Senator David Vitter of Louisiana has spearheaded all three versions of the bill. What's his reasoning behind the premature curtain call for the ten-year dollar series? Saving taxpayers money. In 2011, Vitter was quoted as saying, "even though many in Congress, including myself, hoped that dollar coins would eventually save taxpayers money, it's turned out to be one of those unnecessary and, quite frankly, wasteful programs that we should eliminate."
S. 95 would amend Title 31, Section 5112 of the United States Code, which authorizes the production of the Presidential $1 coin series.
At this point, a premature end to the Presidential dollar series would actually cost the U.S. Mint more money.
While Vitter's third bill might legally end the Presidential $1 coin series, it was the failure of the American public to use the golden dollar coins instead of dollar bills that helped deflate the momentum behind the series. Like the Susan B. Anthony dollar in the 1980s and early 1990s, hundreds of millions of Presidential $1 coins are stacking up in vaults, unused, unwanted.
After the Presidential $1 coin failed to gain traction with the public, Secretary of the Treasury Timothy Geithner ordered the U.S. Mint to stop making the dollar coins for circulation in 2011. Today, the dollar coins are produced solely for numismatic intent, much like the Susan B. Anthony dollar was in 1981.
Presidential dollar coins, which were once heralded by some as the next chapter of numismatic success following the wildly popular 50 States quarters in the 1990s and 2000s, have been produced in relatively small quantities since 2012.
Will the Presidential $1 coin program live out through 2016 as originally intended? Presidents Richard Nixon and Gerald Ford are slated to appear on the dollar coin that year. That is, if Vitter's bill fails to succeed on Capitol Hill. Besides, a premature end to the dollar series would actually cost the government more than if it carries out as planned.
About the author
Joshua McMorrow-Hernandez is a freelance writer and author who has contributed hundreds of online articles and blog posts, as well as published Images of America, Tampa's Carrollwood (Arcadia Publishing, 2013). Joshua is interested in a wide array of topics, and since 1992 has been heavily involved in numismatics, a topic about which he loves to research and write. His main area of focus is 19th and 20th century United States coins, but he also enjoys Canadian coins.