Rare, Valuable Error On 2015 American Silver Eagle Coins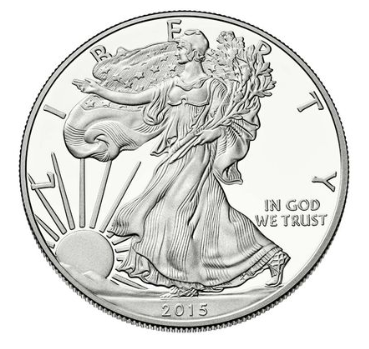 A new error has been discovered on 2015 American silver eagle.
The error is a curved clip at 11 o' clock on the obverse. Discovered by Numismatic Guaranty Corporation (NGC) graders searching a "monster box" of 500 American silver eagles, the error is ordinarily neither particularly interesting nor valuable. However, the fact that the curved clip was found on an American silver eagle makes the discovery a numismatic curiosity.
In a press release, David J. Camire, NGC Mint Error specialist, says "although the clip is small, it is very valuable." He continues, "fewer than six examples are known for all years of silver eagles from 1986 to present."
The 2015 curved clip American silver eagle lacks details along the obverse side of the rim between the "B" and "E" of "LIBERTY" and weakness on the opposite side of the obverse along the rim near the "5" in the date.
The reverse of the 2015 curved clip American silver eagle also shows major weakness along the rim under the letters "SIL" of "SILVER" and opposite across the reverse surface is weakness in the rim above the word "OF."
As NGC reports, looking for weakness along the rim directly opposite of the primary curved clip is a diagnostic tool coin authenticators use when determining whether or not a purported clip is an actual mint error or simply post mint damage, such as an alteration.
If you think you have a 2015 American silver eagle curved clip error coin or any other error, NGC will inspect your coin for a $15 fee.
About the author
Joshua McMorrow-Hernandez is a freelance writer and author who has contributed hundreds of online articles and blog posts, as well as published Images of America, Tampa's Carrollwood (Arcadia Publishing, 2013). Joshua is interested in a wide array of topics, and since 1992 has been heavily involved in numismatics, a topic about which he loves to research and write. His main area of focus is 19th and 20th century United States coins, but he also enjoys Canadian coins.