Resistivity Meters & PCGS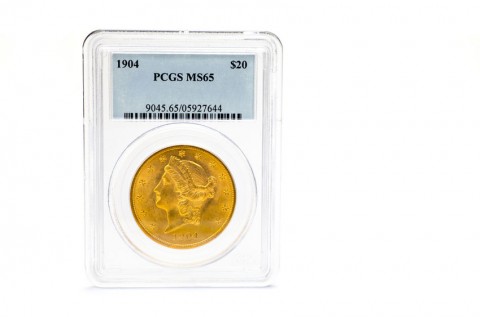 ​Hi gang...
I recently met up with my former parole officer. He wanted my opinion on resistivity meters for checking real Au / Ag vs fake. (You can web search yourself by typing: -resistivity meter for coins-).
What I immediately suggested to him is buy numismatic coins instead of bullion. Numis coins that have been slabbed by PCGS or NGC.
The premiums on numis coins over bullion have, in general, never been lower.
For example: A dealer I have used for decades, Liberty Coin Service in Lansing, MI, recently offered $5 Libs in MS-64 (PCGS) at $675 each, $669 if you purchased 4 or more.
This from their flyer...
"In June 1989, with spot at $365, common date MS-64 Liberties were going for $7850."
That is some serious volatility. From almost 90 times the gold content then, to about 2 ½ times today (offer was JAN 2017, spot at $1197.50)
Looking thru LCS newsletters I see they were offering the same coin 2 years ago, JAN '15, at $719 each with spot at $1235.
===
Over the years my favorite buys were low premium MS-63 Saints & MS-62 Libs. In many years the mintage is so great that the premiums are not much over spot.
But, three years ago I got interested in the MS-65, $20 Liberty. A beautiful, high grade and relatively rare coin. These coins retailed for $4750 back in FEB '04 with spot at $410. Three years ago with spot around $1300 the MS-65, $20 Libs went under $3500.
Now they are retailing around $3000.
The coins I have discussed have great potential for appreciation beyond spot climbing: Spot goes higher, ok, everything goes up, but, as interest renews in the coin market these coins will also appreciate because of their rarity.
===
And this brings me to the reason for purchasing slabbed coins...You don't need a resistivity meter or any other gadget to prove content.
===
​Slabbed is short hand for, "a coin grading, authentication, attribution, and encapsulation service" which was founded in 1985 by David Hall and associates which they named Professional Coin Grading Service. This opened the door for novice collectors.
NGC was formed two years later.

You can read more about grading services in our library article "A Rundown of the Different Coin Slabbing Services & Distinctions Among Them".
Streber out...
About the author
I've been traveling around the sun since the Battle of Stalingrad. With a funky childhood of forced religion and crazy parents I came to the conclusion that it would be best to rely on myself. In battle or business, whatever the game In law or in love, it is ever the same In the struggle for power, the scramble for wealth Let this be your motto, rely on yourself