Royal Mint to Update Queen Elizabeth's Portrait on Coins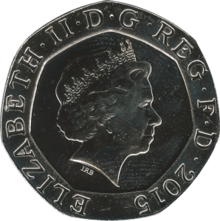 Her Majesty Queen Elizabeth II is receiving a new portrait on British coinage by the end of this year. The Queen, who has appeared on coins of the British realm since 1953, has aged gracefully over her 60-plus years on the royal throne. The Royal Mint has kept her likeness on coinage relevant to the Queen's maturing appearance by updating her image on British coins every 15 to 20 years.
The latest bust, designed by Jody Clark, doesn't show remarkably drastic changes from the previous design, created in 1998 by Ian Rank-Broadley. The new design had to pass muster though – it even received the seal of approval from the British Chancellor and Queen Elizabeth II herself. The design is particularly notable for its refined detail and crispness, something that is quite impressive even for the Royal Mint, long known for producing some of the finest coinage anywhere in the world.
The Royal Mint's chief executive, Adam Lawrence, hails the new design and says it's an "achievement" for the mint. "Capturing a portrait on the surface of a coin demands the utmost skill and is one of the most challenging disciplines of the coin designer's art," he remarks.
The Queen, who has reigned since she was 25 years old, has seen her appearance on her kingdom's coinage undergo significant redesigns on two occasions before 1998. The first update came in 1968, when she was 42 years old (though Canada's coins were given a second design in 1965). The second occurred in 1985, when she was 59. The changes render the 1998 design vintage. It's expected that Canadian coins and coinage from other nations subject to the royal monarchy will follow suit with the new design.
About the author
Joshua McMorrow-Hernandez is a freelance writer and author who has contributed hundreds of online articles and blog posts, as well as published Images of America, Tampa's Carrollwood (Arcadia Publishing, 2013). Joshua is interested in a wide array of topics, and since 1992 has been heavily involved in numismatics, a topic about which he loves to research and write. His main area of focus is 19th and 20th century United States coins, but he also enjoys Canadian coins.