Silver Jefferson "Wartime Nickels" Can Still Be Found In Circulation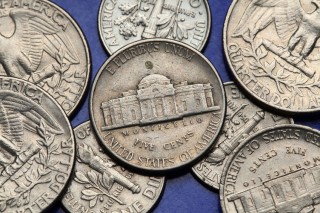 ​If you're looking for silver coins in pocket change, you best keep your eyes peeled for wartime nickels. That's right – silver coins can still be found in circulation. It may seem curious to some who are reading this that the five-cent coin, widely referred to as a "nickel," provides the most lucrative opportunities for silver bugs.
Let me explain…

During the United States' involvement in World War II from 1941 through 1945, rationing of resources such as metal became important. This allowed metals to be prioritized for producing artillery and other important materials for our troops who were fighting in Europe, North Africa, and Asia. In the case of the Jefferson five-cent coins, nickel was allocated for manufacturing artillery, which led to the removal of the metal from five-cent coins from late 1942 through 1945. As many coin collectors know, copper was also removed from the Lincoln cent for a similar purpose in 1943.

To replace the traditional 75 percent copper, 25 percent nickel composition of the five-cent coin, the United States government approved a 56 percent copper, 35 percent silver, 9 percent manganese composition for the Jefferson coin. Production of these coins began in earnest on October 8, 1942.

Silver five-cent Jefferson coins have a distinctive look about them; as they circulate, they acquire deeper shades of gray than do traditional nickels. But what's the biggest giveaway with these silver Jefferson coins? Their prominent mintmarks over the dome of Monticello, located on the reverse.

In fact, the 1942 wartime Jefferson nickel marks the first time that the Philadelphia Mint was ever represented on any U.S. coin by a "P" mintmark. Most non-collectors won't notice these large "P," "D" (Denver), and "S" (San Francisco) mintmarks on the reverses of wartime nickels, but they are as clear as day in the eyes of astute coin collectors.

Look on the reverse of all Jefferson nickels that come through your hands in circulation – especially older-looking Jefferson five-cent coins. Any that contain those obvious "P," "D," and "S" mintmarks contain silver.

What are Jefferson wartime nickels worth? This is explained in greater detail on the various Jefferson wartime nickel pages here at Coin Values. However, a general rule of thumb is that wartime nickels are worth roughly $1 to $1.50 in well-worn grades; better-preserved pieces can be worth $5 or more.

So, keep checking your pocket change! I've found my share of Jefferson silver wartime coins in circulation, and I know with enough searching, you can, too.

By accepting you will be accessing a service provided by a third-party external to https://coinvalues.com/